Electronic producer Hiatus took to the stage with songwriter Shura for the first time last night, and M went along to check them out.

After rehearsing for just a couple of days in Hiatus' Brixton kitchen, the pair played a solid set of five songs, all laced with a warm bass-heavy fuzz that wooed the crowd and enveloped the room.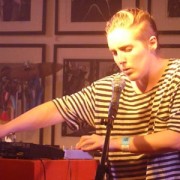 Hiatus, a British-Iranian producer and songwriter, has a knack for orchestrating drama and suspense, and his melancholic compositions fitted perfectly with Shura's ethereal vocals and electronic noodling.

Their bass-heavy set swooped  from minimal broken beats to  soaring melodic arrangements, mesmerising all in their wake. Hiatus drew on his background to sprinkle haunting echoes of Middle Eastern string samples throughout.

A highlight was the beautifully hushed River, from the duo's forthcoming EP, which quietly built to a powerful crescendo, while the set closer Te Amo was a quirky reinterpretation of the Rihanna track, with the addition of a brutal bassline.

Much has been said about the emergent post-dubstep scene and the revival of drum n bass, with artists as diverse as singer-songwriter Jamie Woon and Joy Orbison held up as pioneers of the movement. But Hiatus and Shura, with their soulful melodies and dark bassy ambience are as likely candidates as any to push the genre onwards.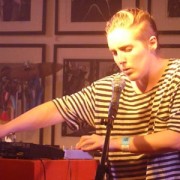 Earlier this year, Hiatus and Shura recorded a
pared-down version of
River
for
M
, to accompany a
video interview
.
The Hiatus & Shura EP will be released on 20 August 2011, featuring the tracks
River
and
Fortune's Fool
.
Hiatus' debut album
Ghost Notes
is out now. You can listen to it
here
.