2007 Ivors Special International Award winner Quincy Jones tells Paul Sexton about his extraordinary career, his family life and what continues to drive him.
The phrase 'joie de vivre' was created for Quincy Jones. At 74, and with 60 years in the business, he exudes wisdom that would humble many a braggart in this self-important business, and displays a playful passion for life to shame a teenager.
So when he talks about the Special International Award he collected at the PRS for Music-sponsored Ivor Novello Awards this year by mentioning some of his famous friends, it's no idle namedropping. It's the social circle of a true international socialite, humanitarian and supreme musician.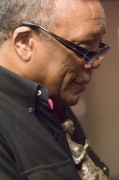 Relaxing in his suite at the Dorchester after this year's ceremony, he chuckles: 'I talked about the Ivors to [
Thriller
songwriter] Rod Temperton, who is family and told me it was a really prestigious event. Then Stella McCartney, and Paul, and they told me how big it was, and then Michael Caine and his wife.
'Then I go there [to the ceremony at the Grosvenor House] and see Elton, who I've known since he started. I love Elton. I respect him and David, because they live their life honestly. I get there and all the memories come back and there's all these people, man. I thought it was going to be a little quiet lunch. It blew me away.'



The Ivor is special.



This is a man with an astonishing all-time record of 79 Grammy nominations, which have produced 27 victories and encompassed his work with everyone from Michael Jackson to Miles Davis.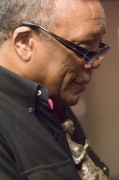 He jokes about how many new awards have been bestowed on him lately, including recognition from the Peabody Institute in Baltimore, and Atlanta's Morehouse College. 'They're kicking my ass, man. I'll be 80 by the time I go pick 'em up,' he laughs. 'It's all good, I'm not complaining, but the Ivor is special.'
Any attempt to consign the career of this multi-faceted maestro in the past tense would be foolhardy. The fire of creative ambition still burns in Quincy, who talks seriously about realising an album collaboration between 86-year-old jazz trumpet giant Clark Terry and rap mainstay Snoop Dogg. He also plans a record with actor and accomplished jazz singer Joe Pesci, which he wants to make with Herbie Hancock.
A tireless philanthropist for decades, he continues to be exhaustingly involved with his Quincy Jones Listen Up Foundation, which helps to give underprivileged children opportunities in music, education and culture. In 2001, that charity built more than 100 homes for Nelson Mandela's charity in South Africa, and its work has him travelling more than any septuagenarian's doctor would advise. 'I've been straight around the world three times in the last year and a half. Cambodia, Vietnam, all of China... I'm too old to be running around like this but I can't help it.'
With a family of eight children from five different relationships, does he like to be away that much? 'No I don't, but while I've got the energy... we're getting so much done. Those kids in Cambodia will break your heart, they're so sweet.
'I adopted 15 families there, and a little girl named Jojo I just fell in love with. Their lives have been so hard. 46 cents a day average wage.



My piece of bread belongs to me only if I know everybody else has a piece.



'HIV education is getting better, but everybody's trying to do their own thing with HIV, and if they consolidated they'd get more done. Two-thirds of the people do not understand how it works on the ground. It's very complex, and you have to run it like a corporation, or you won't survive. Money and passion are not enough.'
Jones' drive to help those less fortunate comes from the depths of his upbringing in Illinois in the 1930s and Washington in the '40s. 'You can't save the world, but you've got to try everything you know,' he says. 'I've identified with it my whole life, because I was raised in the Chicago depression, so I feel like I'm one of the kids.
'My grandmother's house in Louisville was kerosene lamps and rats. The high-tech security was a rusty nail to lock the door. I was raised in that shit, and it never leaves you. It's like Tolstoy said: "My piece of bread only belongs to me if I know everybody else has a piece." People have so much fucking money, and some have nothing, it just drives me nuts.'
Q's conversation never lacks humility or humour, and has a quiet wisdom informed by an open mind and a full passport. He's been travelling to London since his early days in music, although not always with the ability to perform in the UK as much as he wanted to.
Jones' first instrument was the trumpet, and he won a scholarship in Boston as a young man, but put his studies on hold when he was offered a place in bandleader Lionel Hampton's touring group. 'I was always coming here,' he says. 'I first came when I was 19 with Hamps, we just stopped at the airport and Max Jones came up from Melody Maker, with his little beret.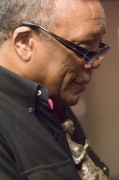 'At that time the unions wouldn't even let you think about playing here. America and Britain just hadn't worked it out yet. But I've done movies here, my son was born here, and I used to hang out with Sinatra when he came here.'
Those names again. Jones knew Ray Charles since he was 14 and Brother Ray was 16 ('he felt 100 years older than me'). But if he gets exercised about one thing concerning his unmatched reputation as producer, arranger, orchestrator and muse, it's the idea that he can pluck great performances from legends simply by reaching for his phone book.
'It's funny. People say I have a great Rolodex. Give me a break! You'd better know where everything fits and how to put it together, it's not about just calling a bunch of people and saying "Go," it doesn't work like that.
'It's hard for people to understand what an orchestrator and an arranger does; that's what I've done all my life. You have to feel if it's too dense, if it's the wrong key, that's what it's about. To me, the most key words in creativity are "that's it." That's the result of God's whispers. It's a big decision, and you'd better have something to base it on.
'Frank Gehry [the renowned architect, now 78] is a friend of mine, and he always kids me, "Quincy, if architecture is frozen music, then music must be liquid architecture." I enjoy the journey of it, it keeps me excited and makes it feel brand new.'
As a clear father-figure to Jackson and the producer of his 50-million-selling phenomenon Thriller, does Quincy have any advice for Michael as he makes his new record? 'What do I think he should do? I would make the most honest...' he takes the longest pause of our long and fascinating conversation. 'Walk straight into the fire. Anything that anybody may be guessing about him, "Wacko Jacko", all that stuff, take it straight in the face.'
The ability to work with different personalities, whether it's Sinatra, Jackson, Peggy Lee or Ella Fitzgerald, has always been at the core of Quincy's own musical being. 'It's as intuitive as the creativity that's coming out of the artist,' he says. 'In a sense, you have to be a little bit ahead of them to know when you can push them too far, and that takes love.
'You're a lot of things, a babysitter, a psychiatrist, a musician, orchestrator, designer. And sometimes you have to be able to let an accident happen. That's listening to God's whispers. I learned a long time ago that you have to let it happen. Don't strangle the baby in the crib.'
Does he continue to feel optimism for an industry on which he has been making his mark since the 1950s? 'I don't want to rag on anybody, but across the board culturally, things have been dumbed down a little bit. Movies, TV, everything. Reality TV is a great excuse to forget all about quality of pride and craftsmanship, and unfortunately it's what the people want now.



There's only two things: a song and a story.



'Passion for music is high, but the distribution platform is fucked up. I gave a speech at the University of Beijing, and before I went in I bought 12 DVDs for $1 apiece. But I'm a criminal optimist, man.'
His role as a sonic craftsman requires great people skills, or what in his more recent decades might be called superstar-management. But it also boils down to a relationship with our lifeblood: the song itself. 'Ab-so-lutely. Our entire business across the board, there's only two things, a song and a story.
'It's magical stuff, you know. It's a question of identifying the components. Everybody comes to record production from one core discipline, as an engineer, a singer, a songwriter, an orchestrator, whatever it is. Those are the elements you have to work with. It's very complex. But I love it.'