Anita Awbi heads over to Bristol in search of Britain's most mysterious musical trio…

If Portishead were a cult, they'd be a shadowy guerrilla unit, occasionally breaking cover to hit popular culture right between the eyes with their indoctrinating transmissions. As a benign Bristolian pop trio, their stance is far less confrontational - but no less radical.

Together, Beth Gibbons, Adrian Utley and Geoff Barrow have released a modest body of work (three studio albums in 22 years), but their subversive smudge on the grubby face of British pop is long-lasting, uncompromising and totally compelling.

Last month their overarching powers were recognised via the PRS for Music Outstanding Contribution to British Music Award at The Ivors – an accolade never before given to a band with so few albums to their name.

It marked a quarter-century of discerning artistry, and brought the trio fleetingly – reluctantly – back into the public eye. The moment was flagged by Geoff's trademark cynicism, 'I'm not going to say thanks because I don't believe in these things… but we're delighted to have been invited,' and raised more questions about their creative future than their prodigious past…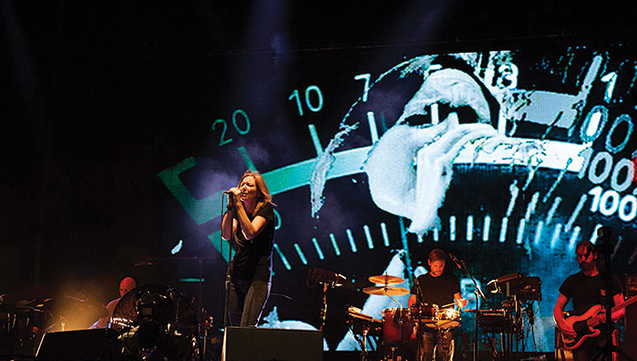 Artistic outsiders
The enigma surrounding Portishead crackles audibly across their albums, each one a successive line in the sand for their sonic dexterity and complex band dynamic. Travelling to Bristol to visit Adrian – the only member willing to meet – I'm trying to gauge how much he'll reveal about their clandestine internal workings.

Adrian's house is perched on the edge of a ramshackle suburban hill overlooking the city centre far below. Mugs of tea in hand, we decamp to the two-storey studio, a breeding ground for the band's lauded 2008 LP, Third, and the scene of cross-genre collaborations with Perfume Genius, Marianne Faithfull and many more.

The studio is a shrine to analogue reverie and early electronic gadgetry, with a MiniMoog bearing the signature of its late, great inventor Bob Moog, holding pride of place. It's a collector's den, where vintage guitars lean against iconic synths - and where Adrian seems to feel most comfortable discussing technical processes. With so many competing projects now preoccupying all three members (see box out), it's easy to see how the Portishead train has been periodically derailed. But with the years clocking up since their last release, how does he view the band dynamic these days?

'I think we're defined more by what we haven't done than what we have,' he says. 'We've always not done things with unity, you know? For 20-odd years there's been an aesthetic between us – and a trust – that we won't do this, or that, because we can tell immediately it's not the best thing for us,' he explains.

It might be an isolating stance in terms of purely professional success, but it's one that has undoubtedly helped the band remain in a fertile, albeit semi-functioning, state over the years.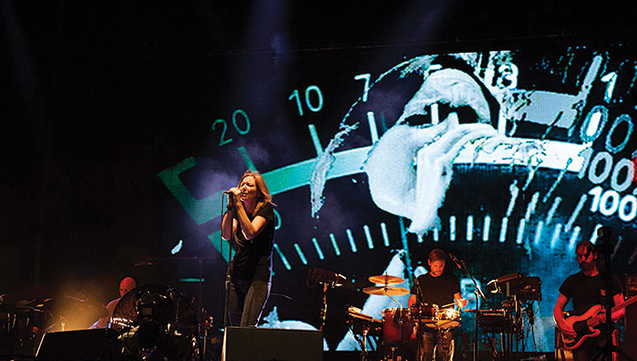 Freedom from
Portishead have perfect poise, which they dished up with relish on the noir-drenched debut Dummy back in 1994. The record's far-out eeriness, cut-and-paste wizardry and visceral laments unintentionally embodied a wonky new electronic sub-genre (trip-hop) and surprisingly shifted more than two million physical copies.

Accepting only a tiny advance from Go! Discs (now a Universal subsidiary) meant they recouped in record time and quickly learned the power of 'No' when cajoled to play the game, which back then meant a schmaltzy turn on Top of the Pops.

It also granted the band instant freedom from the pop apparatus, and while tapping major players including London Records and Mercury/Island for subsequent releases, they've maintained strict artistic integrity ever since.

Adrian says: 'All the bands that were important over the years - nobody ever told them what to do. I'm not being big-headed and I don't mean that in a weird revolutionary way – only, this is our life. I want to make music with this person, I want to play with these instruments, I want to learn a bit about composition, I want to do this, I want to do that. We've worked hard for our freedom and we don't need to follow.'


Audibly askew
Back then, Portishead's prowess lay in Beth's raw songwriting and visceral vocals, Adrian's fluid musicianship and Geoff's mercurial sampling style. Their sound was led by Geoff, whose rigorous pruning of old hip-hop beats and jazz tracks sent songs slipping in and out of tune and rhythm in a revolutionary way.

To compensate, Adrian would regularly slide between half notes and broken timbres, while Beth was only given rudimentary backing tracks to sing over, which would be stripped out later. This was new territory, and the results were audibly askew.

'It was a happy collision of people with different skills that fitted together,' Adrian remembers. 'The first Portishead track I ever played on was Sour Times and to fit Geoff's beat I had to retune a quartertone to play the chorus…

'I don't think we knew entirely what we were making. This was a new way of thinking, and I found it really exciting. It had this thing that you couldn't get from just playing live instruments. There was a different tonality. I've recently listened to music from around that time and I think, "Christ, what key is that? That's really weird." But actually it's wicked, you know?'

It didn't just stop there: Portishead's whole DIY approach was painstakingly thorough. The band would make demos of their tracks, get them pressed to vinyl, scratch them to smithereens and then incorporate the hissy resonance and stuttering flow into their final output. It was a labour of love that, in today's world of digital hyper-manipulation, seems almost unimaginable.


Safe futures
An early appearance on
Later… with Jools Holland
quickly taught them the merits of performance planning, though, and for their eponymous record in 1997, Portishead had developed a sound more synonymous with a live setting.
That process even went on to inform their latest record,
Third
, which although was a largely electronic album, involved more live play and off-the-cuff motorik soundscapes than ever before. The widespread love it attracted launched the trio off on a series of tours and headline festival dates which kept them busy until last year.
During it all, the band maintained a healthy distance from the public spotlight, and undercurrents within Beth's brooding lyrics and their wider musical template hint at something deeper than plain old media aversion.
I wonder if Portishead, as intensely private people, may have unwittingly built a cult of mystery around themselves, which they're now quite happy to maintain. Adrian offers: 'There is always a massive level of trust about our aesthetics and the future and musicality. There is a trust with those people for me – I can't speak for them – that I don't really get elsewhere. It's a solidarity. We all know our musical endeavour and our aesthetic is safe together.' Like their music, the mystery lies in what goes unsaid.
Pop's procrastinators
With just three studio albums under their belts, I ask how Adrian views the band's legacy thus far. 'It would be nice to have more records… We need a new one,' he openly admits. 'I think that's basically how we all feel. We don't just want to keep on playing when there doesn't seem to be a point to it, you know?'
So what's holding them back? Surely, as Bristol natives, they can find some shared time to come together and make new noise? 'It's about actually sitting down and doing it,' he explains. 'You see, with our band we tend to avoid things a little bit. Then we go into a kind of frenzy of work.
'It's so allusive, creativity, isn't it? I mean everybody has different methods and I think for many it involves a healthy amount of procrastination.'
With everything and nothing now clear, I leave Portishead HQ fully expecting to hear some new sounds – or equally, a deafening silence – very soon…
http://www.portishead.co.uk/