This picture was taken in 2004, just after Amy Winehouse won her first Ivor Novello award (Best Contemporary Song category) for Stronger Than Me. She had co-written the track with Salaam Remi, and it became the lead single from her breakthrough debut album Frank.

Frank's success marked a turning point in her career, but later that year Winehouse famously aired her dissatisfaction at the now three-times platinum album. She revealed to The Observer's Garry Mulholland that she was only 80 percent behind the record because her label had included certain songs and mixes that she disliked. 'Some things on this album make me go to a little place that's fucking bitter,' she said.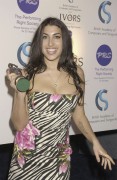 'It's just my music [that I'm proud of]. It's the only thing I have real dignity in my life. That's the one area in my life where I can hold my head up and say, "No one can touch me." 'cos no one can touch me!'

It was this ardent nature that led Winehouse back into the studio to work on her uncompromising follow-up album Back to Black, which was released in 2006. Together with producer Mark Ronson, she evoked potent memories of early-60s soul and R 'n' B, while recounting tawdry tales of drink, drugs and sex. The album spawned iconic singles Rehab, You Know I'm No Good and Back to Black, for which she has become best known. She also received a second Ivor Novello award for the single Love is a Losing Game, also lifted from the set.

Winehouse's well-documented problems with drugs and alcohol delayed production of a highly anticipated third album, despite numerous attempts at rehab. Sadly, the headstrong singer-songwriter, considered by many as one of the most outstanding vocalists of her generation, passed away on 23 July at 27 years old — just two remarkable albums into her career.

BBC Radio 1 DJ Trevor Nelson, speaking to Radio 5 Live following her passing, said he was completely shocked. 'Some artists are just born to give us something special… just one or two albums. Others in history have done it. She, unfortunately, is now one of them.'

Meanwhile, broadcaster Paul Gambaccini told the BBC: 'This was a talented woman.  She was someone who invested a lyric with meaning, paying attention to every word, every nuance,  and what the song as a whole meant. She had great musical knowledge and taste.

'I parallel her decline with her three appearances at the Ivor Novello awards. Her first triumph, she was accompanied by her dad and she was a shy, friendly woman. Second time, not so shy, not so friendly, but still talented and with her dad.  Third time, she didn't show up, her dad had to accept on her behalf.'

Amy Winehouse made her final recording in March with jazz singer Tony Bennett, which will be released on his album Duets II this month.