When lockdown was enforced in mid-March, many in the creative industries were at a loss. What would happen to nightlife? To live music? The fragile network of DJs, artists, producers and promoters whose livelihoods were at risk for the foreseeable future? With many non-essential workers stuck at home, there was a void in entertainment that socialising had once filled.
That's where the team behind Recess, brainchild of the Sonubi brothers and their creative company High Roller, came in. A gem of London nightlife, Recess is young, fun and authentically Black British in a way that many London nights could never fully replicate as both gentrification and government legislation choke Black nightlife. The team behind it are young Black Brits with their finger on the pulse of music and culture. This brand, built offline and cultivated through years of parties and events, was a ready-made foundation for the meteoric rise of
There's No Signal
; the radio station that would go on to change the landscape of the music industry from the bedrooms of young Black kids in London.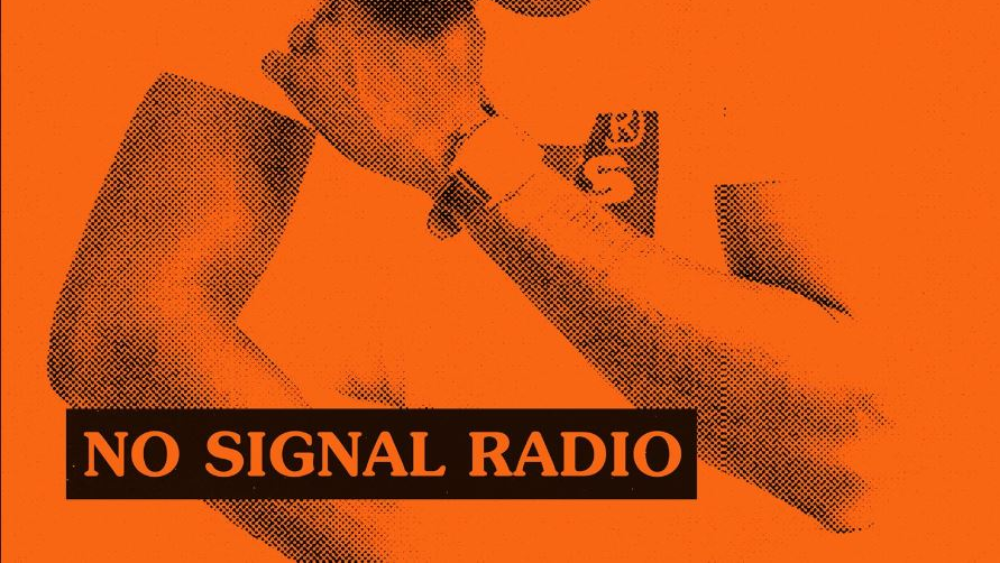 It all started with a question: 'Who would beat Drake in a battle?', and the rest was history. As ever, people online clamoured to throw in their two pence amidst the emergence of the US 'Versuz' Instagram clashes that had seen heavyweights such as Teddy Riley and Babyface go head-to-head, as well as Dancehall legends Beenie Man and Bounty Killer. #NS10v10 was born.
Adapting the clash into a game show where contestants would pick the best ten songs from their respective artist's discography as Twitter polls decided the winner, NS10v10 became a trending topic almost every night, generating even more content and memes and providing a welcome distraction from the ongoing pandemic. Nostalgic noughties favourites such as Missy Elliot and Busta Rhymes were pitted against each other, as well as East London heavyweights such as Kano and Dizzee Rascal.
What really propelled TNS's trajectory, however, was a controversial clash between two giants, Jamaica's self-titled King of the Dancehall Vybz Kartel and Ojuelgba's favourite son Wizkid. Attracting almost half a million listeners from around the world, the team behind TNS managed to tap into the diaspora without compromising their Black Britishness once. In reigniting a friendly diaspora rivalry, they had also unwittingly tapped into zealous patriots, which made for some interesting online conversation.
'From the interactive polls for the clashes, to choosing contestants from Twitter, TNS is truly the people's station.'
The phenomenal success of the radio station, which aims to air content 24/7 (it currently *almost* does, from 10am to 1am) can largely be attributed to its accessibility. From the interactive polls for the clashes, to choosing contestants from Twitter, TNS is truly the people's station. It's young, Black presenters, some of whom have been fed through from youth-led station Reprezent, are broadly the same demographic as listeners which only adds to the community spirit. The nostalgic shoutout culture from Channel U days when viewers could text in their proclamations and dedications has also been pivotal, allowing listeners to share memes and jokes as well as make friends under the #NS10v10 hashtag.
This accessibility allows TNS to authentically tap into all facets of Black culture and music, where mainstream stations may simply play 'urban' music under the umbrella of Black. Here, listeners may hear South African Amapiano, UK Rap, Jamaican Dancehall and Nigerian Alte all in the space of an hour. With mixes from DJs from Nigeria, the US, Canada and even Australia with broadcasts from Sydney-based community radio station Sauti FM. Original content shows such as Super Album taps into the young talent of those listening as well as those with previous presenting experience. Unlike other radio stations that are driven by numbers, label relationships and popularity, TNS listens to listeners, cultivating a community and a brand that feels like home for many Black British listeners.
This organic approach has not gone unnoticed by major labels, with many recognising the vast marketing potential of its listenership and cultural significance, premiering singles and sneak peaks to gauge reception. However, no two artists highlight the reach of TNS more than IPDizzle and Nines, two very different artists. Self-described King of Rumba Drill, Congolese artist IDPizzle shot to viral stardom with Dior (Remix) and his infamous Billie Jin refrain that became the unofficial lockdown anthem having been heavily requested by listeners every episode of #NS10v10 Season 1. With no music video, promotion or major label backing, the song managed to accumulate over 3.5 million Spotify plays.
'Unlike other radio stations that are driven by numbers, label relationships and popularity, TNS listens to listeners, cultivating a community and a brand that feels like home for many Black British listeners.'
In late August, north west London rap stalwart Nines was able to secure his first UK Number one with his album Crabs In A Bucket. Seamlessly and authentically as always, the team were involved in the drive to get #NinaToNumberOne with an episode of The Listening Party talking about the album track-by-track.
This accessibility and familiarity removes the notion of the 'gatekeeper' or the 'musical elite' radio, where presenters and producers must come from the music industry in some shape or form, whether as musicians or DJs or execs. The only qualification needed? A genuine love of music.
As well as being physically accessible through its strong social media presence, the participatory nature allows listeners to feel as though they too run the station. Indeed, as TNS looks to solidifying its presence offline as well as online with a crowdfund for a permanent home, it has won a first place prize of £50,000 from the Metallic Fund which aims to 'elevate Black talent and ideas through financial grants and mentorship'. The team hopes to 'begin building a new generation of Black-owned media and entertainment' pushing forward the idea of Black ownership, particularly as more young Black talent shuns the traditionally exploitative and old-fashioned major label deals in favour of independent careers.
With co-signs and partnerships with Adidas and Spotify and the BBC amongst countless others, TNS have proven that they are here to stay, and plan to do so on their own terms.
You can listen to No Signal via their website and on Spotify.
This piece was guest edited by Stephanie Phillips. Stephanie is a London-based music journalist, singer and guitarist in the Black feminist punk band Big Joanie and an organiser at Decolonise Fest, an annual festival created by and for punks of colour. Her debut book, Why Solange Matters, will be released May 2021 on University of Texas Press.