Now, more than ever, non-binary and LGBTQ artists are pushing sonic and social boundaries in music and far beyond. Lucy Doyle sits down with this year's gamechangers to get their take…
'I think as a trans person, if you're not "read" as the gender you're trying to present as, that can create anxiety. It's one of the reasons that we ask the venues to provide gender neutral toilets at all the shows we play,' says Nye Todd (pictured above, bottom left), vocalist in Scottish indie-pop quartet
The Spook School
.
He's chatting about the challenges facing artists and gig-goers who are trans or transitioning – and it's clear that as a band, The Spook School are intent on breaking down the barriers, one binary bathroom at a time.
'It's part of our band rider, I guess. I think we had one case where we turned up and they were like, "Oh yes, we made the disabled toilet gender neutral, but if anyone wants to use it, they have to come up to the bar and get a key." We just took the key and didn't give it back,' he recalls.
Three albums in and now signed to Alcopop! Records, the band are continuing their tradition of creating lo-fi, noisy pop anthems that deconstruct gender and celebrate queer and trans identities. New songs like
Body
from forthcoming LP
Could It Be Different?
delve into image, self-love and, for Nye, learning to embrace being trans. 'I guess writing things is a good way to work stuff out in your head', he says of the unplanned nature of the material.
The band are just one of many voices weaving their experiences of gender and sexuality into their music, without care or preconception. For post-punk trio
Shopping
, it's a natural by-product of their individual identities. 'I think, because of who we are, we can't really avoid presenting gender or our own queerness,' says the band's bassist, Billy Easter.
Drummer Andrew Milk notes that often it's the artists - and communities around them -  who are responsible for initiating change. 'People in charge won't give a fuck until you make them,' he says, referring to The Spook School's gender neutral toilet request. 'Change never comes from the oppressor, you know?'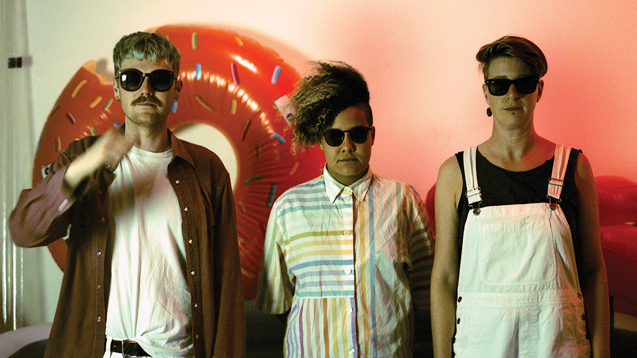 The Official Body
Shopping guitarist and vocalist Rachel Aggs is wary of industry fads that make artists flavour of the month. Explaining the message behind
Suddenly Gone
– an angular, rhythmically urgent track taken from their next album
The Official Body
– she points to 'feeling like your identity has been somehow commodified, or is fashionable.
'So people have decided, "Oh, this year we all want to talk about brown people, we all want to talk about queers." If you can find one that's both, then "jackpot". It challenges your confidence, because you feel like what you actually create is not being valued, but there's still this attention on you.'
With such a fine line between 'fad' and 'empowerment', feelings are mixed when it comes to the mainstream media's handling of gender issues. From reports of pop star Paloma Faith announcing she's raising her child as gender neutral and the increasing use of non-gendered titles like 'Mx' instead of Mr or Mrs, to the Church of England issuing its schools with guidelines on combatting transphobic bullying, 2017 has been a high-profile year for gender in the news.
'There's sensationalism around it, where it's, "Oh my God, this freaky thing,"' says Billy. 'So, it's a bit detrimental.' However, Andrew counters that press coverage is a positive thing for awareness and education. 'A huge proportion of teenagers and young people identify as gender non-conforming or non-binary now. When I was 13, I wouldn't even know what the fuck those words were,' he says. 'When those kids grow up in 10, 15 years' time, it will be really interesting to see what that world is going to look like. It's hopeful.'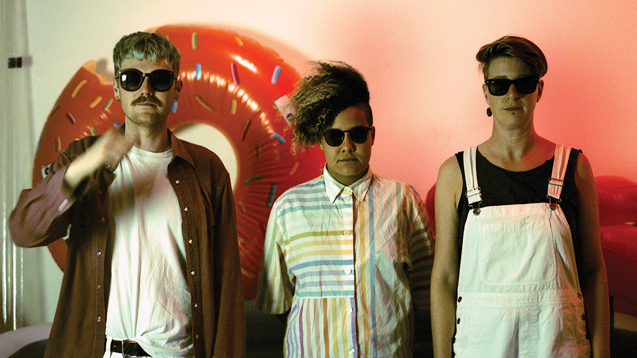 Creative freedom
For Chicago-born singer-songwriter
Ezra Furman
, there's meaningfulness in speaking up, even if it feels like yelling into a void. 'It doesn't take 30 years for an attitude about some issue to change. It takes one year or five years. It's down to the language people use and it's down to, "Do people start talking about things that they care about?"'
During a
performance of Tell Em All To Go To Hell at Coachella
this year, Ezra called out the activities of the festival's owner, oil tycoon Philip Anschutz, including his alleged donations to anti-LGBTQ groups. Asked whether it had any implications on him and his band The Visions, his answer is telling: 'We're not playing Coachella 2018. They didn't offer it again… but I don't know if they would've anyway.'
Like Nye, who says he wrote and played songs about being transgender 'before I talked to anybody about it', Ezra's first experiences of beginning to dress feminine were played out through his performances. 'The first place I was public with it was on stage because, honestly, that was easy to do. It seemed like it could be a joke. It could be an act.'
Describing forthcoming album
Transangelic Exodus
as 'a queer outlaw saga', he says that including 'trans' in the title was, 'a shout-out to something that feels like a community to me, which is trans people and also queer people in general.'
Growing up, issues surrounding gender and sexuality caused 'a lot of pain' but it was punk music that made him catch on to that, 'maybe this could be a source of actual power'. He adds: 'It gives me a great reason to push, reason to speak up.'
Similarly, for post-punk buzz band
Graceland
, it's essential that they use their voice. 'It's important to all of us to be "role models" or rather just be proud of our queerness and our own individual gender identities,' says drummer Maxie Gedge (pictured below, left).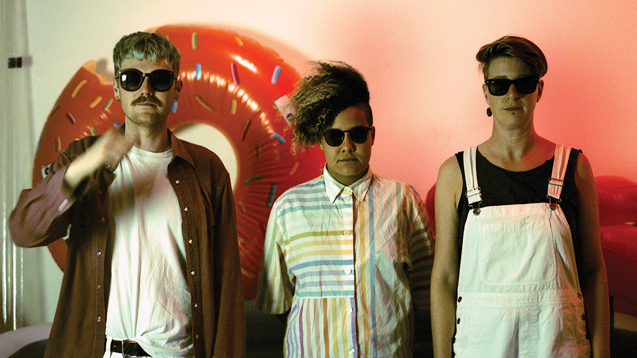 Safe space
Pointing to DIY spaces and local scenes as providing an 'essential platform' for LGBTQ artists, Maxie cites the scene in Norwich as being pivotal for her. 'Because anyone can get involved and own it/shape it, those communities tend to be more reflective and diverse than the mainstream.'
Meanwhile, collectives like
SIREN
are demonstrating the power to spark change in established scenes. Launched in 2016 as a response to 'the homogeneity of rave and club night line-ups in the techno and dance music scene, as well as a desire for more creative and safer spaces for women, non-binary and queer people to party', they say they've noticed encouraging steps forward already.
'There is now recognition that women's voices need to be heard. This has been reflected positively in more women DJs being booked on line-ups,' SIREN continue. However, there's still much to be done: 'sexual harassment in clubs is a familiar occurrence for women and other marginalised groups, so it's important to us to create a safer space without prying eyes where we can forget about the patriarchy for the night and feel free and liberated,' they say.
Female liberation is also key at
The Sisterhood
: an intersectional queer, trans and disability inclusive space at Glastonbury Festival, open to anyone who identifies as female. Romy Boettger, venue manager for 2016 and 2017, sees the space as vital for keeping 'the dialogue about sexual harassment and abuse at festivals – and the world in general – going', while for Artistic Programmer Alice Holland, it was also imperative to keep Glastonbury's radical heritage alive.
'It's really important that we defend the values of alternative life before festivals just become something that are consumed and people don't have
ownership
of it in that way,' she says. The space also creates apprenticeship opportunities for women to learn new skills. 'There are so few female techs in the industry and so few opportunities to learn that kind of thing without a guy breathing down your neck, telling you you're doing it wrong,' she says.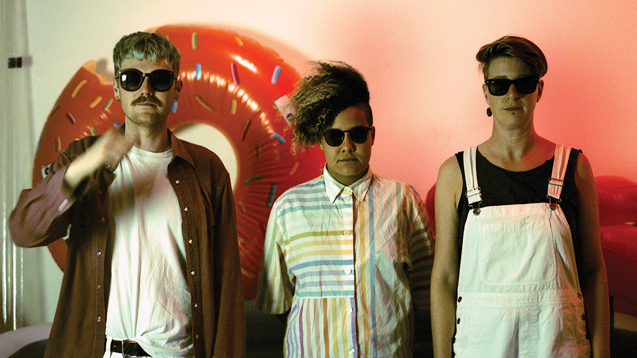 Survive to thrive
Nadine Davis from
BBZ
, a platform seeking to eradicate misogyny for queer women, trans folk and non-binary people of colour, earned her festival ticket as tech support at The Sisterhood and was invited to collaborate the following year.
'We designed the space and created a public restroom as a reaction to the conversation around transphobia and the issue of toilets still being gendered to this day,' she says.
It's an issue close to her heart, as although she identifies as a woman, she details experiences of being escorted out of venue toilets by security and having to prove her gender by lifting her top up. It's a personal example she often gives when asked about everyday challenges faced by marginalised groups, 'because it's the most vivid and violent that people understand.'
So how is the industry adapting?
PRS Foundation
– the UK's leading funder of new music and talent development – is reflecting the changing tides of how gender is classified. New projects Keychange and ReBalance, which invest in female music creators and industry professionals, notably include gender inclusive terminology in the application requirements, encompassing 'all those who identify as women'.
Senior Grants and Programmes Manager, Joe Frankland, said this has since been added to the existing eligibility criteria for the Women Make Music fund, which aims to 'encourage more people to come forward for our support and to remove any barriers for those new to our work.'
Meanwhile, as a response to US President Donald Trump's snap decision to ban transgender troops earlier this year, DIY
streaming
and merch platform Bandcamp came out fighting with a one-day fundraiser where it donated its share of music sales to the Transgender Law Center. Over 200 artists and labels joined the platform in donating their own shares, including British labels Wichita Recordings, Bella Union and Hyperdub.
As the language around sexuality and gender evolves, the opportunity for new voices in music to reach listeners on these issues continues to grow. For Andrew, it's gratifying to know that fans are able to identify with the themes presented in Shopping's records: something he says he was searching for when he first started listening to riot grrrl and queer punk.
'I love that people can listen to our music and feel, maybe, a little bit less alone, or feel a connection. The idea of that is really empowering.'
For in-depth interviews with everyone here, visit
m-magazine.co.uk/tag/mx-music