X-Press 2 came together through the club scene of the late 1980s, Darren Rock (Rocky)  and Darren House (Diesel) got together with Ashley Beedle through their love of house, balearic, soul and jazz music, Iconic debut Muzik Xpress smashed dancefloors to bits on both sides of the Atlantic in 1992.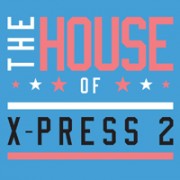 A series of big dance chart hits followed before their collaboration with Talking Heads' David Byrne landed X-Press 2 with a huge crossover pop success, reaching number 2 in the UK singles chart.

More dance classics followed with the band's eclectic influences resulting in some notable collaborations, 1995's Give It featured Lambchop's Kurt Wagner.

Now recording as a duo of Rocky and Diesel, M caught up with X-Press 2 to find out how they put together their music. The band's third  album The House Of X-Press 2 is released on Skint Records on the 23rd January 2012.