Back in June 2004, M magazine spoke to a new wave of British songwriters on the cusp of something big. Among the rising stars we cornered for our Young Guns Go For It special were Jamie Cullum and Amy Winehouse. Following Jamie's gig and masterclass in London this week, you can read his full interview here.
Jamie Cullum, 23, has broken through playing piano and singing as part of a jazz trio. His self-made
Pointless Nostalgic
was picked up by jazz label Candid, where he also met manager Marc Connor of Air Management.
Radio 2 got behind the album and a slot on Michael Parkinson's TV show won him instant attention. Subsequent platinum album
Twentysomething
, produced by veteran Stewart Levine, was licensed to Universal Classics & Jazz and has broadened the mix with songs written by Jamie and his elder brother Ben, and covers as diverse as
Singin' In the Rain
and Jeff Buckley's
Lover, You Should Have Come Over
.
It has led to hit singles, slots on MTV and CD:UK and a forthcoming Glastonbury performance. It has also seen Cullum begin to break in the US and Europe.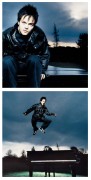 Jamie Cullum:
'I was a rock 'n'roll kid, into Nirvana, Pearl Jam, AC/DC, guitar solos, long hair. That was me at 12,that's what got me into music. But I was listening to hip-hop as well, and bands like Tribe Called Quest, Pharcyde, Public Enemy were using jazz samples, this scratchy, organic sound that pricked my ears up instantly.
'Reading
Guitar Player
magazine I'd see that Steve Vai learnt a lot from Wes Montgomery, and thought, who's he? Oh, a jazz guitarist, signed to Blue Note. When my brother went to university to do a music degree he came back with Herbie Hancock's
Headhunters
and it made total sense. We'd been primed for it by heavy metal and hip hop.
'Then when I heard Thelonious Monk's
Brilliant Corners
it sounded more modern than anything I'd ever heard. I made my first CD,
You've Heard It All Before,
and sold it at weddings and gigs, and that got to a guy from Candid called Alan Bates. He quite liked it, but it wasn't very good, to be honest. Then I made
Pointless Nostalgic
and I played that to him and he was like, "Whoah, I'm going to put this out!"
'Technically, I'm still signed to Candid, they're licensing me to Universal. When I did
Pointless Nostalgic
I was in nine other bands that might have gone somewhere - two hip hop bands, one playing drums, one playing keyboards; three rock bands, two I was writing songs for, one where I was just a side man, a pop band, a tango band, a funk band, a jazz band, all working bands - and two I had particularly high hopes for, one of the rock bands, particularly. I was in that until nine months ago, playing guitar.
'
Twentysomething
is the beginning of me wanting to present a music that embraces all those genres. My greatest influences, in that sense, are people like David Bowie, Miles Davis, Tom Waits, Beck, Prince, people who change the design of how they make music every so often. I felt I could shake things up easier in the jazz world, I could be more myself and do more interesting things. But I'm doing it within the framework of popular music.
'If there is a new jazz movement, I think Amy Winehouse is the one with areal hook on what young people should be doing with it. She's my guiding light, the one who's saying, "Let's really fuck this up". With both of us it's very much a beginning; we need a chance to develop. I'm lucky that I'm not in the kind of band that has to give the same show every night, we can try something new every day, already I'm touring the next three albums. I've been playing guitar on stage again for the last six months. I just see myself as a musician. I'm just going to make the next record like I made
Twentysomething
, I did that by following my gut and I'm going to do that again, make a good, passionate album that I'm proud of.
'You'll hear some more of my punk influences, that Ben Folds mixed with the Pixies thing, but still singing Jerome Kernon occasions. I'm writing on guitar on the road, but it's difficult to finish songs on tour. I wake up thinking about new stuff and I go to sleep thinking about it. It's a curse! The point where I feel I've written a good song is when it takes on a life of its own.
All At Sea
, which has turned out to be kind of the hit of
Twentysomething
was originally a 12-minute
Sea Suite
- jazz shite, a Grateful Dead jam with a faux drum 'n' bass thing in the middle - then when we got into the studio it became a pop song.
'I'm travelling all the time, working harder than I ever thought I would, playing in front of all ages, from nine to 90. I'm enjoying meeting new people and hanging out and playing music every night. But you have to bemotivated. With interviews and photo shoots, it can start to feel a bit like a job. You've just finished a gig in front of hundreds of people, done a CD signing and several interviews, fallen into bed exhausted and then you're woken up by someone in Asia asking you what you think about Norah Jones!'
To celebrate the launch of The Big Audition songwriting competition in London this week, Jamie played an intimate gig at the PizzaExpress Jazz Club. M went along to find out more.