He's taken enough LSD to kill lesser mortals, was once photographed naked under a turtle shell on a slag heap for an LP cover and is back on the booze with latest record, Drunken Songs. Jim Ottewill goes head on with mystical pop soothsayer Julian Cope…  

On first sight Julian Cope looks more likely to kick your teeth in than regale you with insights into the UK's antiquarian sites. Adorned in leathers, shades and boots, and complete with big bushy beard, his intimidating get-up is straight out of the wardrobe of a psychedelic Hell's Angel. Or as he prefers, 'Odin's biker'.

But while his attire is slightly threatening, the reality is, as with everything convulsing around the mind-wobbling universe of the arch druid, very different. Under the leathers beats the enthusiastic heart of a wide-eyed poet, musicologist, historian, archaeologist, occultist and novelist.

'An experimental unit dedicated to taking LSD'
It was as a founding member of Liverpool's Teardrop Explodes, 'an experimental unit dedicated to taking LSD', that Julian became a pop star. The Teardrops reached the top 10 with eighties' hit Reward before his muse dropped a trip outside the charts and rained down an otherworldly shower of words, books and historical projects.

'I never wanted to be a pop star,' he admits. 'I absolutely thought it was the stupidest concept in the world. But looking back, with tremendous hindsight, I was pleased to have been one. I was very bad at it but at least I wasn't as old as Huey Lewis when I realised that Top of the Pops was in a tiny, shitty studio. Imagine working until you're 40, going in after your hit and realising it was a shit hole. You'd be hoist by your own pop petard.'

Now in 2017, rock 'n' roll is back on the agenda with Julian's new album Drunken Songs, rolling around sloshed at its altar. But while his love for old stones and the mystical past is much talked of, his music is in no way nostalgic. Instead, this new LP is an invigorating, 'inebriated' collection of odes to delicious booze, his cup running over with ideas, melody and wit. It's this musical energy, coupled with a healthy disrespect for rock heritage, which has kept him and his work so refreshed…

'I found a lot of music boring when I started out,' he laments of his early days. 'I could never like Dylan. I thought he saw musicians as functionaries on which he trod while he saluted the grandness of his own muse. "Hire me bass player [The Band bassist] Robbie Robertson". That's just fucked up man.'

Instead, Julian's musical weaning started out with arch political singer songwriter Tom Lehrer, before he discovered a love for the out-there sounds of The Doors and Frank Zappa. A passion for arty counterculture took him to Liverpool where Julian fell into a pop career more by accident than any grand design.

Julian remembers: 'We got into it because me and [then manager] Bill Drummond were mentalists for pop culture. He came back from London one day and said: "You'll never believe it but this guy from Mercury Records thinks you can be a pop star. The daft apeth."'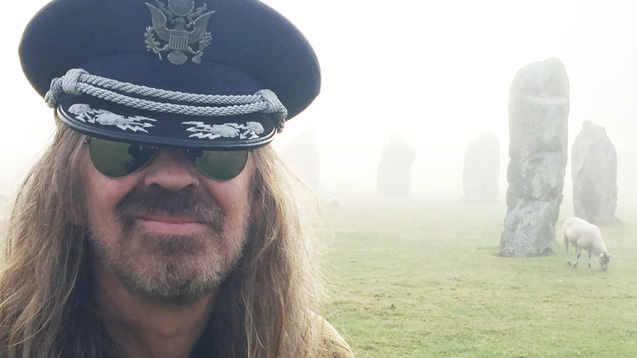 Head butting the 'rock pantheon' 
The neon psychedelia of The Teardrop Explodes blasted out of a post-punk Liverpool music scene that was as legendary for its infighting as its music. Alongside Echo and the Bunnymen's Ian McCulloch and Pete Wylie, Julian was a member of the Crucial Three, a late seventies' punk group who notoriously fell out with each other after only six weeks without playing a gig. All three went on to enjoy some success but it was as much a thirst for bitching, arrogance and getting fucked up as well as their striking songs that propelled them. Were the bust-ups real? Or orchestrated by puppet master manager Drummond?
'It was just absolutely hammer and tongs at each other,' remembers Julian. 'There was clearly a limited amount of space in the rock pantheon and we all had to fight like billy-o to get a look in.'
Cosmic fire
To him, the lunacy that surrounded him and his peers is what rock 'n' roll is all about. Julian believes it's less of a career and more a way of life lived holding on to the edge by your fingernails. 'Rock 'n' rollers by definition are poor role models,' he says. 'They should be. They should be all promethean and handling cosmic fire. That's what makes it.
'It's about giving permission to people who aren't in control,' he continues. 'You put the spotlight on people who, if were in the mania, would be chained to an iron bed. It's fucked up man. But it's brilliant.'
While Julian was in The Teardrops and his subsequent solo years, he embodied these sentiments to the extreme. His acid and weed
consumption
were the stuff of legend and had huge influence on him and his music.
'Has had acid shaped me as an artist? Almost entirely. The Teardrops weren't a psychedelic band but a contemporary group on LSD. We wanted to subvert while having a great time,' he explains.
At the same time, he's keen to assert that despite the acid and an eccentric gene pool, he's also had to keep a vague grip on reality to abide. 'There were neurological problems in the Welsh side of my family due to inbreeding,' he says.
'That sounds like I'm pulling your leg but it's actually entirely true. At the same time it hasn't impacted me. I've grown up in a world which is extremely relentless in its expectations. It means I've had to endure to still be interesting and for people to be interested.'
The modern antiquarian
Since The Teardrops imploded, Julian's energy for new knowledge has led him streaking through myriad creative pastures over subsequent years. While he's continued to release many albums of music, he's penned two successful books on Neolithic stones (
The Modern Antiquarian
and
The Megalithic European
) plus one on Japanese krautrock, and turned his hand to novel-writing, in the form of
One Three One: A Time-Shifting Gnostic Hooligan Road Novel
. How has he managed to be so successful while orbiting so many starkly different spheres?
He puts it down to the Keith Moon approach. 'I'm not the best drummer in the world but I am the best Keith Moon type drummer,' he says. 'I never tackle anything that anyone else has much tackled so that the story I am telling is as brand new as it gets. I think I've been lucky that my experimenting has not sent me down too many blind alleys or cul de sacs.'
So how can new artists learn from his career? 'The best advice I can give is never do a gig in Austria if you don't fancy the women or the food. Cos they might like you and invite you back.'
Sorry? 'You've got to be practical,' he explains. 'Otherwise you might as well be doing a perfectly normal job.'
Drunken Songs
Now Julian has just released
Drunken Songs
, a travelogue of ditties penned around the UK over the last decade while researching his favourite monuments. One song,
On the Road to Tralee
, is a staggering 19 minutes long. Where did the idea come from to dip his music in the drink?
'In 1983 I gave up drinking and did so for 20 years,' he explains. 'But then I was doing some prehistoric research in Armenia. I was invited to a settlement where they were having a celebration. And they expected me to drink. I tried telling them that I was teetotal but I had to drink out of politeness for their customs. I had nine mulberry vodkas that night and afterwards I was like a boy racer. Bring it on.'
Despite being soused, it's a great selection from an artist who, try as he might, can't help but come up with pop, which is, in his words 'as catchy as a bastard'.
'The lead song,
Drink Me Under the Table,
should be in Ibiza really. It's about a business woman and man who don't know each other, who meet on a Friday night and just get it on.
'At that moment, they don't give a fuck. Which is what Carl Jung's Western experiment is all about. It's about living in the moment, that we take risks and we fuck up. And that's what
Drunken Songs
is about.'
It's never over until it's over
While much of Julian's life has seen him seek inspiration from inside his (often deeply altered) mind, the world around him in terms of Brexit, and of course the election of Donald Trump in the US, is perilously poised. But it turns out that the wider universe drives him too: 'The world always has an impact man,' he says. 'I think confrontation is essential so in that respect I love where we're at. But I don't fucking love Trump.'
At the centre of Julian and his music beats a punk heart. His whole life has been devoted to rugby tackling the norm, perhaps best shown by half an hour of unravelling, psychedelic conversation. He ricochets from philosophical teachings to recalling giving careers advice to Def Leppard's Joe Elliot on smoking 'big spliffs' in the back of a limo. It seems what keeps Julian going is the belief that whatever happens, our culture will find a way to grow and expand.
'What did Lenny Kravitz say? It ain't over until it's over. He's a silly sod but that's a great point. It's never fucking over,' he says.
Drunken Songs
is out now.
headheritage.co.uk