Nearly 55 years since Stephen Sondheim emerged as the lyricist of the quintessential American musical, and following his celebratory Ivor Novello award earlier in the summer, this feels like the perfect moment to assess the New Yorker's very own West Side Story, says Paul Sexton.

Stephen Sondheim's work inhabits the street where they say there's always magic in the air. It also inhabits every other musical theatre stage in the world, and his songs will be playing somewhere near you tonight and every night. Not bad for an octogenarian whose first specialist subject was mathematics.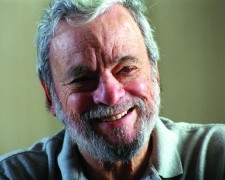 81 years young, Sondheim is ever the enigmatic and unrivalled artisan who emerged five and a half decades ago as the effective godson of the Great American Songbook. That title is almost an official one: Sondheim was the godson of Oscar Hammerstein, so he learned his craft from the very best in the business.

'I had no serious notions of composing for the theatre until my early teens, when I met Oscar Hammerstein,' the often elusive Sondheim told BBC Radio 3 last year. 'Then I wanted to do what he did.'

His PRS for Music Special International Award at The Ivors was the latest recognition in a career garlanded by Grammys, Tonys, an Oscar and a preciously rare Pulitzer Prize, for Sunday in the Park with George. He even played himself in a 2007 episode of The Simpsons.

Illuminating the narrative are the British artists and musicians who've worked with him, and on his scores, from Send in the Clowns to Sweeney Todd, and know better than anyone that they speak to audiences all the way from Broadway to Bolton.

The northern English town was indeed the setting for a production of the musical thriller about the demon barber of Fleet Street, with songs and lyrics by Sondheim from the book by Hugh Wheeler, first performed on Broadway in 1979. The music director of the recent version at Bolton's Octagon Theatre was a young Sondheim veteran, English actor-musician Tom Attwood, whose first encounter with the great man, on a London production of Saturday Night, says much about the writer's exacting standards.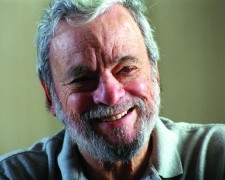 'That was going to be his first Broadway show [in 1954] and then the producer died, so it got put in a bottom drawer and forgotten about,' explains Attwood. 'Then he was persuaded to pull it out and wrote a couple of extra songs for it in the early 90s.
'But he thinks of it as his baby photos. He came to see the production in London and he was so apologetic, he said, "The two songs I added in were so much more sophisticated," and you think, "The first ones weren't that bad either."
'That was the first time I met him. I was fine until just as the house lights went down, I thought, "What have I done?" But as with anybody who's good as a writer, the note is always, "Just do it the way I wrote it, because that's probably the most concise. So if you change the length of a note, or you adjust the tempo, or back phrase, or speak-sing, actually it's probably not as good as if you just sing it the way I wrote it."
I've been accused of being the central character in every musical I've ever written
'In
Sweeney
, the music is the thing that's in charge,' says Attwood. 'It's written to the hilt, in that sense, as opposed to being a play with songs. The narrative is driven from the music, and I enjoy that very much.'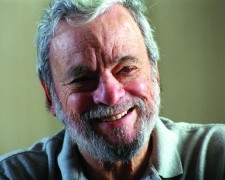 That very particular composition discipline, now steeped in decades of experience, also means that the song comes first, even when the performer may be a superstar. 'You rarely write for a performer,' Sondheim told the BBC. 'I've written maybe half a dozen times in my life for a specific performer. You write for the character or the situation in the show.'
In turn, he weaves his songwriting sophistry around the original stories he
works
from, be it James Goldman with
Follies
, James Lapine (
Sunday in the Park with George, Into the Woods
), George Furth (
Company
) or even William Shakespeare (
West Side Story
).
'I've been accused of being the central character in every musical I've ever written, with the exception of
Pacific Overtures
, because I'm not oriental,' he said, dryly. 'Obviously, every writer is drawn to the material he's drawn to because there's something he can relate to, so of course I make a connection of some sort with any story that I help write. But I don't invent any of these stories, they're all other people's stories.'
To re-emphasise the durability of Sondheim's songs about the deranged haircutter (such as
The Worst Pies in London, A Little Priest
and
The Ballad of Sweeney Todd
), the much-revived musical is about to open in another new version. For six weeks from 23 September, the Chichester Festival Theatre will host the latest production, directed by Jonathan Kent and starring Sondheim regular Michael Ball as Sweeney and Imelda Staunton as Mrs. Lovett.
Ball has the advantage of being on familiar terms with the great writer. 'I did go with Steve to see the dress rehearsal of the John Doyle production of it on Broadway, with Patti LuPone and Michael Cerveris,' he tells me. 'I just thought it was amazing. I knew it, and I knew the music, and always had an interest in it, but this was the one that made me think I wonder if I could be brave enough to do it, and do it properly, in a big full-mounted production.
'We have who I consider would be the most perfect Mrs. Lovett in the world, Imelda, I think she's absolutely ideal for this. I coerced her into appearing, and we've got a great creative team around us.'
Ball also sees Sondheim as a hands-on creator, but only when the time is right. 'Steve will come over when it's up and running,' he says. 'I was talking to him at the Oliviers, when I knew I was doing this, and he said, "I'm of no use to you until it's on its feet, then I can come over and see if you need me in any way. Until then, just get on with it!"
'With something like Sondheim, more than I think any other writer, you can't be free to do what you need to do until you've got it, you've learned it. With Sweeney, there are such complex rhythms, harmonics and dissonances that until you've got it absolutely right, there's no point in trying to get the feel.'
That view is further echoed by Simon Beck, who conducted the 50th anniversary production of
West Side Story
, worked on yet another
Sweeney Todd
for Sondheim's 70th birthday in 2000, and was then assistant music director on the Sondheim at 80 series at London's Donmar last year.
'I've always found that he writes so specifically,' says Beck. 'I perform myself from time to time, I have my own one-man concert cabaret, so I have my performer's head on as well as my musician's head, and I very much enjoy working on his stuff.
'He's very particular about accents to be hit musically, or words to be stressed dramatically, even to the point of saying a singer needs to hit this in a falsetto voice. In a way, he's made every decision for you, he's very specific about the style and feel and tempo. You know exactly how to play, where to play, at what speed to play it, what voice style to use to sing it in.
'I guess some could construe that as very constrictive, but I always find it's the complete opposite, because all the detail is there. You're able to get straight into it and then enjoy delivering that detail and finding out how it sits within you. I've observed how he works performers, he's very specific but he lets his work inhabit whoever's delivering it.'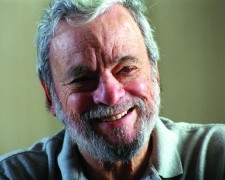 Ironically, for all of the Sondheim connections in his resumé, also including performances in Passion (1997) and Sondheim Tonight (1998), Ball was not exactly an instant fan. His introduction to the canon was Judy Collins'  UK top 10 hit version of Send in The Clowns in 1975.

'I wasn't that into him,' says Ball. 'I was always aware of him, but I was never one to say, "I've got to go and see the next Sondheim show." Then I remember listening to Barbra Streisand's Broadway album, and on it were things like Not While I'm Around, from Sweeney Todd, and The Ladies Who Lunch, from Company. She was just a great interpreter of his music, and that's when I realised the depth of what he does, and the wonderful acting challenges as well as musical challenges.

'I remember when we were working on Passion, we got to know each other and he said to me, "Christ, they all say to me, 'Why don't you just write tunes?'" Everyone accused him of being too clever. He said "Every fucking song in Follies is a hit! What do they want from me?!" And it's true; they're brilliant songs, taken individually.'

Sondheim shares a birthday with Andrew Lloyd Webber, 18 years his junior and almost the only contemporary composer whose catalogue spans the theatrical world on the same scale. 'There was a time, I think, when they both wanted to be each other,' says Ball. 'Steve would have loved the commercial success and Andrew would have liked the credibility that Steve had.'

But no one sees an obvious inheritor of the Sondheim mantle. 'There are lots of people who work similarly to him like Adam Guettel, his stuff is up there with it, but it isn't new,' observes Attwood. 'So that's sort of what we're waiting for, but I don't know where that comes from.'

'Don't forget he was an apprentice, if you like, to the old school of Broadway,' says Ball. 'He worked with Lenny Bernstein, with Jules Steyn, on Gypsy and on West Side Story. And he's still writing new music into his 80s. Nobody, I don't think, will ever have that kind of trajectory.'

Beck also sees pretenders to the crown, but no confirmed successor. 'I know Jason Robert Brown is the name that people compare, and say he's been given the seal of approval by Sondheim. There are lots of very good writers around - mostly, I would dare to say, American writers, because they get more opportunities to develop and create.

'But I feel Stephen Sondheim is in an absolute class of his own. I don't think there's anybody in our lifetime who's going to come close to his work.'