Performer, charmer, music maker, raconteur - all these titles and more suit iconic songwriter and live wire artist Wilko Johnson.
As a founding member of Canvey Island's celebrated, 'pub rockers' Dr Feelgood, Wilko had a steering hand in influencing a whole generation of artists in thrall to the primal power of rhythm and blues.
Without him, it's unlikely that bands like the Jam and the Clash would have succeeded. It was his energised performances that paved the way for them and led him to enjoy success for more than 30 years with Feelgood, his solo band and even joining Ian Dury's Blockheads.
Then in early 2013, Wilko's career took an unfortunate twist after being diagnosed with terminal cancer. Given only ten months to live, he threw himself into his music, playing a series of exhilarating gigs and making the top three album
Going Back Home
with The Who's Roger Daltrey.
During all this success, Wilko also received a operation, offering him a new lease of life despite all previous predictions. Now, not only is he enjoying life to the full but he's arguably never been more successful with both his music, live gigs and even landing a role in
Games of Thrones
. We were lucky enough to quiz Wilko on his career, his songs and how he's cheated death…
What were the first records you got into?
The first record I bought was
Hit the Road Jack
by Ray Charles. It was played on the radio and I went wild. I ran to the record shop and bought it. It still sounds good.
What inspired you to start making your own music?
I saw an electric guitar at school. I didn't know anything about music but was absolutely fascinated by the instrument. I was like 'I want one of these things and I'll be getting all the girls'. It was the instrument itself rather than knowing anything about music. But there were certain difficulties. I'm left handed and when I started playing, I did it backwards. I was useless. Man, I couldn't play, I was crap. Everybody at school could play better than me.
Then I got an opportunity to buy a Watkins Rapier, this was a right handed guitar I started learning, even if it was counter intuitive.
I also started learning more about music at that time. Like most people, I was into the Stones. Everything about them, they were just so anarchic. It meant I began learning about the American R&B records that inspired them.
Is that what musically fired you up when you started out?
Yes the first time I started hearing the great blues men - Muddy Waters, Howlin' Wolf, Bo Diddly - when I first heard them, I knew I was always going to love this music. And it's true. Even now in my frail dotage, I dig it.
What kind of influence did Canvey Island have on you and your music?
There wasn't much music going on on Canvey Island. Dr Feelgood were a typical local band, four mates into that style of music. It wasn't very fashionable back then in the early seventies. We just wanted to play that way. We played locally around Southend and during that time we brought our thing together. It wasn't the musical influence of Canvey Island, it was the music's influence on Canvey Island. We just fantasised about the place, and it was all wrapped up in the music.
What was the music scene like back then? Was Dr Feelgood a reaction to what was going on?
Dr Feelgood was just what we wanted to do. We weren't looked upon as hip, and this was from people in platform shoes. We got a residency on Canvey Island, every Thursday we used to play. People would come, they'd dig what we were putting down.
Then we started playing in London. We did have absolute energy. There was no turning your back on your audience. The whole point of what we were doing was to create excitement. When we'd been learning to play, we knew what would get people going, whether that'd be Lee [
Brilleaux - Dr Feelgood frontman]
shaking his fist or me pretending my guitar was a tommy gun.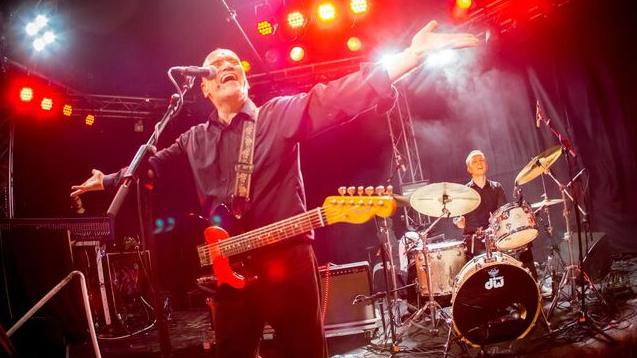 It must have been really exciting when you first emerged?
We started the band purely for fun. But I remember sitting outside the Kensington, this pub where we used to play regularly, and this taxi full of people turned up. I remember thinking wow we must have been making it, people who can afford cabs are coming to watch us. At the same time, it wasn't too much of a surprise, you could tell that people dug this music and there wasn't much like it about. We were putting down something as old as the hills but it was different. It was a good feeling.
How did working with Ian Dury influence you?
The time I spent with Ian were some of the happiest couple of years. Working with the Blockheads was packed with incident, but it was fabulous playing with them. We did a tour of Australia, and Ian was huge over there - can you imagine the buzz man? The house lights go up, the stage lights would go up, we'd go into
Sex, Drugs and Rock n Roll
- man that was such a feeling. Ian was of course, well, I think he was a genius actually. There aren't many people who have actually added phrases to our language. Sex and drugs and rock and roll. Reasons to be cheerful? They've entered the language. He was a very funny guy. Sometimes, quite frightening. What a showman. He was on stage with a five piece, six piece band - and yet Ian was the frontman. All eyes were on him.
Much has been made of your illness and subsequent recovery - how has this fed into the way you perform and write music?
I'm still coming down to earth from it all. During the year or more when I was dying, the feeling of playing was fantastic. You'd walk on stage man and nothing matters - you've got no future - the past is beyond help - you're on the stage to play rock'n'roll. Fantastic. That whole year was ... I wouldn't have missed it. I nearly did. But the whole year was - the consciousness it gives you, the idea that your life is at an end, it makes you look at things in a very different way. The music was fantastic, so many weird and silly things were happening all the time. Roger Daltrey popping up saying, let's make an album. We had eight days and we went and banged something out. At that point, the doctors had given me ten months to live and I was in the eleventh month. I don't know whether I'll live to see this released. I've had a fantastic life. I've been around the world. I carried on playing and now here I am finishing up with Roger Daltrey. Come on man. You cannot complain.
Things got sillier and sillier. Not only did we do this record in eight days but it became a best seller. Right at the last minute when this tumour is the size of a melon, I looked seven months pregnant with this tumour, and then out pops this character Charlie Chan, who is a cancer doctor. He came to my house, he said there's something strange about this, if you had straight forward pancreatic cancer then you'd be dead now. He advised me to go to Emmanuel Hugo. I went there – after a year of believing I was going to die - he told me I think we can operate. They did it man. You know, they cured me. After that was months of weakness and recovering, I was like a skeleton, but slowly, slowly, building up my strength until I could play again. I'm back in the real world now.
Are you working on another record?

Yes, I'm slowly getting back in touch with things. I think it's about time we got back in the studio and recorded an album.
I never know what's really happening next. But I do know we're going to Finland to play with ZZ Top. I know we're doing that as it kind of amused me. Festival time is now so we're playing a few of them, quite nice really. All these things are quite nice as I'm supposed to have been dead for two years.
Have you any advice for new songwriters?
All I can say, for better or worse, you've got to do what you want. Don't do what people tell you or you think you should be doing. If you're doing something you really love, you'll be rewarded anyway. Maybe you'll succeed and you'll be a millionaire. Maybe you won't but you'll have a great time. So don't mess around and do what you wanna do.
Wilko's memoir, Don't You Leave Me Here, is out now.
wilkojohnson.com
Photo credit - Leif Laaksonen