'I always want to put more dynamism inside my music, for the young generation,' says musical visionary and drumming legend Tony Allen.
As one of just a few musicians alive today who can honestly lay claim to inventing a brand new genre, it's a stance that has made the world sit up and listen right the way through his 50-plus year career.
Back in the sixties, when he first began fusing the skilful swing of American jazz pioneers with the beats of his native Nigeria, he set the tempo for generations of beatmakers that followed.
The rhythmic powerhouse behind Fela Kuti's afrobeat and highlife movements, he concocted an explosive sound which changed the game not only in Africa but around the world.
Since he left Fela's band Africa 70 at the start of the eighties, Tony has continued to push the boundaries of modern music, with no signs of slowing down.
Over the last thirty years he's deconstructed the wayward sounds of dub, electronica and hip-hop, infusing them with afrobeat rhythms to create a new hybrid genre he calls afrofunk.
He's collaborated far and wide in his quest for musical progression, with recent notable ventures including various projects with Damon Albarn (such as Africa Express, The Good, The Bad and the Queen), Ernest Ranglin and Red Hot Chili Pepper's Flea.
We were lucky enough to spend some time with Tony for our Awesome Africa feature in the
latest edition of M magazine
to find out more about the man behind the legend…
What sort of music first caught your ear as a youngster growing up in Lagos?
I grew up listening to local music and western music, all mixed together on the radio.
What was your first brush with making music?
Well, it's what I chose in my life to do, and I'm really passionate about that. It's something that has always been non-stop for me. There is no end to it. I just kept on following up on it, playing with others, making sure I didn't get bored.
You're credited with creating the afrobeat rhythm. How did that first come about?
I was listening to many things from my childhood. I rationalised it all in my mind and followed it up with something that wasn't there before. That's it. That's my way of composing. My drumming is not like other people's drumming because of my calculations and the way I want to approach it. I cannot really explain that too much. It's just personal…
Is it a conscious thing or does it just happen?
If I'm invited to play as a guest on someone else's music, it's the music that tells me what to play. You know what I mean? It's not that person that composes the music who tells me what to play, it's the music. I need to look, for me, into the music. That's how I'm guided.
You first came to prominence with Fela Kuti and Africa 70. What do you remember from those 15 years you spent together?
It was a very different time from now. Africa 70 was different from Egypt 80 - which again is very different from today. There have been several industrial and musical movements.
Since I've been on my own, I've been trying to evolve afrobeat in my way. I didn't want to be stuck again. I get bored. I need to play with others. That's how it is. I have my own individual stamp.
Is your music linked to the culture, society and the times you live in?
I've always made music particularly for the pleasure of other people, not myself, until now. When I make my music it's not for me. I try to reach everybody. That's why I'm not trying to be a boogie musician! I just want to make music for the people to enjoy and I like to touch people everywhere, whichever way.

Everybody should just imagine my music in their own way. Everybody is free to put it anywhere, because I'm still maintaining afrobeat, as I said.

You experimented a lot with afrobeat as an idea and as a rhythm after Africa 70. How did you develop those ideas?
I'm committed to the passion in my music. I will use it the way I want to use it, and create a modernising sound. I thought I would put a touch of passion into my own afrobeat and use it in different ways. I always want to put more dynamism inside my music, for the young generation.

How do you think afrobeat has changed and evolved over the years?
When I make my music, it's afrobeat I'm playing. It could sound different to different people and they could categorise it any way they want.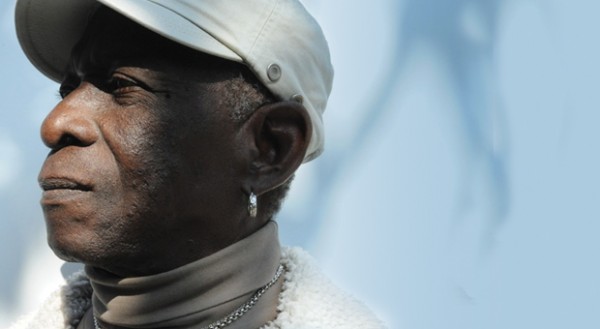 You've recorded so many albums over the years – do you have one you're particularly fond of?
No. I never judge anything. When I put myself into the music it means it's going to be positive. Simple as that. Then it depends on the audience, fans or whatever, to judge it how they want. I'm just doing my music.

Do you think that, these days, people are more open to collaboration and incorporation of West African music in Europe?
It's happening everywhere. Europeans are starting to relate more to African music collaborate. It's a good step forward for African music in the western world. I'm not thinking about this as an African musician. I taught myself to deal with any music. My music consists of different movements, jazz, everything, even classical. Everything is in my music. I just know that, at least today, more westerners are relating and listening to the African style. They're making music with it and collaborating with it. It's a good step forward.

What do you think has encouraged that?
It's the machine that makes it work. I'm part of it. I'm working here in Europe.

You've collaborated really widely - what do you get out of working with others?
My music is personal. It's just one of those things. When it's done, it's gone, so I'm always looking forward to another collaboration that will come.

Are you still involved with Africa Express?
Yes, Africa Express is still my project. Whenever I'm available for it I go for it. I've been part of it for years, but not all the time.