Anita Awbi tunes into the paranormal pop of Throwing Shade, an outspoken songwriter, producer and curator who's ripping up the rulebooks.

'What am I doing when I make a recording or produce my radio show? What box am I supposed to fit into? I'm young, female, Asian and British - but what does that mean in music?' wonders Throwing Shade, aka 20-something Londoner Nabihah Iqbal.

She's sitting on a sunny balcony overlooking the concrete reaches of the Westway, one of the capital's most iconic thoroughfares. Its gritty existence has loomed large over songs by guitar heavyweights The Clash, Blur and Dirty Pretty Things. Now a new strain of musician stirs in its wake.

Nabihah, born and bred within five miles of this spot, is a songwriter, performer, broadcaster, DJ, ethnomusicologist and now recording artist, who's released a flurry of peripheral pop gems via some of the world's hippest independent labels.

She plays sitar, piano, flute and guitar, boasts an MPhil from Cambridge specialising in African history, has hands-on experience working as a women's rights lawyer in Cape Town and holds a black belt in Karate.

The archetypal ultramodern pop writer, Nabihah is armed and ready to reject the existing cultural ley lines. 'When I think about how many other British brown girls there are making music and who have a platform to say something – well, there's just not that many who spring to mind,' she says, citing multicultural hip-hop activist M.I.A as a massive inspiration.

'A unique factor of being here now, partway through the 21st century, is that everything is blown wide open. People can exist who approach music from a completely different perspective. Not being white or male inherently makes a difference to the music you make and your motives. For me, it's about learning how to be heard and sharing these experiences.'

Cosmic R&B

Nabihah's music inhabits a warm muzzy space somewhere in between the dancefloor and the after-party. Her iridescent way with a melody hits a savvy sweet spot, while the weight of dusty garage beats anchor her cosmic R&B with groove and authenticity.

So far, her sparse, yet impeccable, output has hinted at a precocious new talent that's been raised on a healthy diet of classic pop, house and bass. It's an addictive blend that's making the world sit up and listen.

We were first officially introduced to Nabihah's synth-led sonics back in October 2013 via the Ominira label, run by electronic whizz Kassem Mosse. He'd found her music on SoundCloud and fell for its playful pop vibe. Since then, she's released two gloriously technicolour EPs through No Pain in Pop (Patten, Grimes, Forest Swords) and dancefloor imprint Happy Skull. Her latest venture, the House of Silk EP, even found its way to independent heavyweight Ninja Tune, which released the set earlier this year.

Unconsciously, she's been mining a rich musical seam that takes in everything from eighties icons Prince, Talking Heads and Kate Bush to Hype Williams and the grimy electronics of late-night London. With all this percolating just below the surface, her abstract aural outlines have sounded like no one else. Now, midway through writing her debut album, Nabihah is attempting to draw the dots between her past and future sound.

'Before, when I was recording that stuff, I wasn't really thinking about it,' she explains. 'I was making music just because I felt like it. Now it's weird because people are waiting to hear my new stuff. There's a pressure that didn't exist before, so this album process is about learning how to deal with that as well as thinking about what my aims are.'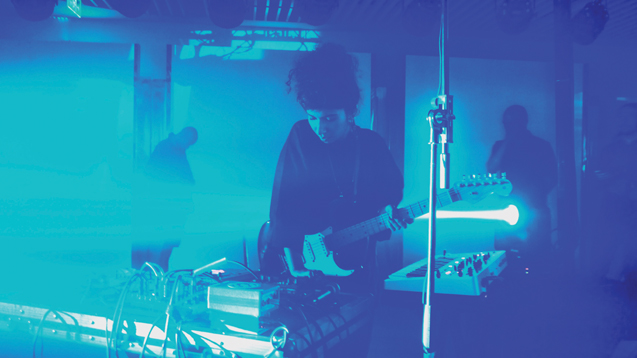 Pop tropes
Nabihah is certainly a canny operator. Since her first release on Ominira, she's been commissioned by the Tate to write music for the Turner Prize, and has performed her work at the Tate Modern, Tate Britain and Institute of Contemporary Art. She's also penned a score for a Belgian filmmaker, made a documentary series for
i-D
magazine and won PRS for Music Foundation Momentum funding, which has helped her hire space in Damon Albarn's lauded West London studios. As a songwriter just finding her feet, the extra support has been a boon, she says. And, although wedded to London, Nabihah even explored the possibility of relocating to cheaper cities Leipzig or Lisbon to continue her work.
With every fortuitous break, she's used her artistic wiles to inhabit a parallel universe where women are on top. 2014's video for the candy-themed love song
Sweet Tooth
is the perfect showcase for her inverse creative reasoning. In it, we're transported to an alternate present, populated by scantily clad men doused in sugar syrup and sweets. Her 2015 video for
Honeytrap
follows a similarly bizarre streak, with a fully-clothed Nabihah contrasted against shots of semi-naked men basking in beds of fruit and honey. Make no mistake, this is pure objectification, but from a heterosexual female perspective.
'I think about image a lot, being a woman in this industry right now,' she explains. 'It's important for me, especially coming from my background. I want to become a strong female figure without having to succumb to all those other pressures that affect a lot of other women in the music industry. I find it ridiculous that a girl is expected to be naked and pull all these suggestive poses when a guy doesn't!'
Nabihah is laughing now, but it's clearly no joke. She's very vocal about global phenomena Beyoncé and Kim Kardashian, citing their sexualised images and powerful positions as a 'dangerous' contradiction which undermines feminism in 2016 rather than justifies it.
'Okay, you're free to make your own decisions, so if you want to put loads of pictures of your bum on Instagram because that's your choice, and you're a strong woman, fine. But really, you're operating within a certain trope, which is really patriarchal, so your choices are defined by that structure,' she continues.
By contrast, Nabihah's own music is laden with subversive cultural references and oblique contortions. Being so attuned to every creative, social and political decision are clearly the strongest weapons in her quest for a new, future-facing sound.
But, still, she's not entirely shirked music industry criticism herself. Having come under flak for not singing enough on her tracks, 'especially from my mum!' Nabihah is looking for a way around the issue. Although not a confident or 'natural' singer, her hazy vocals have graced a handful of cracking hooks. But check the top of Nabihah's to-do list and you'll find a deep desire to pen for a male vocalist.
'When I think about chart music, it's hard to remember one song where it's a female producer featuring a male vocalist. So that's another gender stereotype I'm trying to flip,' she says.
Back to work
So with all this going on behind the scenes, how does Nabihah feel about progress on her debut album?
'It's hard!' she admits. 'I feel like I'm writing a dissertation again. I just want to work so hard and come up with the best I can for this record.
'Being here now, in the studio, in London, in this time - I don't think I could ask for a better place to do what needs to be done.'
Throwing Shade's House of Silk EP is out now on Ninja Tune.
throwingshade.co.uk