'When a bunch of women come together to have fun and celebrate themselves and each other, something very positive and magical happens.'
Romy Boettger is chatting about her experiences as venue manager at The Sisterhood: an intersectional queer, trans and disability inclusive space at Glastonbury Festival, open to anyone who identifies as female.
Launched in 2016, the venue's revolutionary all-female lineup, staff and security is the first of its kind at the festival, playing host to inter-generational workshops, talks, music, performances and dance parties which 'explore and celebrate everything about being a woman in the world today'.
Citing continued oppression against women and rising sexual assaults at festivals as just some of the reasons the space is so vital, artistic programmer Alice Holland also believes it's key to keeping Glastonbury's radical heritage alive.
'It's really important that we defend the values of alternative life before festivals just become something that are consumed and people don't have
ownership
of it in that way,' she says.
Here, in this extended interview taken from our 
Mx music: deconstructing gender and sexuality 
feature, we chat to Romy and Alice to learn more about their experiences of working at the venue...
What was it that drew you to the project?
Alice: I've been a feminist since I was six years old, so this is my life really. I think the fight to even get yourself listened to in the real world, let alone take up a space is so unbelievably rare.
We as women have been separated from each other in society for so long. We need each other. It's been scientifically proven that the more time women spend in each other's company, the longer we live, the smarter we are, the happier we are.
Romy: The sense of female empowerment, the unjustified, but sadly not surprising, 'controversy' around the venue, plus the great team of women who came together to get The Sisterhood off the ground.
Were you expecting opposition?
Alice: Yes, totally because I live in the patriarchy. The mainstream press are generally quite slow to get the point or quick to fan the flames of sensationalism. Either one will do. The biggest misconception about The Sisterhood is that we are anti-men. We were never set up to be that. We were always set up to be pro-girls but that's such a rare narrative that people view it like, 'We hate you. Go away.' It's like, 'No. We're amazing. Leave us alone.'
The Spectator
said we were sending feminism back to the 1970s, which I think is interesting, considering they didn't have any female writers in the 1970s.
Romy: We knew it would get some press and social media attention, but I don't think anyone expected it to become one of THE hot topics of Glastonbury 2016. We had so much press attention that it felt at times intrusive.
Initially, I thought it was sad and shocking that the mere fact that a bunch of women running a small space for women and those who identify as female at the far corner of Glastonbury would cause such an uproar. It then made me realise just how important and necessary it is and that we, as women, absolutely need do this to this – not only to have a safe space, but also to keep the dialogue about sexual harassment and abuse at festivals, and the world in general, going.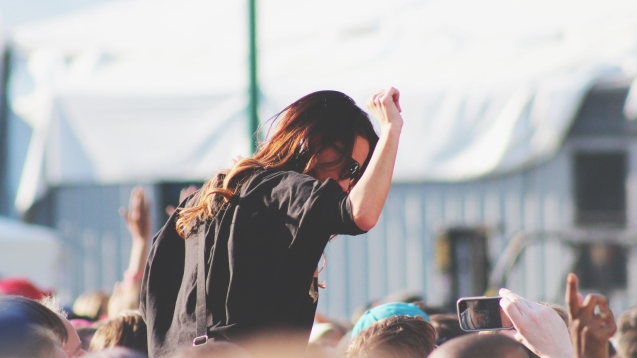 What examples would you give as to why a safe space for anyone who identifies as a woman is necessary?

Alice: One in four women will be sexually assaulted at some point in their lives. There's been an increase in sexual assaults at music festivals. All of this is in the public consciousness but people don't like having attention drawn to it in any way, other than to cast women as victims. Whereas what we're saying is, 'Well, maybe we just want to spend some time with each other. Maybe we'll discover that actually we don't like things the way they are or we don't need you guys that much.'

I honestly think that's the fear. It's why witch hunts, covens, women gathering, mother's meetings and all this kind of collective female behaviour really frightens people. What's happening now around all this Harvey Weinstein stuff is we're talking to each other. We're figuring out, 'It's not just me. I'm not crazy. This is the mother-fucking system.'

Romy: Just take a look at the incredible #metoo campaign. I think it absolutely speaks for itself and brilliantly supports the fact that spaces such as The Sisterhood are more necessary than ever.

In what ways does The Sisterhood promote inclusivity?

Alice: There's hardly any women of colour at these festivals. My co-producer in the first year, Camille Barton, was saying, 'We're like ships in the night.' The first thing we put on was the first black women's forum. It was like, 'Let's get everybody together, have this space, make it yours. This is your house.'

Similarly, we had quite a few trans women coming to the venue this year saying not only is it the safest they have ever felt at a festival, but the safest and most welcome they've ever felt in a venue at all. I considered that to be an absolutely magnificent triumph because I want everyone to feel that way. Being a trans woman at a music festival: fuck me. That cannot be a picnic.

Glastonbury 15 years ago was very alternative, very lawless. Now it's a considerably less politicised audience by lifestyle. It's really important that we defend the values of alternative life, before festivals just become something that are consumed and people don't have ownership of it in that way.

What about the apprentice scheme you run?

Alice: Our head of tech, Paula, is extremely experienced at sound tech. We always put in a couple of apprentices to train under her, partly because we've got no budget but also partly because there are so few female techs in the industry and so few opportunities to learn that kind of thing without a guy breathing down your neck, telling you you're doing it wrong. We're like, 'Okay. Come in here. Check it out.' By Sunday, they're running the whole thing.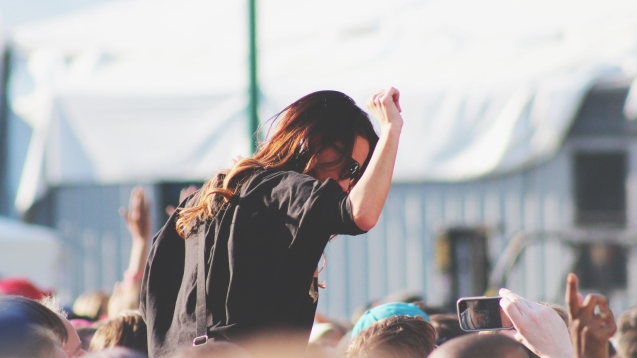 Do you think there's a more of a dialogue developing for gender and inclusivity issues within the mainstream?
Alice: These conversations are certainly getting more coverage in the mainstream press. Whether all of that is respectful or not is another thing. I think as long as the people who have ownership and belonging of those issues are the main voices writing about it, then that press coverage is good.
The problem is it's Piers fucking Morgan deliberately being an asshole, making fun and just perpetuating this idea that the straight, white male is the gold standard.
What are your favourite memories of The Sisterhood?
Alice: On the Sunday night, everybody in the joint was naked, except their boots, by about 10.30pm. People crying, 'I don't want to leave. This is the best place I've ever been.' There's such a respectful atmosphere that people can have genuinely radical conversations about our differences, our strengths and what we can do for each other.
We had our first breastfeeding on the dancefloor, that was pretty awesome. We've had three generations in one family all in together – that was banging.
Romy: The absolutely incredible collective female energy and the pure sense of liberation. When a bunch of women come together to have fun and celebrate themselves and each other, something very positive and 'magical' happens.
I know that some women had almost spiritual experiences, simply by being with other women in a 100 percent sexual harassment free space because they could just 'be'
,
 without fear or worry of any potential harassment.
www.facebook.com/joinsisterhood