The pair - Simon Marlin and his Dutch partner Max Reich - burst out of the starting blocks with their debut single Lola's Theme back in 2004. The release went to the top of the singles charts and since then, they've never looked back. Perhaps against the odds, they've sustained a career as artists, DJs and remixers in demand with hits in the likes of Back To Basics and Incredible and remixes for huge artists including George Michael and Cee Lo Green. Their new album - Analogue To Digital…And Back Again – acts both as a retrospective and a sign post to the future containing new material as well as their big hits and remixes.

M asked Simon about how he first got into dance music, the making of Lola's Theme and how the dance music industry has changed over the course of their career…


How did you first get into dance music?
I started throwing parties back in 1993 and fell in love with the whole acid house scene. I figured out the best way to learn how to do it was to do it myself. I was in Loughborough and there was nothing going musically on there at the time. We had 35 people at our first party which was all very DIY - lots of day-glo and weird shit going on. We ended up with 1,500 people coming on a monthly basis for a couple of years. Then I moved to London and met up with Max in 1996 when I was at a little label called Downboy.

Was songwriting something you always wanted to do from being a DJ?
When it came to writing music, I didn't have the confidence to do it until early 2000. When you're 18 or 19 you haven't got that much to write about. Or at least I didn't think I had. It wasn't until I got a bit older that I started putting into practice the ideas which were in my head.

How do you write your songs?
I muck around on the piano very badly. But Max is a tech-head so I leave that side of it to him. I find the more creative side such as melodies and songwriting itself easier. But I love co-writing, especially with vocalists.

How did The Shapeshifters come together?
We hooked up when I was working for Downboy. I went to Sweden to see a mate who'd asked me to DJ. He recommended a couple of guys who were making music and Max was one of them. He was working with someone else at the time. I ended up signing him to the label under the name Fused and then onto Columbia.

We've been working together since that point. It developed from an A&R side which was interesting. When Max didn't want to do the Fused thing anymore we agreed to pool our resources.

How did you write Lola's Theme?
It was the first record we made together. And we knew it was good as we knocked it out in four days and it felt right instantly. We didn't arrogantly think 'this is massive' - all we wanted was to be able to play it out.

At the time we were DJing these Peppermint Jam parties at The End and I played it there. There was an instant reaction so you kind of knew there was something in it.

We did a thousand copies on white label in November 2003 and put a number for a voicemail on the white label. By the time we'd got back after Xmas, every distributor, record shop and DJ had left messages on this answer phone asking where they could get copies of this record from. It went from there.

How has the dance music industry changed since you've been part of it?
I find the quality side of music the most difficult to deal with. Since vinyl went and the whole promo system has gone digital, there's so much going on. It's great because it means so many people are making music but also means there's no quality control any more.

You used to have Blackmarket, Uptown and all these record shops which would be your bullshit filter. The quality would be kept really high but now you have to really look for the gems.

The turnover is so quick so some records get lost. They don't have a chance to ferment and grow. On the other hand, what's really good is you can get your music out there so quickly.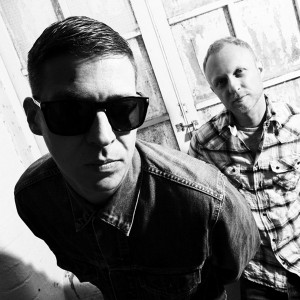 Because we'd been experienced in the business beforehand, we knew more than most do when they're starting out. Don't get me wrong we made mistakes too but we had all our ducks in a row when it came to working with the right people.
A lot of young producers don't realise how many revenue streams there can be. So they lose money that way. We were quite savvy and a bit of a step ahead of some others.
What are you doing to celebrate your ten year anniversary?
We don't want to be too nostalgic - it's more to do with the fact that this is where we're at now. And a lot of the people we asked to remix our old stuff, we wanted to give it a new flavour for now.
We're massive fans of all those who appear on the album. Laidback Luke, Frankie Knuckles, Nic Fanciulli and Little Boots - they're all people we admire or have a relationship with. The other CD is a collection of the remixes we've done over the years. But then we've got five new songs on there too.
How do you choose who to remix?

We've turned down 80 percent of the remixes we've been asked to do. Probably 90 percent of the remixes we've done are the ones where we've approached the record or the artist. If you love it, it makes a massive difference.
With Empire of the Sun, I first heard that driving through the Nevada desert coming over a hill with Vegas appearing on the horizon. It was very dreamlike.
We are the people
was playing. My friend told me who they were and when I got back from US I called up Virgin. I just wanted to remix them. Virgin loved it so much they paid us to do it!
www.theshapeshifters.co.uk/

www.facebook.com/theshapeshifters
PRS for Music
has announced the launch of
Amplify
, a new electronic music initiative aimed at encouraging dance music producers to register their
works
with the collecting society.
Find out more.