'I really like it. It's very lively. Some people might think it's a bit wobbly, but for me it's alive, it's there, it's that moment': reflects The Raincoats' Ana Da Silva.

What Ana's humble appraisal doesn't reveal is that the band's hugely influential self-titled debut record of which she speaks would go on to mark an untold number of transformative musical moments for fans and artists alike.

Since their self-titled record was released in 1979 by Rough Trade the post punk band's visibility has ebbed and flowed but their mark on popular music has never faltered.

Following a fallow period between 1984 and 1993, when the members drifted into solo projects and the band's records were unavailable, the well-documented patronage of Kurt Cobain rekindled interest in their work.

The independently-minded group also found a natural synergy with the nineties riot grrrl movement and fans in the scene's most famous exponents, Bikini Kill.

More recently, the publication of Jenn Pelly's 33 1/3 book on The Raincoats, and an upsurge of politically driven, feminist punk acts, has further fuelled their cross-generational reach.

Characterised by a rare individuality and unshakable sense of themselves, the music they created stands proud of its modest roots and remains a timeless artefact of their vision.

This month The Raincoats are celebrating the 40th anniversary of that remarkable album with celebratory shows and a special edition re-release of the record.

Here, Ana considers the impact of the band's music, chats DIY approaches and maintains that music makers should always be adventurous…

What inspired you to start making music in the first instance?

I've always liked music since I was a child. I used to like to listen to my older cousin's records. In that time – I'm quite old now [laughs] – it was things like early rock and roll, Elvis, things like that.

I came to England when I was 16 and it was the time of The Beatles and the Rolling Stones. There was a programme in Lisbon that payed all the great albums. This was in the late sixties, early seventies, so it would be all that kind of music, Bob Dylan, Jefferson Airplane, Neil Young, all that sort of thing.

I came to London and went to see Lou Reed very soon after I came. Then the punk thing started, and I went to see those bands. I just felt I was part of it, because I could see the people in the bands in the audience, they were just swapping. One day the band were in the audience, next time they were onstage. Before, being in Portugal and everything, I was completely apart from it. It was just something that was away from me and unreachable. Whereas with the punk thing it was reachable.

You're celebrating the 40th anniversary of your debut record. Was there any sense when you were making the album that you were creating something so special?

Not at all. We just were doing our thing. We weren't trying to be better than anybody else, we were just trying to be the best in ourselves and trying to explore things and not be afraid of trying things that we hadn't exactly heard anywhere else. We just did what we did, that was it. We never remotely thought of the impact it might have. For a while after the records weren't available, we thought that was it. We came, and we went. It wasn't like that, but we didn't know.



Can you talk a little bit about the writing and recording processes of the album?

We started by doing a song called Life on the Line, which is on the album. That's the song we did. We didn't have lyrics yet, but Ross Crichton wrote the lyrics to that song and was playing with us at the time. So, it was the first song that we started writing.

By the end of it I felt such a sense of happiness and I felt exhilarated, because it sounded like a song and I had never written a song before. It was just the fact that it sounded like a song from beginning to end. It felt really like something very, very special. It's a sense of accomplishment.

Then nobody else was going to sing, so I said, 'well, I'll try for the moment,' thinking we would be getting a singer or something. I started singing and thought I'd better write some lyrics to sing. It was very fresh from the tour, because we did it immediately after, so it was very much a live album, because we were playing what we played live. No Side to Fall In was changed a little bit, we just took the drum off, but you can still hear that she played them, that Palmolive played them. We did all the instruments together and then we did the singing afterwards.

Do you have a favourite track?

Not really, I really like the album. I can hear it. A lot of people don't like to listen to themselves or the things that they've done, and they just think of the future. I think of the future too, but if I listen to it, if we're checking something or occasionally I listen to it for pleasure, I really like it. It's very lively. Some people might think it's a bit wobbly, for me it's alive, it's there, it's that moment.

You've previously talked about how ideas and feeling trumped technique in the early days of the Raincoats. We're you ever nervous or fearful of challenging the norms?

Yeah, you always question yourself, which is a good thing. You always question yourself. Somehow, I just believed in what we were doing and that's the way we do. I've tried to play my best, and I did practise, more practising changing things than to get it very neat. It was more about expressing the ideas well. I am not a sort of a guitarist, like some people, that play really fast and do all sorts of thing and know scales and things like that. I have my own way of dealing with it and that's how I've done it, for better or for worse.

How has the reception to the band over time?

We did well at the time, we were one of the bands at Rough Trade that had success. I never felt that we didn't deserve what we had. But after the records stopped being for sale – the records weren't available for years – I thought that was it.

Later, in the nineties, we found out people had been listening to them, especially in America with the riot grrrl thing and grunge. A lot of people were listening to them and taking inspiration from our records and making cassettes for each other with our songs on them. That was something that I wasn't aware of until we met people like Bikini Kill and Kurt Cobain wrote about things.

Since then, there's been Jenn Pelly's book and she talked to other people who I didn't have a clue liked what we did. I think we were inspirational, but also at the moment we're finding out someone's got some really young daughter who's nine or something who really likes The Raincoats.

Our audience is really very broad – from young girls to older people from our time [laughs]. I've never really thought about it in those terms, but there you go. You always think people that like punk or post punk like us, maybe that's true, but the age thing is quite broad.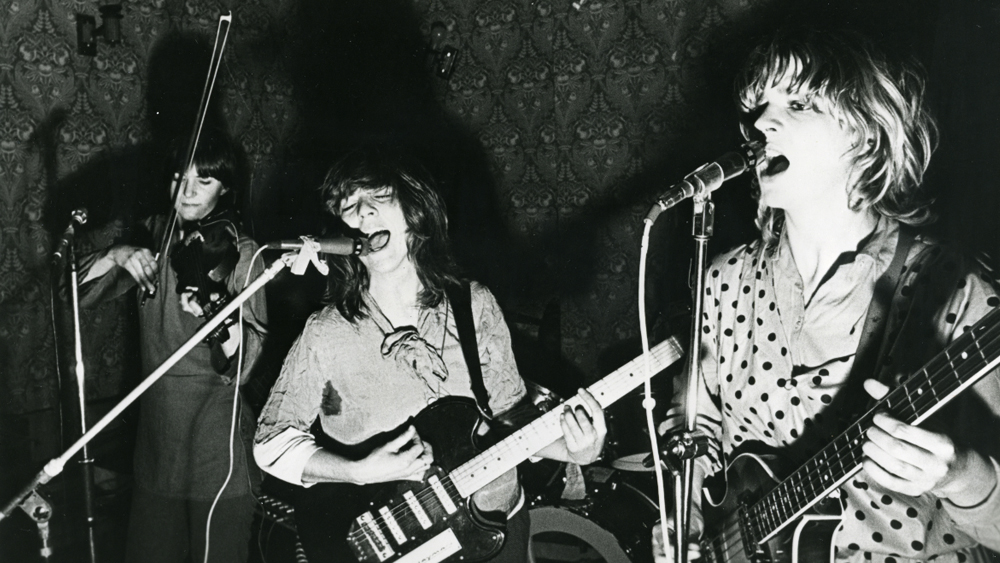 Your music had a resurgence in the nineties alongside the rise of riot grrrl, and Bikini Kill have said you prompted their own recent reunion. They're now being celebrated in a similar way to your own band. How does it feel to be such an integral driving force of the feminist punk movement?

It's amazing really. I think the best thing you can hope about something that you do is that people take it and be inspired by it. I always felt this way, so seeing that happen couldn't have made me happier.

We didn't ask them to do anything, because I wouldn't have thought of asking a band that hasn't played together for such a long time to play for us. We did ask Tobi (Vail) and Kathleen (Hannah) just to do something. I thought maybe she'd just do a little film. Then after a while she didn't say anything, so I said, 'Kathleen, I really would like something really, really simple, but if you can't I understand, we're still friends' (she didn't know if I was being sarcastic, I wasn't). She wrote to say she was very sorry, but she was really busy at the moment and couldn't do anything. So, I thought, fine, fair enough. Then we were at the Kitchen and Vice (Cooler), who plays drums with us, came and said, 'Kathleen is in the house!' [laughs] I thought, 'well, yeah she's here, great, she came to see us play.' Then they were doing that song, Tammy Rae.

They also made this connection about Kurt Cobain, which was really nice. He really liked that song, it was his favourite song, one of their earliest. Then Tobi played a song by herself, I can't remember the title, which she had written with him and so it was all really beautiful. It was amazing.

It didn't stop with you and it hasn't with Bikini Kill, you can detect a direct lineage through to newer bands like Trash Kit and Big Joanie. What's your take on the latest iteration of punk? Do you have any current favourites?

I've seen Big Joanie a couple of times, once with Bikini Kill and once somewhere else. Apparently two of them met each other because one of them had a Raincoats' bag so the other one came and talked. They formed a band, so that was really nice.

We're friends with Trash Kit. They all seemed to have been inspired and that's such a great thing because there weren't many women that we could be inspired by when we were doing our stuff. Obviously, there were The Slits and Delta 5 and there was a few coming up, but when we started there was hardly anyone. Until then, women used to be the singers. The fact that we inspired them to form band and play which ever instruments they want to play is a great thing, it's a great feeling.

What the Raincoats did, alongside The Slits and Poly Styrene, was trailblazing in terms of women in music. How do you feel about the progress that's been made since you started out?

Hmmm, I don't want to sound pompous, but I think we were adventurous musically and sometimes I don't hear that as much in a lot of bands. But everybody's trying to do their best. I think people generally have to be a bit more adventurous maybe in the music they make. There's a lot of people who, and I'm saying this about women and men, are still riding the punk thing. And I think, 'I've heard this a million times,' you know?



You celebrated Rough Trade's 40th anniversary a few years back by performing with Angel Olsen. What brought about that particular collaboration?

They had this idea of putting an old band from Rough Trade with a new band. Shirley and I had been in Portugal in the summer before that and we went to see Angel Olsen for the first time and we really, really liked her. Then we went backstage and chatted and got friendly. Shirley had a big chat with her, and we kept in contact. When Shirley suggested Angel Olsen, I said, 'she's not going to do it' [laughs] but she's a bit more adventurous than me sometimes and asked her and she said yes.

That was great, it was one of the best things we ever did, for me. It was such a happy moment. It was just a shame it was so short. When you're playing and you're enjoying it and after an hour or however long we took, you think, 'I wish I could start again,' you know? Or continue somehow, because it goes so quickly when you're having fun.

What motivated you to start your own label We ThRee?

Shirley worked at Rough Trade for quite a while, years ago. Most people do contracts in perpetuity when they do a record, but Rough Trade always gave us a five-year contract and Shirley always made sure we never had a contract that was longer than that. So, after the five years she thought, 'why don't we just do it and we keep all the money? [laughs]

She knows how to do it and it's a kind of pride thing as well and it's the whole DIY idea, so you sort of do it yourself. We just got it all together and we're still doing it that way. There's a new special edition for the 40th anniversary that looks rather lovely. The record looks so nice. It's so beautiful. It does this thing where it's silvery, then you put the light on it and it's golden and it's got these little bits of sparkle in it. And we put the prints inside as well, one from Gina (Birch) and one from me. Hers is from a painting she did and mine is from a drawing I did. It makes it a bit of a special thing.

DIY is a very different concept now than it was in the late seventies and early eighties. Do you think advances in technology have stifled or freed up creativity?

I think it's freed up creativity. With everything there's always two sides. You might think there's too much out there and that it's difficult to navigate. But the thing is, people can do it and you can either like it or not like it. The DIY of the time when we were around meant somebody putting out 100 records on their own label and doing the artwork themselves. Sometimes things would come into Rough Trade and somebody would be spending hours, or everybody, stamping the white cover with the title and that kind of thing. That was DIY then.

Now DIY is that you can record a whole album at home on your own and you've got so many tools. The hard thing is to learn them all, but when people are young they learn things so quickly. Nowadays when they're born they already know how to deal with a computer pretty much [laughs]. It's a question of learning how to use those tools and create a recording. You can do it today and when you finished it's up online in a few minutes. I think that's really amazing. I really do.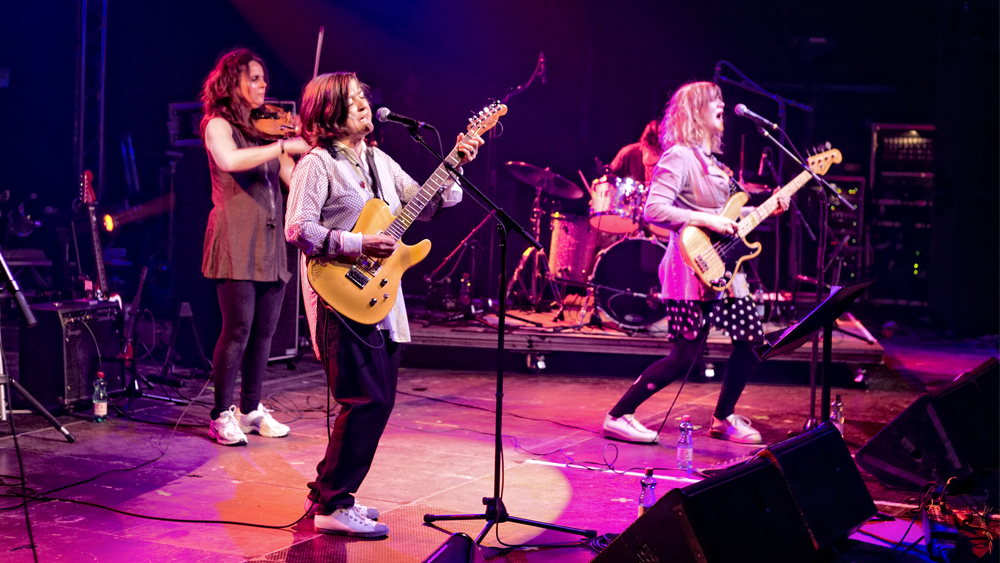 You've a series of anniversary shows coming up, do you still get the same buzz form performing Raincoats songs?
Yes, because we don't do long tours or anything. That is always one of my favourite things when I'm in the band was playing live. I always loved it. While you're doing that, you're not worrying about anything and you're not engaging with difficulties of one kind or another. It's was always a pleasurable thing for me. It's a very physical thing and spiritual as well.
One thing that I thought about recently – that I never thought about in these terms – it's really nice when you sing, because the voice is inside you. Sometimes I've watched somebody, and I might really like they're singing, and I wish I was in their throat or whatever [laughs] just to feel that voice coming out as opposed to just being on the outside. You have a stronger experience with the sound that comes from you. So, all that counts; the physicality of it and the communication with people that you're playing with and the audience. At that moment you're all there and together doing that. It's definitely a great moment, I think.
Who or what has been your biggest inspiration over the years?
My inspirations were more when I was young. That's when you form who you like and stuff. I suppose some big inspirations were Bob Dylan because of the poetry of his music more than anything else. The fact that you weren't just writing songs about nothing important.
Then with The Beatles they all sang, and they all wrote songs. I didn't feel that I was going to be the sole writer and guard my position. Spreading a voice that is not only different ways of writing and expressing yourself but the physical voice, different singers. I like that in a band.
The punk thing was what encouraged me to actually do it, to actually write songs. I used to play a bit of guitar, but I never thought of writing a song and with the punk thing, who you didn't need to be very proficient with guitar playing or instrument but you have to have strength and ideas and I just felt that I could do that.
Since then, obviously, we've been inspired by the riot grrrl thing and Bikini Kill. As much as we inspired them and Nirvana, the fact that they were so inspired by us made us feel that we could actually do this again.
We were invited to go on the tour with Nirvana. Me and Gina got together, and we started playing the songs, this was after ten years of not playing anything together, and it just felt so good to play the songs again. The whole thing might have felt stale, but it just felt really good and the songs don't sound dated. Little did we know [laughs].
What advice would you give to young bands starting out?
I think the thing is to think what's important for them. To really go for it and be inspired by what people do but don't copy them. You don't go and copy this band or that band. Everything filters through and then you have to find your own path and be adventurous and try things that you don't know about. If you like it, somebody else will, I think. Feel true to yourself in what you're doing.
The Raincoats (40th Anniversary Edition) is out now via We ThRee
Forthcoming live dates:

8 November, Le Guess Who?, Utrecht, Netherlands
10 November EartH (Evolutionary Arts Hackney), London
13 November Komedia, Brighton
15 November The White Hotel, City of Salford
16 November Mono Cafe Bar, Glasgow
theraincoats.net