Breakbeat legends the Freestylers have spent the last 15 years bringing underground bass music styles to the mainstream.

Ever since the release of their 1998 debut album We Rock Hard, the band, steered by Aston Harvey and Matt Cantor, have made a big impression on music lovers with their live wire mix of hip hop, breaks and electro.

From being voted best band by Musik Magazine to touring with Lenny Kravitz on his American Woman tour (he asked them himself as he was so impressed with their act) and rocking a crowd of 30,000 at Glastonbury Festival 1999 the group have had a particularly entertaining musical journey to date.

We caught up with Aston ahead of their appearance at Beat-Herder festival in July to find out about their musical adventures and what the future has up its sleeve…

How did you first get together?

Me and Matt were signed to the same record company but as two separate acts. We used to hang out at their studios and talked about working together. At the time we were working on house music projects and both felt we wanted to get back to our first love which was the sound of beats and breaks. Matt came to me with this idea and I guess the rest is history.

What first got you into electronic music? Do you remember your first clubbing experience?

When I first heard Planet Rock by Africa Bambaataa and the Soul Sonic Force it blew my mind. Before getting into b-boy electro, I wasn't really into music in a big way but this sound changed my life. My first proper clubbing experience was at a venue called the Mud Club at the Piccadilly Theatre in London. The fact that I had to sneak out of boarding school and without getting caught made it even more exciting. The whole scene was brand new and there were no rules - you'd hear hip hop played alongside house and I guess this gave birth to the sound of UK rave.

What was your big musical break?

When I was at school I was going to this studio to make beats but at the time I didn't know how to use any of the equipment. I thought if I could it would make my life a lot easier but there were no YouTube tutorials or music colleges you could go to. Fortunately I was offered a job working in the studio and learned how to use all the equipment available at the time.

I ended up engineering and producing people's demos and recorded loads of adverts and jingles for the emerging pirate radio scene. While working there I met a group called The Dynamic Guvnors and we started to collaborate on ideas. We formed a collective known as The Blapps Posse and our first release was Don't Hold Back. That went on to be one of the all time classic rave anthems. So that's where it all started for me.

You guys have released five albums so far - how has your approach to the creative process evolved over your records? What is your favourite record from your catalogue?

I think the creative process has actually stayed the same, it's more the technology that has developed. It's hard to pick one particular record from our catalogue as so many of them have written their own story and allowed us to continue producing and DJing as the Freestylers.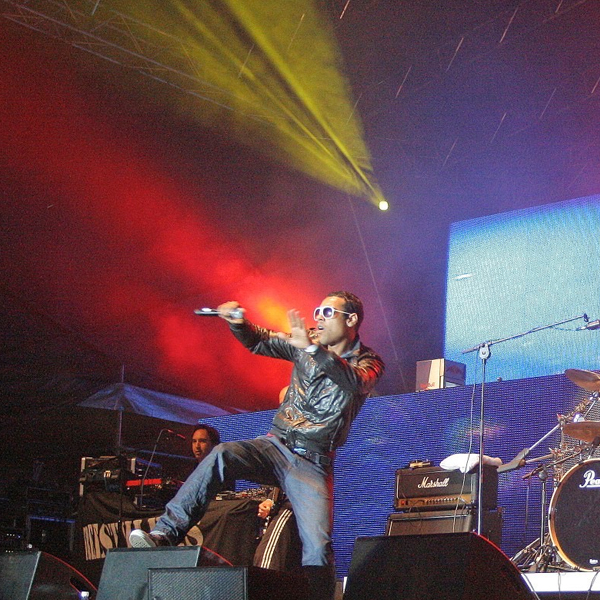 Who have been your favourite artists to collaborate with over the years?
Have to say everyone we've worked with have been our favourite as they might get upset if we leave a name out! In saying that I guess the most memorable was definitely working with The Soul Sonic Force's Mr Biggs and G.L.O.B.E on our album
We Rock Hard
. These guys were inspirational music makers and we got to work with them just as we were starting out as Freestylers.
More than 15 years is some time to stay at the top of the game in dance music - what have been the best bits of your musical career?
A few highlights so far would include our Glastonbury 1999 show, performing on Top of the Pops, touring with Lenny Kravtiz and the Jungle Brothers and hanging out at Ice T's house in LA.
Which new artists do you rate?
Mac and Pasterman, Pirate Jams, Cyantific, Rene LeVice.
Do you prefer performing live or being in the studio? What have been your favourite gigs?
My favourite part of the music making process is being in the studio and creating something from nothing. Obviously performing is great fun whether with the live band or DJing but I guess that's the after effect of having many good studio sessions. There have been many ace shows over the years, but hoping to add Beat-Herder to the list as we've never performed there before and really looking forward to it.
What are your thoughts on dance music as a whole? Is the scene in good health?
I guess it's extremely healthy if you're in the USA as it's now become a billion dollar industry.
Have you any advice for new and aspiring producers?
Formulating your own signature sound and style is what you need to achieve but this doesn't come over night. Make music that you're inspired by, not by how much money you can make.
As DJs, which tunes never leave your record box? 
Boomblast
and
Ruffneck
- I always have to play them.I 've had this track called
Bass Overload
Ft Congo Natty by Wizard for ages in my record box.
What does the future have in store for you?
More music, more touring and opening a BBQ restaurant.
Catch the Freestylers at
the Beat-Herder festival
17-19 July.
freestylersmusic.co.uk