'If you ever lose the elation of creating something from nothing, then it's time to pack it in,' says The Anchoress.

This persona is the alter ego of songwriter Catherine Anne Davies, an artist who has battled from her early days to have creative control over her passionate musical vision. Her dedication to the cause has paid off with debut album, Confessions of a Romance Novelist, released to some critical fanfare back in January. The music, (eventually co-produced with Paul Draper of Mansun fame), is a celebration of her own self-belief, a discombobulating mix of styles, going from gothic pop to orchestral flourishes often within the same song. We caught up with her to delve deep inside her music, the creative process and what the future has up its sleeves…

How did you first get into music?

I don't think there was a time when I wasn't 'into' music. I grew up training to be a dancer so it was always around. I started playing in orchestras before falling off the wagon and into alternative music. This is when I picked up my sister's guitar and started to turn my back on the classical world. I was always fascinated by how records were put together: that interested me far more than becoming a musical virtuoso. I wanted to record, construct songs and conjure worlds from sound, so I asked for a multi-track for my 17th birthday instead of driving lessons. The rest, you could say, is the history of public transport…

Who or what inspired you to start writing?

I was always fascinated by recording and was lucky enough to record at Maida Vale Studios with my school choir. We did a few more sessions and it was firmly in my mind where I wanted to be when I grew up.

I stopped playing the flute, picked up a guitar, then piano and started to teach myself how to play and just wrote and wrote until I wasn't rubbish anymore. Then I started to look to other artists for inspiration: Rufus Wainwright and Fiona Apple were early songwriting teachers followed by Kate Bush, Prince, and David Bowie for production and arrangement. But Bjork's Vespertine was probably a pivotal moment for me, championing the idea of a woman taking total creative control. All my musical idols seemed to share in this authorial autonomy, producing their own records and controlling their musical vision.

What was your first big songwriting break?

Every song you write feels like a 'break' of sorts. If you ever lose the elation of creating something from nothing, that's time to pack it in. I sensed I was onto something when people started asking me who was producing my demos (I was). I sent out eight copies of my demo and ended up with reviews in the NME and Mirror. I thought about dropping out of university there and then. Within weeks I had a manager and booking agent but something stopped me. I'm glad I bided my time rather than riding that first wave of hype. Instead, I spent three years putting the album together and getting it right alongside finishing my PhD. The two fed into each other.

Confessions of a Romance Novelist is your debut LP - could you explain a little about the album?

It grew out of me realising I was happiest in the studio. The name The Anchoress came from a documentary I saw about the history of the religious hermit. It resonated with me and my studio experience - being locked up in a small, cramped, room with little daylight for a prolonged period. It seemed like an apt metaphor to describe my creative life. The album's primary character is the romance novelist, who operates as a narrator for our journey through the songs. She is the conduit through which all of the other characters on the album speak.

The romance novelist has a chip on her shoulder about her own creative failures as she has been reduced to working as a ghost writer in erotic fiction. I guess characters and personas are a way of distancing yourself from the emotional content of the music.

There's something way more appealing to be creatively about being able to inhabit and contain 'multitudes', as Walt Whitman said. I guess there's an element of my life as a queer theorist here, in the notion of fluid identities and performative selves. It's also a major cop out on the confessional front: you'll never quite be able to separate the truth from the fiction…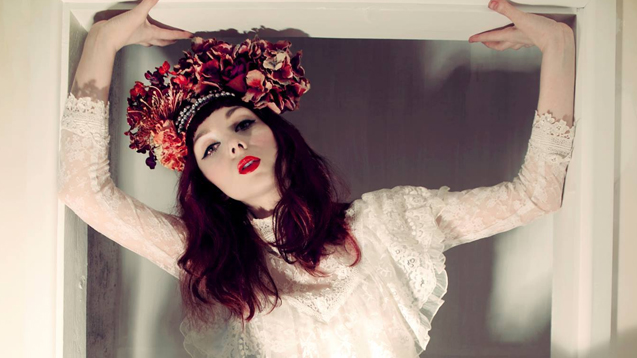 You worked with Paul Draper on the LP - how did the collaboration come about?
I remember the first few meetings I had in London with prospective managers when they would ask me who would be my ideal producer. Everyone supposedly loved my demos but not one would take me seriously when I said I wanted to produce myself. So, it was luck when Paul found my demos and emailed me. I guess he heard something of himself in them and my determination to be completely self-defined. I remember thinking that he would be a good ally as he understood the need to control everything.
The biggest impact working with Paul had is the autonomy he gave me. it hasn't always been smooth sailing between us but not many young female artists would be given free reign to co-produce. He had enough belief in those initial recordings that I'd made to give me equal footing in the production process as well as generous access to an unbelievable amount of gear and his experience.
Some days I would have to fight to get anything accomplished but we hit our stride and came out with me co-writing half of his solo album too. That's proper reciprocity.
What musical influences and touch points did you look to while making the record?
When I was at university I really started getting into Kate Bush seriously and began buying up the back catalogue. As the first album she produced on her own,
The Dreaming
is an important one for me as someone taking their first tentative steps into music making.
The idea that a women could take the reign creatively was one that didn't have precedent in my experience. Here was a record that was saying you can dive headlong into your imagination and take control of that vision across an album that pays no heed to genre or what a pop song might sound like.
I came back again and again to this album while I was making mine.
Get Out Of My House
was a reference for the title song for my own debut. Kate Bush also loomed large in terms of the album's shape. There was a conscious choice in its structuring to move into that second suite in its final half. I always intended it to have a novelistic structure but also to echo the composition of
Hounds of Love
, where the record is front loaded with pop singles before it shifts gear into
The Ninth Wave
. There is a move away from the fictional once we hit
Bury Me
and the romance novelist pulls us down the rabbit hole in
Intermission
into the heart of the album's unconscious.
Have you any advice for new and emerging songwriters?
Just write and write (and rewrite). Never forget that songwriting is something you have to learn and work at. The same way that poets or artists study the old masters, you should look to "the greats" to learn your chops. It's 90 percent graft, only 10 percent inspiration.
What does the rest of 2016 look like for you?
Alongside the next single,
Doesn't Kill You
in June, The Anchoress band will be out playing lots of live shows over the summer, trying to bring the album to life. I'm also back in the studio with Bernard Butler and I'll be wrapping up Paul (Draper)'s solo album. I've also started work on my next album. I'm never out of the studio so the rest of 2016 looks exactly how I like it: busy!
iamtheanchoress.com
Watch The Anchoress play live at The Great Escape. She'll be at Paganni Ballroom, 11:15pm - 12:00am, Friday 20 May 2016.
Photo by Isabella Charlesworth