If bands were given awards for their determination, then the mantelpiece belonging to TesseracT, one of the UK's finest purveyors of forward thinking metal, would be buckling under the weight of their silverware.
Amos, bass player in TesseracT, attributes their success to their hard touring life. It's helped the group rapidly rise to the forefront of the ever-evolving metal scene amid a slurry of riffs and rammed live gigs.
The debut album
One
received widespread critical acclaim, not least due to the album's staggering six-part centrepiece
 Concealing Fate
, while follow up
Altered State,
 in early 2013, gave them a foothold in the US.
Now with their new LP
Polaris
out and a reformed line up with original vocalist Dan Tompkins, the band are sounding sharper, heavier and more melodic than ever. We discover how the group broke through…
How did you first get into music? 
I was lucky enough to get into it very early on. There are photos of me performing where I'm younger than I can remember, it's nuts! I was also lucky enough to play both western music and eastern music - from the get go, I was educated in a really broad range of traditions.
How did the band first get together? 
We all met [guitarist] Acle [Kahney] in exactly the same way, but at different times. Each of us was in another band, playing the underground scene, cutting our teeth. All of us at different times ended up on the same bill as Fell Silent, a band Acle was in when he was younger.
These guys had such groove, and atmosphere, they were awesome. We kept following the band and eventually found Acle's solo material, under the name of TesseracT. I remember keeping in touch with Acle and one day we organised a jam to turn this material into a full band. It was myself, Acle, and Jay the drummer. We've never looked back.
What was your big break as a band? 
It's odd, as I'm part of the generation that knew the music industry before digital, when things seemed much bigger. So, while I accept that we are an internationally touring band, I still have this idealised vision of what success is. I do recognise our first North American tour, where we supported Devin Townsend, as the moment when we transitioned to the international metal scene.
Your latest LP Polaris is your third - could you explain a little about the creative process?
The album is very much influenced by the touring we have somehow survived over the last five years. We have learnt an awful lot about what we enjoy performing, and the folly of releasing something that we may not be happy to play for 18 months over and over again.
It also had a much shorter production period than usual. The majority of the album was written between February and April this year while our first album took six years. As for themes, there is a clear theme of separation from friends and family either through touring or being a musician. Which is why the title, 
Polaris
,
works
well. It's about a paradigm shift and ever-changing nature of truth.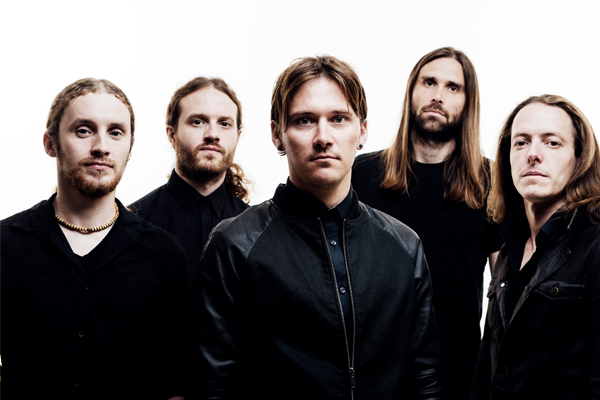 What does it represent in terms of your evolution as songwriters?

A clear letting go of certain things. With our first album we felt we should adhere to a certain style while with our second we felt we needed to prove ourselves as we had changed vocalist. After all the touring and continued ups and downs, I honestly couldn't care less about acceptance anymore. We need to focus purely on creating music that electrifies the band members in the studio and on stage, and the audience at our shows. When that happens, it's euphoric.
What brought the band back together with Dan?
We were lucky enough to not split on negative terms. Yes, his choice to leave TesseracT originally did hurt the band. But we stayed friends. So Dan was aware of our increasingly strained relationship with [previous vocalist Ashe [O'Hara], and when it came to the point of no return, we found it a fairly easy decision to consider him again. He had engineered his life so he could really commit to the band, and had also been developing his voice in the years he had been away. We were so confident in fact that our first gig with him was opening the main stage at Sonisphere for 30,000 metal heads.
What are your thoughts on the health of prog rock as a scene?
Social media offers more opportunity to get known. But I feel there is far less investment in new bands than before. You have to have been a band for years and to have released three or four albums to begin getting the level of investment that enables the wider public to discern you from the cacophony of the very same social media that allows such democracy.
You've got a following in both the UK and the US - why do you think American rock fans have connected?

Firstly, we were lucky enough to be one of the first bands in the new wave of technical rock and metal. The US was in the throes of nu metal and looking towards darker, deeper music to connect with. Secondly, and this is where the real crux of the matter is, we toured. We toured hard. I spent more than four months of one year on the road in the US as an opening band. That is tough. Eight hour drives between shows, sleeping a few hours in a motel, all for $150-250 a night. But, we survived somehow. The US really appreciates touring bands and gets behind them.
What have been the highlights for the band?

Our first US tour was awesome. Everything was new, and the shows were fantastic. Small yet really responsive, and were the foundation upon which we have built our career. We shared life experiences as well. It was half road trip, half work. I hope I never forget a minute of it. The good times and the bad!
What does the future have in store? 
We're already talking about ideas for the next album. Simply because we like to push the envelope of what we can do. We always want to try to take our shows to the next possible level, be that playing on a giant igloo in Lapland during winter, or simply a standard show, but one where we try to bring the studio to each venue. We're perpetually restless.
Have you any words of advice for new or aspiring guitar bands?
Do you love what you are playing? Can you with whole-hearted conviction say that you are being who you wish to be with your art? If so, you're doing alright, and you're on the right path to obtaining happiness from music.
Polaris
is out now.
tesseractband.co.uk