Multi-million-selling singer songwriter Tanita Tikaram became synonymous with classy pop in the late eighties, when she stormed the UK charts while still a teenager.

Her debut album Ancient Heart, released in 1988, sold four million copies and spawned four hit singles, including Good Tradition and Twist In My Sobriety.

Since then, she's had an on-off relationship with recording and playing live, taking her time to explore new musical avenues such as swing era jazz and classic UK R&B.

Now, 28 years later, Tanita's back with her new record Closer to the People - her ninth studio album to date.

Although it's still the work of an individual songwriter, and carries all the jazz/soul/R&B hallmarks that Tanita's come to be known for, she's also invited her live band further into the music-making fold.

We caught her just as she was heading out on a 23-date European tour to find out more about her songwriting story, her thoughts on the current state of the music industry and the making of her new album…

When did you first get into making music?
I was actually very young. When we were children, my dad went to Belize. He was in the army, and he came back with a guitar. So, I started to learn it and I remember writing songs from a young age. We all used it and would pretend to be a little pop band.

When did you first think it was something you would like to do more seriously?
I can remember watching the TV programme The Tube and Suzanne Vega was on. I must have been about 14 and I remember thinking, 'wow. That can be a job – being a songwriter.' I thought she looked cool and quite New York-y, and I made a connection that it was actually a possibility.

And then within four or five years, your first album was out. How did that all happen? Was it very fast for you?
Yes. It wasn't really planned. When I did my A Levels, I got it into my head that if I made a record, I wouldn't have to go to university. For some reason, I was fixated with not going to university. And my mum said, 'okay, you have one year after your A Levels and if you get a record deal, you don't have to go to uni.' And that's really what happened. It was a bit random (laughter).

What was it like to have such a massive record, then, at that age?
I guess it was quite funny. It's very strange, because there's obviously some steps to having that kind of record. A lot of exciting things happened, like getting your first gig, getting your first agent, getting your first manager, getting your first - you know. You start to support people who are quite famous, and you're just a kid from Basingstoke. And then, you make a record. It's quite funny now I think about it. But I was working so hard I got caught up in the rush of it, I suppose.

What was the industry like back then when you were just finding your feet?
I think the industry was very different, obviously (laughter). It seems very strange these days. I don't know what it's like for a young artist, but I remember when I was younger they used to spend a lot more money on videos and promotion. I think major record companies were more prepared to develop an artist from the early stages. I think it's very difficult now, and I suppose a lot of record companies react to success rather than build success.

And radio has less of an important role these days. It's a weird situation. There's less variety to the music on the radio, so I imagine, if you're starting out, and you have no name whatsoever, it's very hard.

How has your songwriting changed over the nine albums you've made?
It's changed a lot. When I was younger, if I didn't finish a song straight away, that would be the end of it. These days, I am happy to wait for the idea to complete itself maybe over a few months. And I'm much more open to collaboration now than when I was younger. I think I feel much more part of a band, and on the new album, I've written a song with every member of the touring band.

Why are you more open to collaborating these days?
I feel much more at ease about the whole question of being a songwriter. I don't feel so protective that I'm the songwriter and everybody else does the music. I'm not really into the idea of the tortured artist. I think my approach is more playful these days.

What's the inspiration behind Closer to the People?
I was very taken by a book about the jazz singer Anita O'Day, called High Times, Hard Times. I hadn't heard of her until a couple of years ago, and I thought, 'this is a bit strange. This extraordinary singer. I should know who she is.' I became intrigued by her life and her absolute passion for music at the cost of everything else. Closer to the People is riffing on that energy she had, and this insanity, at the same time, for music.

I think the title is quite timely because it seems like we're going through a historical period where we are unavoidably closer to people through technology. But we have a false intimacy in the digital world, it doesn't seem real.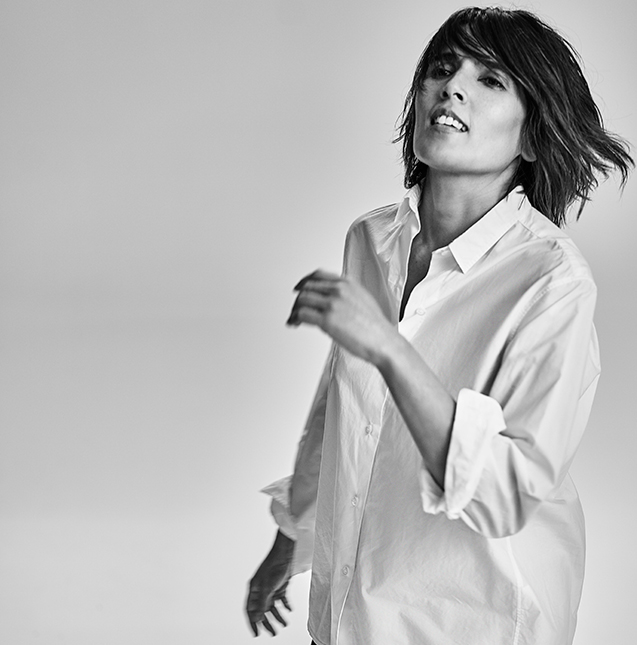 Where did your love of jazz first come from?
When I was younger, I used to think that jazz was scary (laughter). I still do. But if you listen to a lot of music, at some stage you're going to become curious about music that you didn't necessarily grow up with.
I first started to listen to things like Ella Fitzgerald and Duke Ellington. I found that my ear was really attracted to that sound, those harmonies and grooves. Not the very intellectual jazz, but the joyful jazz. I think the thirties, forties and fifties sounds are really exciting to somebody who's not been brought up with them. And the people looked incredibly cool, so that helps (laughter).
Now, as somebody who goes to concerts, I go to many more jazz shows than anything else, and I'm always amazed at their incredible ability and inventiveness. When I was younger, I just did not understand that kind of music, but even if you can borrow a little bit of its grooviness, or even one percent of the musical ability, it can bring a lot to your own sound.
How do you feel about the new record now it's finished and ready for the world?
I feel very excited. We're about to go on tour. We play our first gig tomorrow and there's a great feeling among us – we're very close as a band. It's exciting, especially since everybody on tour was also involved in making the album. It makes things very special.
You're still touring and playing live. What do you get out of that side of your work?
For a long time, I wasn't really into it. It was a big mistake, because I think as a songwriter and a musician and a singer, you're learning all the time by performing live, and performing with other musicians. I've learned so much more in the last few years just because I've been able to work with these musicians and play live, that I think it has actually been very positive for my songwriting. And it's rekindled my passion for music.
What advice have you been given along the way that's really been useful for you?
I think it's important to appreciate the harmonies and the complexity of a piece of music in other styles. And it's important to develop your own voice. I'm quite surprised at how many people don't have their own voice, and I think that's really what's interesting about any musician or songwriter. I'm not interested in their virtuosity. I just want to hear their story. If you're able to tell your story, that's what the listener is interested in. Be very tenacious about that, because a lot of people will tell you not to share your story. And I think that is actually what will make somebody special.
Closer to the People is out on 8 April. Tanita headlines King's Place, London, on 14 April.
http://www.tanita-tikaram.com/