'The thing is, I hate most folk music,' confesses Nicola Kearey (front, left), from London folk five-piece Stick in the Wheel.

It may be a surprising stance from a band who celebrate old English narratives of the acoustic persuasion, but there you go, Stick in the Wheel are nothing, if not contrary.

'Saying that, I'm very much into the history of everyday working people, my own roots, and you can draw from a lot of great stories in traditional English folk music,' she continues, explaining the mission of the band is to 'make people connect with the past'.

'It's the history they don't teach in schools. It belongs to everyone, it's a living breathing thing - I feel we've a social and moral responsibility towards it.'

Together with guitarist/producer Ian Carter, Nicola has helmed the band since 2013. Early success arrived swiftly on release of their brutally authentic debut record From Here in 2015, which became fRoots' Album of the Year and a MOJO's Folk Album of the Year.

Since then, they've also received four BBC Folk Award nominations – not bad for a band intent on bucking the trend.

With a deep drive to create credible and cognisant songs that explore the complicated relationship we have with our national musical history, they're determined to break folk free from its collector status and update it for modern times.

This reappraisal doesn't ignore contemporary influences either, and their latest album, Follow Them True, is rich with electronic flourishes and found sounds.

To celebrate its release today (Friday), Nicola explains the inner workings of the band and lets us in on her leftfield ideas about English folk…

How did Stick in the Wheel come together?
Ian and I have been friends for years. I went to school with Ellie, Fran started singing with us and brought Si to a Stick in the Wheel gig as their first date - they're now married. Ian and I have made music together for a long time, we picked up the others as the project gathered momentum.

What have been your biggest influences and inspirations along the way?
Being Londoners, we soak up all the different influences that brings through our daily lives. There is so much going on, and London is always changing, it never stands still. Music, well I learn as much from bad examples, as from good. Ian's always made beats, I started out in guitar bands, you learn by doing. We always just aim to make good music, not good folk music. You just gotta work hard, be respectful and learn from others.

What's your relationship to traditional English folk?
Our intent is to make people connect with the past. Without being judgemental or preachy about it. It's part of our culture. I'd been largely ignorant of it until a few years ago. The thing is, I hate most folk music. But I'm very much into the history of everyday working people, my own roots, and you can draw from a lot of great stories in traditional English folk music. It's the history they don't teach in schools. It belongs to everyone, it's a living breathing thing - I feel we've a social and moral responsibility towards it.

The folk scene can be seen as insular, but we've been largely welcomed as outsiders. Last year, we set up a project recording English folk musicians on location, asking them to think about what 'From Here' meant to them - that's the name of our label. It was a great way to travel around and get an idea of what was happening with this country's indigenous music scene, as well as connecting with the people that are bearing the tradition onwards, and finding out where their passion for it comes from. In turn, it began to inform the new music we wrote for this album, Follow Them True.


Is there an oral culture you feel you can tap into and be part of today?

If you mean songs passed on orally, not really. Gone are the days when you could go down the pub and ask an elder to sing a song from way back and get a sense of the continuum of oral tradition. However, playground rhymes still evolve and change - even though the allocation of time to teach music in schools these days is woeful - they're fascinating. They still get passed down generations, morphing ever so slightly. It happens organically.
How do you think English folk has changed and progressed in recent years?

English folk music to me at least, doesn't seem to have changed much at all, the aesthetic doesn't feel like it's progressed in the same way other forms have. I'm an outsider, I didn't grow up with it, so I can only compare it to the stuff I'm into. It seems like it can be ashamed of its own identity, which is interesting to pick apart.
There have been attempts to 'update' it, with the mashing of other genres – but the approach can be tokenistic and not often cohesive. So I'm pleased there has lately been a resurgence to strip it back to the raw basic experience of sitting in a room and hearing someone sing to you, no frills style. It's what moves me, anyway. It doesn't only have to be a museum piece nor an academic discipline. There are lots of ways to look at it and I guess there's been a narrow way that most people have tended to look at it up till now.
How important is it for you that folk sticks to its working class roots?

If anything, folk tends to be working class songs viewed through the prism of the middle class collector. Certainly, if you look at how a lot of those songs have been passed down, they really start with the Victorian collectors, who were mainly well educated people, who edited their collections to suit their own narrative. Rural songs were favoured over industrial and urban songs for example. So, it's a construct to begin with. That's problematic. For me, it's more important in the work I make to be true to myself. Let the song speak for itself. Know your own culture because it informs who you are.
What's the thinking behind your new album?

Follow Them True
is about rituals and cycles, how we are condemned to make the same mistakes of the past, breaking out of that, all of this and none of this. We are complicit in our own fate, we've all got blood on our hands. I try not to think too much but this is what swills around in the background.
When and where was it recorded?

We recorded it over a few weekends in a warehouse in Basildon where Si
works
. It's an open plan office with a warehouse part downstairs. There are a few breakout rooms which make great vocal booths. Our set-up is totally portable so we got a plan together of what was going to be done when, and more or less stuck to it.
As I Roved Out
was done afterwards, I did the vocal on my phone and sent it to Ian. He chopped it up and built the track around it.
How do you incorporate found sound and electronics into your sound?

We use whatever we find if it sounds good. We've always worked this way, it's an intrinsic part of our process. When we started Stick In The Wheel it was all about stripping songs back to their essence, having already done a lot of experimentation in other projects - Ian's always made electronic music. We've been able to expand the sonic palette on the new album in what feels like a natural way.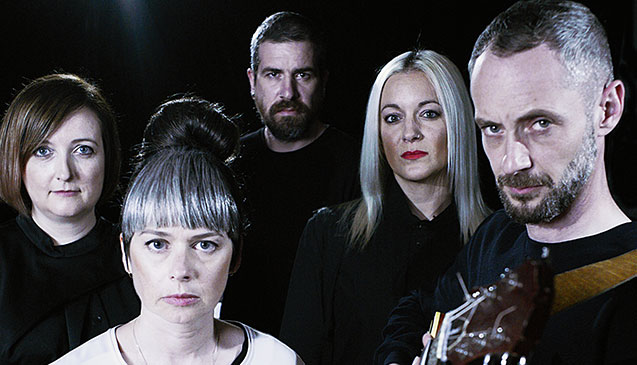 What led you down this path?

It has always been this way. If you mean, how did we become a band focussed on making folk music, well, we felt we had a responsibility to our own cultures, to be aware of them. The English and their relationship with their own culture is a really interesting, weird, complicated thing. Fraught with dangers - nationalism, racism, political correctness.
We kinda felt there wasn't really anyone looking at it in this way, although we were sure someone must have in the past. But we couldn't really find much. You just get glimpses of this weird stuff and we wanted to examine the good and bad of who we are through our traditional culture. So, we had a poke around the folk scene for a bit. Then we couldn't leave it alone. I also work a lot with visuals and objects and it's been really good to have an outlet for the ideas for physical things I have, like corn dollies and ritual imagery. We both have strong visual ideas about the music so we also sometimes make the videos.
What can we expect from your upcoming live shows?

Music from the new album, music from the old album, miserable banter if I can be bothered. Recent reviews have used words like 'wallop', 'aggro', 'ritual'; it's a mixture of stuff and it's always such a privilege to play to people. Our crowds are a not always harmonious mixture of ages and types, which certainly does make it interesting. The sound is energetic, hard and bleak but also soft at times and raw.
What does the rest of 2018 have in store for Stick in the Wheel?

Touring mostly. Thanks to our recent PRS Foundation Women Make Music grant, we're looking forward to reaching out to new audiences and going to new places both in the spring and autumn. Looking forward to playing some great festivals too.
Ellie Wilson, our fiddle player, is releasing her second solo violin and electronics track
Halyard
in March. Ian makes beats under EAN, he has some new collabs/remixes and tunes in the pipeline. We don't stand still - there is always more work to be done - we're planning the next project already of course.
http://www.stickinthewheel.com/
Upcoming tour dates
2 February - Doncaster, Roots
3 February - Kendal, Brewery Arts Centre
8 February - London, Borderline
9 February - Basingstoke, The Forge: The Anvil
10 February Widcombe, Wharf Room
2 March - Edinburgh
3 March - Sheffield, Greystones
4 March - Liverpool, Philharmonic Hall
10 March - Bury, The Met
11 March - Halifax, Square Chapel
29 March - Colchester, Colchester Arts Centre
6 April - Sevenoaks, St Ediths Hall
7 April - Aldershot, West End Centre
Photos by Toby Amies