Over the last 12 years film, TV and video game composer Stephen Baysted has become one of the most respected in the business.
His music has adorned a huge range of projects as diverse as the UK number one game
Project Cars,
international
award-winning documentary
Life Lines
and a range of ad campaigns for the likes of Budweiser and Pizza Hut.
More recent scores for film include
The Impressionists
and the RTS winning
Matisse Live
with director Phil Grabsky but whatever medium, it's Stephen's ability to create powerful and expressive scores that comes through. We quizzed him about his career, success and how new composers can break through in an increasingly competitive industry…
How did you first get into music?
I was three when my parents bought a (very ropey) piano for £5 and I started to randomly bash the keys. After that came a horrible noise from the recorder at school. But then I got a Bontempi organ with a rhythm section for Christmas aged seven. That was about the time that
Close Encounters
was on at the cinema - one thing that always sticks in mind is the bit when one of the scientists 'analyses' the theme. I remember coming home from the cinema and figuring it out on my trusty Bontempi.
What inspired you to start composing your own scores?
Like many people I have a stack of songs I wrote in my teens (that will never see the light of day thankfully!) and I played keyboards in a few bands growing up. But I really got into film music in the eighties and early nineties at university. Scores by John Williams, Hans Zimmer, James Newton Howard, Patrick Doyle, Alan Silvestri and Howard Shore really made me want to focus on writing to picture.
What was your first big break?
It was back in 2001 when I worked on my first game -
GTR 2002
which was eventually commercially released to great critical acclaim in 2004 as
GTR: FIA GT Racing Simulation.
You've worked across TVs, films, computer games and commercials - which medium do you most enjoy? And what are the different challenges associated with each form?
I'm not sure what my favourite medium is but the process of writing for film and games is substantially different. Film music is linear and as a composer you conceive the score as a continuous narrative structure accompanying every dramatic nuance of the film and reflecting the director's vision. In games, especially when the music is interactive and dynamic, the music is largely non-linear and you must conceive it in terms of a complex network of loops and layers or stem mixes, and how they might all fit. You also need to remember that in games, the composer's objective is to make their music appear linear and accomplish the same role as film music.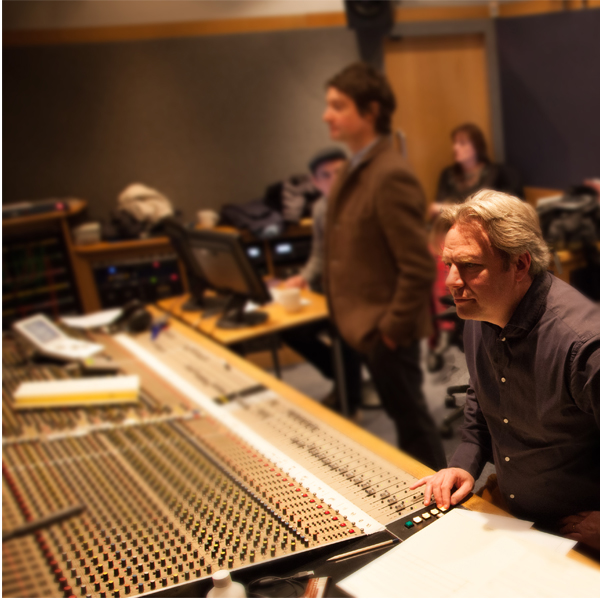 Your latest feature documentary is The Impressionists with celebrated film maker Phil Grabsky. Could you explain a little about the project and how it came about?
I'd worked with Phil on
Matisse Live from the Tate
and MoMA
- and I was delighted to have the opportunity to collaborate again. To write to accompany a fascinating narrative about the history of some of the greatest
works
of art doesn't arise that often.
When Phil and I talked it was clear that he wanted a cinematic and narratively focused score which responded directly to the masterworks shown on screen. I suggested that we go for a musical style and vocabulary which was contemporaneous with the art works, so I put together a listening list for him with works from Debussy, Fauré and early Ravel.
The score takes several original piano works by Debussy as its starting point, and pianist and mezzo soprano Susan Legg and I constructed an entire cinematic and emotive musical landscape around them, interweaving original compositions and orchestrations along the way. In some cases a single melodic line is isolated from the original, then extended, re-harmonised and expanded into a larger scale cue to picture. In other cases, entirely original compositions that reflect the musical language and period style take the viewer on a journey through the paintings and the narrative arc.
How do you approach the creative process when it comes to composing a score?
I like to bring something different to each one - whether designing and recording a set of bespoke sounds or composing for an unexpected instrumental ensemble - but I always begin with the narrative. Before I write a note, I like to research the context of the game or film really get inside the head of the protagonists or to understand as deeply as I can what the game players will be feeling while playing. Thankfully musical ideas come pretty easily to me, especially when deadlines are looming large.
What's been your favourite composition you've worked on?
Difficult question. Probably
Need for Speed: Shift 2 Unleashed
or
Project CARS
or most recently Tim Pope's
Brandy and Pep
.
Is the screen composing industry in good health?
Yes and no. There are plenty of opportunities out there, probably more than there have ever been. However, budgets are shrinking, too many new composers are willing to work for free or undercut and that is simply a race to the bottom. And too few of them want to work with real players preferring instead to use samples. Samples are great of course, but the moment a professional musician picks up their instrument, magic happens.
Which composers and scores do you rate?
There are a lot of great composers out there. This year I thought Patrick Doyle's score to
Cinderella
was stellar, Ilan Eshkeri's
Still Alice
was really powerful, and Jason Graves'
The Order: 1886
was in many ways a turning point for game music.
Have you got any words of advice for new and aspiring screen composers?
It's an extraordinarily tough industry to work in, but immensely rewarding. I think it's all about working with people - especially musicians, learning as much as you can from each project and always striving to write better music. There are no shortcuts - hard work, perseverance and being true to yourself are the order of the day.
What does the future have in store? Have you got a busy schedule ahead?
I'm working on Phil Grabsky's next film due for release in late autumn, two games -
Project CARS 2
for 2017 and another for early next year which I can't talk about, are in development, and there's an indie TV series on the horizon for later this summer too. I have some spare time for a nice feature film in the New Year though if any directors are reading this!
stephenbaysted.com
Watch the trailer for
The Impressionists
below....