If a passion for psychedelic sounds and harmonies runs right through Merseyside, then Stealing Sheep must reside somewhere close to the source.

Since they emerged, Rebecca Hawley (vocals and keyboards), Emily Lansley (vocals and guitar) and Lucy Mercer (vocals and drums) have bewitched and befuddled with music that has grown out of folktronic DIY sounds to embrace neon jumpsuits, bigger post pop hooks and synchronised dance routines.

Latest record Not Real, released via Heavenly Recordings, is their most cohesive and colourful work to date, showing off a new determination to experiment and entertain. As the band make a splash over 2016's festival season, we spoke to Lucy to unpick their musical evolution and Liverpool roots…

What first got you into music?

It was my dad. He's a piano player and organist so I was brought up in a musical home. My sister is an opera singer in the Liverpool Philharmonic choir as well so I've always been surrounded by music. When we were growing up, my dad was obsessed with collecting keyboards. There would be some weekends that my dad would wake me up playing kitsch Wurlitzer music. He tried to get me into the violin and the guitar but it wasn't until I got to secondary school that I decided I wanted to learn the drums.

How did Stealing Sheep start out?

Well there's a massive music scene in Liverpool and we were all in different bands. We'd all been to see each other play and all had the same friends. I was drumming for a number of different groups. We just decided to bond and it kicked off from there. Our roots in the scene mean that whenever we can, we try to get as many people musically involved as possible. It's always nice to add more vibe, just because there's so much creativity around us.

Did it just click when you started playing as a trio?

Yeah, pretty much. It just worked. We're all hard workers and take it seriously but before Stealing Sheep I'd never really gigged outside Liverpool. But with this, we were really keen to push harder and make something more of it.

Who did you look to for inspiration when you started out?

For me, the biggest inspiration came from our friends, the people around us and from just playing and exploring that. I loved experimenting with different patterns and musical approaches, coming up with various sounds and rhythms, practically and physically.

Now we develop our songwriting, styles and productions individually, before bringing it into rehearsal. It's here that we'll take it apart and discuss it. At the moment we're all into quite high-produced pop. So we'll look into it and question why we like it, and think about how we can develop what we're doing and make it into something we'd enjoy listening to. We love taking our ideas apart - we're into destroying it all to make something new, it's quite a mad process…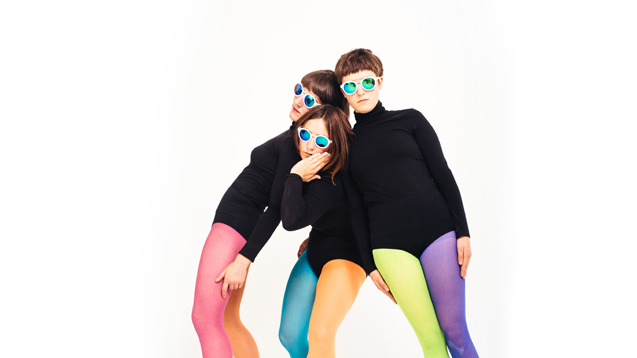 So that's how the creative process has changed for you?
Yeah we're definitely gone through various ways of working. For
Not Real
, we introduced the laptop and Logic. So we had a microphone and recorded bits and pieces into that. We were using the computer as another instrument really. It meant we could take things apart and chop them up. Then I'd try and learn the rhythms onto the live kit, meaning it would develop pretty organically.
What's been keeping you busy? You've been in Vietnam recently?
Vietnam was amazing but so hot. The humidity was unreal. But we met some amazing people. The guys we had with us were just lovely. It's such a different culture. It was a real eye opener. And there was a jacuzzi on the roof which is a sure sign of making it … the British Council funded us to go there.
You were also at SXSW earlier this year - how was that?
That was great too - it went down really well. Heavenly had a stage there. So although we went a long way away from Liverpool, it meant when we got there, we played this tiny venue full of our friends. Our music was really well received. I really want to go again.
Liverpool's scene seems to be enjoying a great time at the moment - why is it so healthy?
It does seem like there is a lot of bands up and coming. Not just bands in the public eye but more at grass roots. And there are so many things going on and great groups. Hooton Tennis Club, All We Are, Dan Croll - there are too many to list.
How does being from the city influence the way you make music?
It's the people and the vibes round here - it's not just music either. The place where we rehearse is also a photography studio, the Wrestle. It's a bit out of town. The Kazimier has shut but they've opened the Invisible Wind Factory. The collective behind the Kazimier have now moved about a mile out of town towards the docks. There are massive warehouses down there but they are going to start doing performances. It's very vibrant.
Have you any tips for new bands?
For those bands just starting out, always put all your effort in and you will see the benefits from it later on. Always keep going forward. When we started out, we said yes to everything which is quite tiring. So you need to manage these priorities. If you've got the dedication and you use your head it pays off. If you really want it, you will push forward and eventually succeed. Push forward, be strong and it's great.
stealingsheep.net
Read our
full feature celebrating Liverpool's music scene in 2016
.