'I think as a trans person, if you're not "read" as the gender you're trying to present as, that can create anxiety. It's one of the reasons that we ask the venues to provide gender neutral toilets at all the shows we play,' says Nye Todd, vocalist in Scottish indie-pop quartet The Spook School.

He's chatting about the challenges facing artists and gig-goers who are trans or transitioning – and it's clear that as a band, The Spook School are intent on breaking down the barriers, one binary bathroom at a time.

Three albums in and now signed to Alcopop! Records, the indie quartet are continuing their tradition of creating lo-fi, noisy pop anthems that deconstruct gender and celebrate queer and trans identities.

New songs like Body from forthcoming LP Could It Be Different? delve into image, self-love and, for Nye, learning to embrace being trans.

Since forming in 2012, the band have picked up heaps of acclaim for their triumphant sonics and nonchalant honesty, touring with acts like Martha and Kinky and appearing in a Rolling Stone documentary in conversation with Against Me! frontwoman Laura Jane Grace.

Channeling the riotous vibrations of the Buzzcocks and C86 compilations, it's a sound that you can't help but be swept up by, especially when the lyrics are as refreshingly direct as they are.

'You are not a computer, you are complex and undefined, so why let yourself be limited to binary desires?' sings Nye in Binary, a track from their 2015 record, Try to be Hopeful.

With their eagerly anticipated third album due for release on 26th January plus a freshly announced North American tour supporting Diet Cig, things just keep getting bigger and better for the band.

Here, we chat to Nye to delve more into The Spook School world...

What was the thinking behind the new album, how did it take shape?

With the last album, Try To Be Hopeful, we were at a time where all of us were just figuring out our identities. With this album, it's more like when you've moved past that: you've kind of figured those big things out about yourself. Some of the songs deal with 'how do you feel about your body', 'how do you feel about different relationships' – they're more emotionally direct than our previous songs. I guess being at that stage in our lives made us want to write about this sort of thing.

How does the band write together, is it a collaborative process?

I really like writing lyrics, so I'm more likely to come up with lyrics for an entire song and just basic chords. Whereas, my brother, Adam, likes writing guitar parts so he'll come up with a whole song that's got a chorus lyric but no other lyrics. Once a song is brought to the rehearsal room, it usually changes quite a lot. Niall, our drummer, likes to joke at everything and brings in things like early, badly recorded Taylor Swift songs!

What are your early music memories, what got you into music?

I've got Adam, I've got parents that have fairly good music taste. At the age of around seven, I had an old recorded CD – half of it was Queen and half of it was David Bowie, so I think from discovering that, I was pretty obsessed from that point on. I got really into punk music when I was at school. Offspring and all those bands were really big. I got really into seventies punk music and so anybody that was listening to Offspring, I was just like, "that's not real punk, stop it!"

Now that you're three albums in, how do you think your sound is evolving?

I think I'm a little bit more confident in how to play an instrument. I play some of the guitar parts on the newer album that I probably wouldn't have tried to play in the earlier ones.

We play quite a lot and that changes how you write songs or what songs you focus on. If there's a song that people seem to really enjoy when we play live, it makes you excited for that track. You tend to move towards stuff that people want to get into.

So is it important to you that the audience is into a song as much as you are?

Yes, it's really a big thing when you play a new song that people haven't heard and they still seem to be dancing along and stuff; that's pretty exciting. Still Alive is about surviving sexual assault and the chorus of that is, "fuck you, I'm still alive." Young people have been really getting into it, singing along and coming up and being like, "yes, I've got somebody I was thinking of."



What are hardcore Spook School fans like?

There's a dance that seems to have cropped up for Binary. In the chorus, people are making the 0-1-0-1 hand movement thing. I think it started in the London shows.

The lyrics to Bad Year were written the day after the Brexit vote. What are your feelings on it now?

In terms of touring, it's so easy now. We just did a European tour, you just fly over. Whereas to go to the US, it costs thousands of pounds for a visa. If visa requirements were introduced for each and every individual country in Europe, that would make touring very difficult. I think you might find British bands deciding to only travel to the US for international touring, because it's one big country and once you're there, you can tour for a long time.

What are you obsessed with right now, musical or otherwise?

Me and my flatmate just started watching Riverdale on Netflix. One of the characters on there, at least in the comics, is asexual so that'll be interesting if they include that in the show because there's not so many asexual characters on TV.

In terms of music, I've been really enjoying Jesus and His Judgemental Father. They kind of sound like early 2000's movies or late nineties American teen movies like Freaky Friday. Their music would be perfect for the soundtrack of one of those movies.

On the last night of our tour, we played a cover of Saturday Night – we came back and did the dance on stage. It was really good fun. I remember being nine years old and my sister teaching me the dance moves. It's a nostalgic, good pop song.

You're known for exploring gender, sexuality and queer issues in your music. Has it always been easy to talk openly about those topics?

No. I think I wrote songs about being transgender and played them before I talked to anybody about it. I quite often write about things that I'm not really ready to talk about yet, which is kind of a weird way to go about it. I suppose it's a way of forcing yourself to come to terms with how you feel.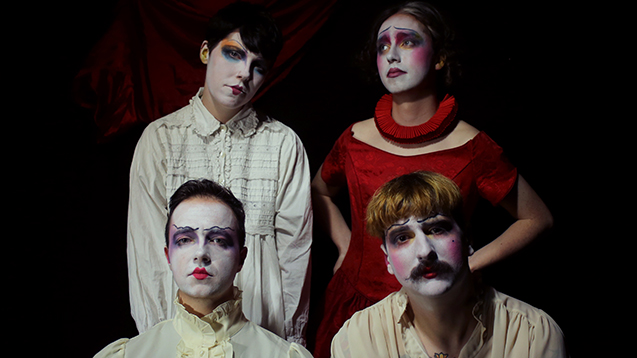 Growing up, were there any songs or artists that you identified with?

I didn't really know that many artists that were queer or trans. I think the androgyny and exploration of gender by artists like David Bowie really meant quite a lot to me, even though I realised those songs weren't totally about those topics – but you read into it and create your own meaning. Artists like Patrick Wolf and Tegan and Sara were probably the first openly queer musicians I found.

Body is about learning to embrace your trans identity. Do you think the music industry is a supportive place for someone going through those issues?

I don't really know about the music industry as a grand thing. I can only speak for certain places where it can be difficult. I know people that are trans or transitioning and in terms of touring, if you can't afford to be staying in hotels, you end up staying on people's floors who you may not know particularly well. I think as a trans person, if you're not really 'read' as the gender you're trying to present as, that can create anxiety. It's one of the reasons that we ask the venues to provide gender neutral toilets at all the shows we play.

It's part of our band rider, I guess. I think we had one case where we turned up and they were like, "Oh yes, we made the disabled toilet gender neutral, but if anyone wants to use it, they have to come up to the bar and get a key." We just took the key and didn't give it back.

Quite often, there won't be doors in the men's toilets or if there are doors, they won't lock. Those sorts of things can be stressful for anybody coming to a gig who isn't gender conforming. It's an additional anxiety: "I've got to go into this bathroom where people might think I shouldn't be here."

Do you think LGBTQ artists are represented in the music industry?

Yes, I think there are some prominent LGBTQ artists: you've got Laura Jane Grace, Perfume Genius and lots of queer bands.

I guess there's that conflict between how much the LGBTQ tag is used as a gimmick and how much people are wanting to genuinely present themselves. Shamir's first album Ratchet was on a major label but they've recently signed to Father Daughter Records. They were getting really big and receiving a lot of attention for being non-binary and queer, but then looking around and realising: "I'm getting a lot of attention for being non-binary, queer, and a person of colour, but all the people around me are straight white men." Having LGBTQ people at every level of the music industry is important: it shouldn't just be the artists.

What about venues, do you think more work needs to be done in terms of inclusivity?

When you get a female sound engineer, it's like a unicorn! Still quite often, there are sound engineers that will talk down to female members of bands. There could be a band of three women and one guy and they would direct all the questions at the guy, even if he's the drummer and they're asking about guitar.

What's next for the band?

We're releasing our new album on 26 January and then going on a US tour with Diet Cig, Lala Lala and Great Grandpa.

https://soundcloud.com/spookschool/someone-to-spend-christmas-with

UK shows

Dec 15 - Newport, UK @ Le Pub (Alcopop! Does Wales)
Dec 22 - Glasgow, UK @ O2 ABC (w/ Honeyblood)
Jan 27 - Glasgow, UK @ Stereo (Record Release Show w/Shopping)

Photo credit: Joey Fourr