Shiva Feshareki is an award-winning experimental composer, NTS radio DJ and turntablist. Her diverse output explores acoustics, cultural perspectives, memories and nostalgia through classical methodology and cutting-edge technology.
Her solo turntable performances fuse together sonic palettes from drum and bass, garage, gabber, minimalism and classical orchestral
works
to create complex live compositions. Her scored work for orchestra is equally fluid, exploring the physicality and movement of sound through instruments and venues.
In 2017, Shiva was honoured with a British Composer Award for Innovation, adding to accolades including the Royal Philharmonic Society Composition Award, the Elgar Memorial Prize and the London Music Masters Award.
Here, she talks us through her love of turntables, how's she's incorporated them into her ground-breaking compositions and what's in store for her upcoming Featured Composer residency at Spitalfields Festival 2018…
When did you first get hold of a pair of decks?
As a teenager, I'd played on lots of turntables at friends' houses, but I was 21 when I finally got my own pair. I'd just won the Royal Philharmonic Society Composer's Award and the first thing I spent the money on was some really nice Technics 1210s.
Were there any DJs or composers you were looking up to at the time?
No, not really. I had a really playful attitude to the decks and I was happy to explore them on my own. Everyone else who was messing around with turntables seemed to be part of a scene, but I wasn't - I was just a loner doing my thing. I was fascinated by the technology. It was a visceral obsession for me.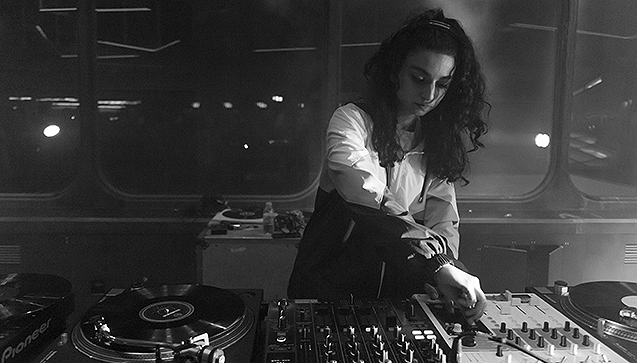 When did turntables become so integral to your compositional work?

It was almost as soon as I started formally composing music; they were there from the word go. Over the last 14 years, my relationship to turntables, and my music, has constantly transformed and changed. When I started out, I never imagined that I'd be a turntablist or a performer. As a teenager, I liked playing the violin. The obsession I developed for turntables was completely accidental.

Can you talk us through your technique?

I guess, over time, I have developed some processes which are quite unique to me. It's as much to do with the technology as my own methods. I wasn't captured by tricks like beat-matching, or hip-hop scratching. Instead, I like to take a variety of records from different times, eras and genres, alongside my own music, and create sonic manipulations on the spot. It comes down to hyper-physical, quick-moving arm manipulation, which I sample immediately in the moment.

I'm using the decks to deconstruct the sounds, focusing on the sculptural and textural dimensions of the music. It offers new perspectives: I'm not reimagining, or remixing. My aim is to present a new dimension to something that already exists.

How do you know when something is really working?

I feel it in the moment - it's all through the physical movement of my arm. Sometimes it can create something really amazing and unexpected, other times something really shit happens and I have to find a way of eliminating that texture and moving on.

How does it go down with audiences?

It can be an engaging experience as I'm able to invite listeners into the compositional process. I'm not just presenting a finished form. If I was a violinist and I played a Brahms piece, a month later I might perform it again and it would sound completely different. What I'm trying to do with my performances is create something that's really live, and really in the moment. For electronic music, I think it's vital to show the lengths you go to.


How does the improvisation inform your compositions?
There's a really interesting dialogue between my improvisation and my scored compositions. For example, some things that work really well when I'm improvising would never have happened if I'd tried to compose them. When I'm scoring compositions, I try to have that perspective in mind.
And it's the same the other way around. Because I've created so much structured composition, when I'm in the moment, I find I can restructure sounds very well. It's not just a free improv; I'm structuring and scoring the composition live.
What kinds of sounds are you naturally drawn to?
I think there's a wide variety of reasons why I choose the records I do. Orchestral music is really amazing to manipulate because of its acoustic depth. But then, with dance music, what's fascinating is its physical form, it's really sculptural. I can further amplify that sculptural effect by making it more angular.
Also, I really love manipulating soulful music – I find that using original source material which is smooth and pleasant on the ear lends to a great contrast of sound palettes. Contrasts are important to me. That's why I use records from different eras too; there's something lovely about nostalgia. I'll play on memories by using music from the sixties or the 18th century, alongside a record that was made last week.
What's in store for your Unknown, Remembered performance at the Spitalfields Festival in December?
André de Ridder had a strong conceptual framework and he gave us a brief. The evening itself has three elements to it. It's got Handel's
Lucrezia
, a Haroon Mirza installation,
Last Tape
, and then my composition.
My brief was to create a composition for soprano and continuo using the lyrics of Joy Division and Ian Curtis – but also providing text from Deborah Curtis, Ian's wife, to provide both perspectives of the story.
Shiva Feshareki will be the Featured Composer at London's Spitalfields Festival from 1 to 9 December, where she will showcase a new score alongside revisions of GABA-analogue and O, as well as Unknown, Remembered, a new interdisciplinary collaboration with artist Haroon Mirza. The festival will also feature a special night that brings Shiva's regular NTS radio show, New Forms, to a live audience in the form of turntable reimaginations of Stravinsky's Firebird Suite.
shivafeshareki.co.uk