'It's about identity, being honest to who you are and where you come from and what you represent': says folk artist Seth Lakeman.

While the singer, songwriter and multi-instrumentalist has covered a lot of ground since his debut with The Lakeman Brothers in 1994, his commitment to his folk roots has been unwavering.

That dedication was rewarded in 2005 with a Mercury Prize nomination for his second solo album Kitty Jay.

During his career he has achieved commercial success with Top 10 albums like 2008's Poor Man's Heaven and reached huge audiences while touring with Robert Plant, but he's also never shied away from more challenging projects.

His forthcoming record, A Pilgrim's Tale, is such a venture.

2020 marks the 400th anniversary of the voyage to America, and he has created a narrative record to commemorate that historic journey.

Featuring guest spots from Cara Dillion, Benji Fitzpatrick, Ben Nicholls and his father Geoff Lakeman, plus narration from actor Paul McGann, the record offers a rich perspective of the voyage.

Seth is also set to tour the album this February in towns and cities that are significant to the Mayflower journey.

Ahead of the record's release and subsequent shows, we caught up with the folk artist to get the lowdown on his latest album, his thoughts on the UK folk scene and how his music has evolved over time…

What's the thinking behind your new album A Pilgrim's Tale?

Why? I guess, [laughs] is what I asked myself as I was getting to know the record again recently. I made it a while ago now – it feels like that – and I've written some other stuff since. But in terms of what was behind it, I was listening to a record in my vinyl collection called A Mayflower Garland by Cyril Tawney. He's a folk singer from Plymouth and a mariner who worked in the dockyard. He's a great writer and he wrote a record to commemorate the 350th anniversary. Probably 500 were made, no more. I managed to get hold of one, and that was the thinking really; that it would be wonderful to commemorate and write something for 2020. More of a narration of their journey.

His was more of a combination of traditional folk songs and songs that he had written inspired by their journey, but this turned into far more of a story following their trials, tribulations and the dangers. And that all-important Native American perspective, the Wampanoag tribe. It's something that blossomed quite naturally, but the seed of the idea came from that Mayflower Garland record.

I was in Massachusetts two years ago at the Wampanoag library and met with 20 or 30 members of the Wampanoag tribe. In that meeting, I guess that's when the perspective of that album and how it would be written changed quite quickly. That's when I wrote that mystical premonition song that kicks off the album, which is quite deliberately showing people this other side of the story and the way these island invaders with fire in their eyes were coming to take over their land. Something that's forgotten here. It was important to kick it off and start it in that way. So yes, that had a big impact on me.


You've created a fictional narrative for the record, and it features Paul McGann's narration – what was the process of writing these songs like and did it differ from your usual practice?
I quite enjoy getting stuck into an idea. So you have the focus of one story, a moment in time. I certainly was trying to research as much as possible within that. I fed quite a lot off the William Bradford text. That was the very powerful eyewitness account of being there and their time in Holland. Also, I was close with someone from the Boston Public Library, there're also some manuscripts I found
online
. As well as that you get carried away by the story itself. There's a certain amount of interpretation, but I think you need that really to keep a listener. You've got to be factual and informative, but it's a balance between that an entertainment. You've got to make something that people will want to enjoy again and again.
The narration wasn't planned. It came at a very late stage. The songs were set but I felt like we needed to segue and introduce each song. Thankfully, Nick Stimson, the director, very kindly wrote these short intros and luckily Paul McGann listened to the record and really liked it, so he was up for it. It came together really naturally.
What was inspiring you musically while making the album?
It's the sound I love to go for, it's kept quite primitive. Everything's wooden. I try to keep the sonic nature of it all as similar and stripped back maybe like it would sound if they were playing, if they were on a ship in that period. I was fairly conscious of that and with the time constraints that we had – we only had two days to make it – just one shot at it. There're overdubs form Carla Dillon, the fantastic Irish singer, and Ben Nicholls on double bass and my dad (Geoff Lakeman) came in and lent some vocals. But the core of it is me and Benji (Kirkpatrick) really. We only had one or two shot with that because Benji was about to go off with Steeleye Span.
And what was the recording sessions like?
It was quite intense! [laughs] The thing is, me and Benji have worked together for years and he came down and played side drum. We were playing live tracks with side drum, a viola and two vocals and there's spill all over the room and the mics. But it's all still useful and it's there. That's why there's a soulfulness and realness to the sound of it. There are things that you might correct but the vibe is pretty cool, I think. We've got a great vibe me and Benji.
Some of those rhythms, there's no click. Some of the jump rhythms, the tambourine, the massive Morris type sound, you know you can hear the bells. It's certainly not a drummer playing it but it's the right sound for it, to motor it along, to give it enough power.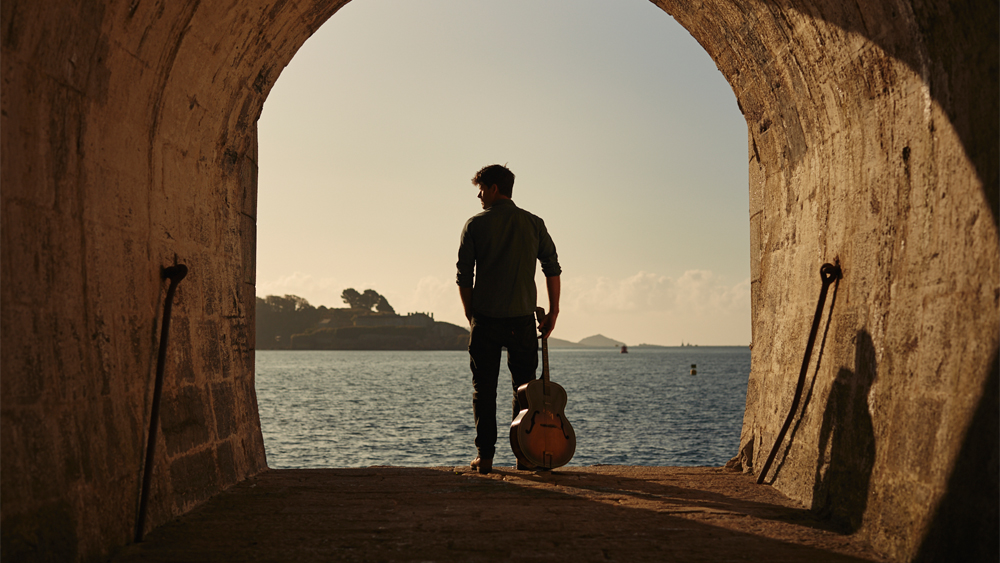 You're taking the album to locations connected to the Mayflower's story – what can we expect from these performances?

We're putting together projections so there will hopefully be a whole 48-minute run of images that will happen behind us. They'll be the pilgrim band: Benji, me, Ben Nichols – Cara can't come on because she's on tour – but we've got a wonderful singer called Alex Heart who's gonna be playing her parts. And then the narration will run. So, it will run as the record… well hopefully [laughs].

I think we have to run it as the story, then give people a bit of a break, then maybe play some more familiar stuff.

Are you most at home in the studio or when performing live?

I definitely am the kind of person that when I'm working a studio, I can't really think of anything else and I love the process of writing and layering. There're so many ways you can build up music – it's exciting. But live; there's something about that connection, something really quite magical between you and an audience that I do feel is where I started. That's where you get the most out of it.

Your first record (Three Piece Suite – The Lakeman Brothers) came out 25 years ago. How has your music evolved since then?

Music has changed an awful lot, the industry itself. I've always felt it's really important to have a separation from what's happening in the industry. I think it's important to create a certain amount of space. I've always thought that, living in Dartmoor. I can't really write anywhere else. That's a long time, 25 years [laughs].

I've had really important moments, travelled and had experiences. It's a very privileged position, I think. Certainly, to make a career of it and be able to travel, I feel ever so lucky. I never expected to make career as a Dartmoor fiddle player and have all these opportunities, but I guess it's what you make it. I don't think it's necessarily about how much money people throw at you. It's always about your own motivation.

I'm different to other artists in that I have quite a variety of sounds. From pop songs, which I can write, to a record like this which is not popular in any sense. It's reflecting a moment in time and it's actually quite a challenge for someone to listen to, an education in a sense. It's kept me busy [laughs]. I feel like I've been lucky enough to experiment and I really do enjoy that. Trying to find the right songs if you're playing a festival, I guess you're going to pick more of that popular stuff that's been picked up by Radio 2. If you're playing a literature festival or your own shows you can be a bit more daring.

The way music has gone, a lot of entertainment, it's all very immediate. It disappears quite quickly. This album is the full experience, you have to immerse yourself in it. You have to finish the story. When I played it to mates of mine, they were like, 'this is like an historical, factual version of War of the Worlds.' I think that's quite a good way of putting it really. It's got that feel, the segues, the set ups, the journey itself.

And what's your take on the way the music industry has changed over that time?

It's very difficult to say without swearing [laughs]. The thing about the industry is that Simon Cowell came along and changed the face of entertainment, and the way we consume things and the way a whole generation perceive it. So, be that better or not, which I don't think it is, it changes the way people even think of it and approach it. There's a huge amount of talent out there.

I think there's probably a massive gap between Facebook and a website for an artist. There's a bog possibility for a Myspace type thing, a connection for fans to bands. There're a few big gaps in the market, I feel. As the industry goes, I speak to live promoters and festival organisers and people love an experience of going out and hearing things and being with their friends. It's still there, it just feels like it's been thrown up in the air a little bit.


How do you feel about the UK's folk scene right now?
I would say it's in a very constant and very good state. The thing about folk music, regardless of age, it's always got a wonderful support network, it's a cottage industry and it will always thrive within that bubble. At different points, different artists and the different way the media perceives it – it did have a bubble going off with that kind of acoustic revolution spike seven or eight years ago with Mumford and Sons, Laura Marling and Johnny Flynn. There was a quick resurgence of that acoustic sound – whether you call it folk or not – people discover other forms of music. And then Bellowhead, there was a lot going on. I think that's helped, enormously, the way people see acoustic instruments. From the eighties, from what people tell me, it feels like a better time.
I think it's important to have contemporary artists like that. Some people forget that, but you've got to have a window for any kind of genre. It's a way of trying to draw people in.
What advice do you have for emerging folk artists?
I think it's all about playing live. And, in my opinion, it's about identity, being honest to who you are and where you come from and what you represent. Whatever that might be and whichever corner of the country you might come from. I think that is something that people really respond to now, grassroots.
And always throw in a gimmick if you can [laughs]. Dog juggling, or… no, I'm joking. In a way I'm serious. Sometimes when you do that it has more of an impact or has more hits. Something to really stir things up.
What's next for you?
I've been writing a lot over the Autumn period. I'm working on another record, a singer-songwriter record. Also, there's another project I'm thinking of embarking on maybe next year, which is inspired by the Laurie Lee book,
As I Walked Out One Midsummer Morning.
I managed to play his violin recently, which was something me and his daughter had been chatting about. Fingers crossed that comes together next year. It would be a wonderful journey and a great thing to focus on.
What has been you career highlight so far?
I guess the big thing for me was the Mercury Prize. But also, I'll be honest, touring with Robert [Plant] there have been some real highlights. Robert presenting me on my 40
th
birthday with a birthday cake to a sold-out Sydney Opera House – things like that are pretty cool [laughs]. The whole of the opera house singing happy birthday, it was quite a moment.
I've been ever-so lucky. I've had some real highlights, but the thing that really pushed me as an artist was the Mercury Prize, so it's got to be that one really in 2005.
A Pilgrim's Tale is out 7 February via BMG Rights Management.
Forthcoming tour dates:

5 February Cast Theatre, Doncaster
6 February St Andrew's Church, Immingham
7 February Norbury Theatre, Droitwich
8 February Trinity Arts Centre, Gainsborough
11 February St Nicholas Church, Harwich
12 February Southwark Cathedral, London
13 February Central Hall, Southampton
14 February Flavel Arts Centre, Dartmouth
15 February St Andrew's Church, Plymouth
sethlakeman.co.uk