'God, what makes for great pop?! It's got to be melody and melancholy. It's that happy/sad mix - the sweet and sour of the takeaway world,' says Sarah Cracknell from St Etienne.

The quintessential British pop frontwoman – quirky, quality and open-minded – is chatting about what makes a track work for her.

Although not academically schooled in music, she has been writing, recording, producing and performing alongside Bob Stanley and Pete Wiggs since 1991.

Originally fuelled by the rush of rave culture, bedroom indie and sixties samples, the trio created an effervescent pop sound that crackled with tight hooks, heart-pulling melodies and lashings of cool.

From French chanson to Detroit techno, vintage football commentary to forgotten folk, nothing was off-limits for their stereoscopic sound.

Now three decades in, Sarah, Pete and Bob are still pushing the pop envelope, with recent LPs including the sprawling 2017 release Home Counties showing they haven't lost any of their experimental whimsy.

Following the reappraisal and reissue of their iconic 1991 debut LP Foxtrot Alpha in 2016, St Etienne have just given their equally important third album Tiger Bay the same treatment.

With a London orchestral show already under their belts, they're planning more gigs around the UK to celebrate the album's 25th anniversary.

With all this going on, and a new album in their minds eye, we sat down with Sarah to pick her brains about pop, tour life and the secrets of staying together as a band for nearly 30 years…

How does it feel to hit the 25-year milestone with Tiger Bay?

It's always nice to revisit old albums because I just don't listen to them, you know? Once that period of time has come and gone, I never pick up my own records again.

It's been really good to have another listen, and to be asked questions about it, and to start thinking about why the album is the way it is, and where we were at.


What do you remember most from that time?

Well, it all seemed like quite a rollercoaster because there had been a few albums coming swiftly. We did Foxbase Alpha and maybe a year or two later, So Tough, and then Tiger Bay. We had really moved away from the pop thing with this record.

I mean, there are a couple of pop songs on there, but we were branching out. Bob and Pete had been listening to a lot of folk and we also realised there were some old songs that were out of copyright. So, things like Like a Motorway is a song called Silver Dagger, which Joan Baez and loads of folkie people have done.

Also, we were listening to a lot of techno and Detroit stuff and the album ended up being a combination of the two, which seemed like a good idea. So, folktronica was born, in Saint Etienne's world anyway.

Did you set out to do something different with Tiger Bay or did it just happen that way?

I think it was a sort of organic progression. I have speculated slightly that maybe we were moving away from the pop thing because we had a lot of demand from people around us to keep recreating pop hits.

Maybe there was an element, deep down, of wanting to stick two fingers up at those people? I don't know. It was probably subconscious. It certainly wasn't at the forefront of our minds. We never plan anything way in advance. We just wait until the time is right and do what we feel like doing at that point in time.

What has it been like to revisit the record? Have there been any surprises for you? Or anything you wish you'd done differently?

I think we probably wish we'd done more stuff with an orchestra, quite frankly, because it's just really overwhelming. It makes you want to cry sometimes, it sounds so beautiful.

I'm always in awe of those people who can read a whole load of sheet music when they're seeing it for the first time ever, and play it with such passion. I think, 'God, I wish I could do that,' but I was never going to be a lead violin.

We've been working with the London Contemporary Orchestra, and they're fabulous. We did a bit of a rehearsal but you don't get to practice with them much because they don't need to!

Do you get nervous before performances?

I do a little bit at places like The Barbican where everyone is seated, because everyone is just sitting watching you. It's not like they're swaying or, I don't know, moving around! They're just staring at you, really, which is quite intimidating. As often as possible in those kinds of venues, I try and get people up on their feet. The security don't like it, generally, but we do!

Has St Etienne's music-making process changed much over the years or does it still feel the same?

It's pretty much still the same. Well, with the first two albums, it wasn't the same as it is now because Bob and Pete had known each other since they were tiny. It was their band and I just joined. They had a way of doing things and I would write externally with people that I'd known for a long time, from when I was in my teens.

Then, gradually, we started to work together more and more. Now it's just really easy because there are no egos involved and no one wants to have the bigger portion of the songwriting. We all just chip in when we've got an idea. Anyone can come up with a tune, a melody, or a keyboard part, or some words, anything. Anything goes.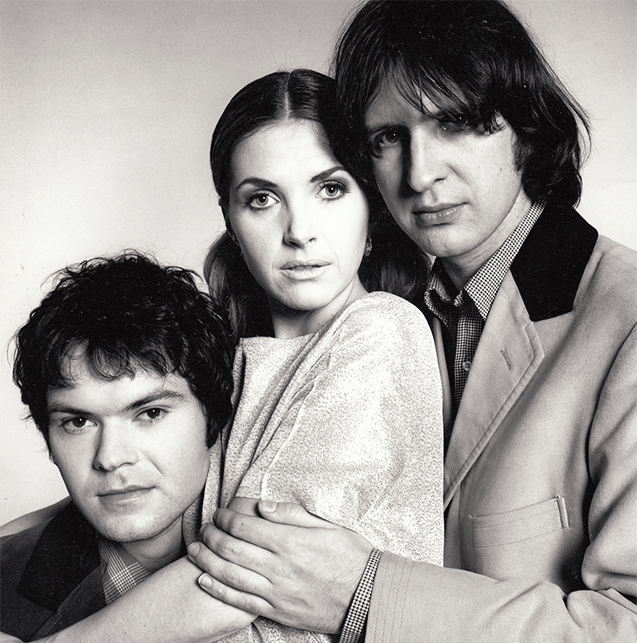 What keeps you making music?

Well, we just think, 'Maybe we should make a record next year,' and then, 'Yes. Why not?' Then we start coming up with ideas and a theme or a certain sound we want to investigate.

It always feels organic. It's just when we feel like doing it, you know? Because everyone is quite busy doing other things. Bob is writing. Pete has just finished a Masters in orchestration and composition. And I'm quite lazy and I don't do very much (laughs).

What compels you to get back in the studio?

We haven't run out of ideas yet and we enjoy doing it. It's still fun, basically. I can't think of anything intellectual to say about it! We get on well, we don't bicker, and we just enjoy each other's company. We like going on tour, going to different cities around the world: what's not to like, really?

What, for you, makes a really great pop song?

God, what makes for great pop?! There are a few things I like in pop. I mean, melody and melancholy, obviously. They both go without saying, but then sometimes you can hear something great that has so little in it.

I love those stripped-back, hardly anything going on, clean-sounding records that are repetitive. Not a lot happens, but they can really make you feel a certain way. Maybe the chords are a bit melancholy, or something. So, yes. It's got to be melody and melancholy. It's that happy/sad mix - the sweet and sour of the takeaway world (laughs).


St Etienne have been going nearly 30 years; how do you keep a band happy and creative for that long?
I suppose we've never gone on those really long tours for a year or more. I always think, 'Oh my God. That would be horrible!' You'd probably get a bit cheesed off with each other and want separate tour buses. I wouldn't do that!
The best thing you can do as a band is always stick to exactly what you want to do and don't let anybody dilute your ideas, and what you want, and what you want to sound like. I think that's probably the most important thing.
Did you get a lot of pressure, then?
We did, yes. That thing I was saying earlier about people wanting you to recreate the same hit or, you know, minor hit, as was our case but, yes, just wanting us to repeat ourselves all the time.
And then you gave them Tiger Bay…
There you go. You see? Nail in the coffin of the career (laughs).
Lastly, have you got any other musical projects on the boil?
Well, yes, we are thinking of doing another album. We've started talking about it and coming up with ideas. I think it might come out next year, 2020. We haven't recorded anything yet, mind you.
St Etienne's Tapestry album, featuring previously unreleased stripped-back versions of their 1994 album Tiger Bay is available on from 14 June.Upcoming UK tour dates
10 October – Everyman Theatre - Liverpool
16 October – Warwick Arts Centre – Coventry
18 October – Sage – Gateshead
19 October – Queens Hall - Edinburgh
http://www.saintetienne.com/