As Sacred Paws rev up to release the follow up to their 2017 debut, Strike a Match, we dance to the beat of a band sharpening their songwriting claws and even succumbing to the idea of creating choruses…

Spinning on an elastic axis of post punk fuzz and African rhythms, the fancy musical footwork of the Glasgow-based duo has taken some giant steps since the group's inception, winning the Scottish Album of the Year for their debut and dazzling leftfield music fans.

'We love mainstream pop, artists like Robyn and Carly Rae Jepsen,' reveals Rachel Aggs from Glasgow's Sacred Paws.

'We don't make similar music but we want to create a similar feeling, a similar kind of rush. Our songwriting tools don't fit the mainstream so we do it our way instead: which means it comes out sounding pretty weird."

Off-kilter they may be, but if you're searching for exuberant guitar music pulsing with ideas, heart and positivity, then their glorious take on post punk is hard to beat.

Despite their modesty, the pair – Rachel (guitar, vocals) and Eilidh Rodgers (drums, vocals) - have evolved at pace, coming some way from the feedback-filled chaos of their first gigs and releases to take on the form of a tightly wound, warm blooded musical outfit. Deserved winners of the Scottish Album of the Year (SAY) Award in 2017 for their debut album Strike a Match, they're now on the brink of unveiling a much anticipated second LP, Run Around The Sun, on Mogwai's Rock Action imprint.

'It just feels funny when we suddenly find ourselves writing a pop song,' says Eilidh on their development. 'We almost have to stop and pinch ourselves. That's just not the kind of world we're from.'


Early days of the Sacred Paws

The pair were born out of a brittle punk scene of feedback and fanzines, restlessly falling in and out of various bands before finding each other's musical charms when they played together in Glaswegian indie pop group, Golden Grrls.

'I was living in Glasgow at the time, Rachel was in London,' says Eilidh. 'We were into a lot of the same music, a lot of African pop. It felt exciting to make music together so we made an effort to hang out more.'

Alongside Golden Grrls, at the time Rachel lent her musical charms to acclaimed post punkers Shopping and Trash Kit. On meeting, the pair pooled a shared passion for what they describe as odd sounds.

'We made mixtapes for each other, exchanging musical finds, lots of African songs and indie pop,' she says. 'We were into a specific type of upbeat, melodic, exciting music and that influenced how we sound.'

Geographical differences

When they first made their connection, there was a lengthy Megabus ride between them. Rachel called London home, working at Dalston's DIY punk hub Power Lunches with Eilidh in Glasgow. Their spiralling profile prompted Rachel to head north.

'I moved up here about a year ago. But we spent about six years with me commuting,' says Rachel. 'Which now seems completely mad. But it was fun for a while. I liked the excuse of leaving London, coming to a new city and getting to know it in a slow burn kind of way. And the Glasgow music community was really exciting and accepting of me: that was really cool.'

The initial distance between them meant that when they did hook up, there was a sense of urgency to their music making, a need to capture what they had before geography pulled them apart.

Rachel says: 'I would travel up, we'd practice, write a song and play it that night. I'd come up and we'd have to gig so we had to be quite spontaneous.'

But as their reputation grew, it made sense to spend more time together, working and writing. It's a move that helped push them forward with Glasgow's music community giving them its blessing.

'Glasgow feels really supportive,' says Rachel. 'If someone is doing something new which they're into, then people will go to shows, get excited about releases coming out or offer you an opportunity to make a record. That was there in London but it felt like you could just as easily slip under the radar. Whereas in Glasgow, if there's something fun happening, people will know about it and get behind it.'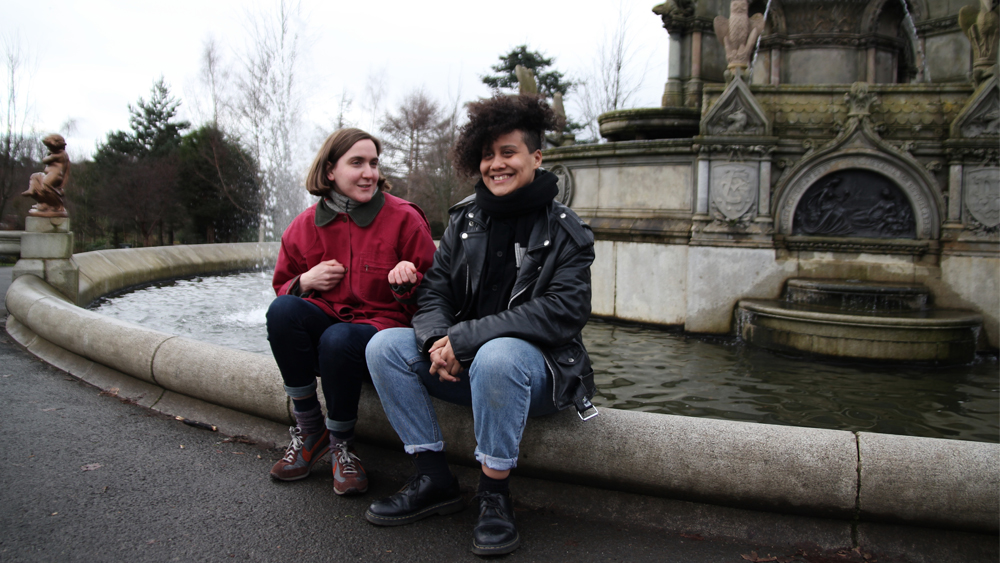 Strike A Match
In 2015 Sacred Paws' career trajectory took a dramatic turn after they were picked up by Glasgow indie label, Rock Action. Label head and Mogwai's main man Stuart Braithwaite fell for their charms, adding them to a diverse roster of acts which now ranges from the raucous electronica of Blanck Mass to indie legends Swervedriver. Inking the deal had some influence on the pair, instilling a confidence in their music making. How did they win Rock Action over?
'A friend of mine said in passing that the label were interested in us,' says Eilidh. 'A couple of weeks later Stuart Braithwaite came along to a show and obviously the gig was a car crash; it went really badly. Knowing he was there and having that seed planted was a lot of pressure but he's crazy and still wanted to work with us.'
After their
Six Songs
debut EP in 2015 and a couple of singles, Sacred Paws found themselves in Mogwai's Castle of Doom studio, working with acclaimed producer Tony Doogan. He's well known for studio handiwork with some of Scotland's best artists from Belle & Sebastian to Teenage Fanclub and beyond.
'We've got weird demos of all the album tracks songs we recorded on Garageband in my flat,' says Eilidh. 'But we made the record with Tony at Castle of Doom. Tony is established and
works
with professional bands so we had to try and step it up a gear. He made us feel that things were possible.'
With Tony's encouragement, the band's openness and willingness to experiment expanded and ideas came thick and fast.
'When we went into the studio with Tony, Rachel worked out some bass parts and it became a bigger thing. We joked about having brass and Tony said: "Cool, let's get a brass section in. Why not?"'
Rachel agrees: 'The possibilities opened up to us in this setting. Things like overdubs and brass parts that we'd previously never even thought about. Before it was like, what can we do with drums and guitar - it was cool to be that minimal. But it's limiting - you do that out of necessity rather than creative choice.'
'We come from a more punk DIY aesthetic – so it hadn't crossed our minds to experiment like this. I guess without Rock Action, we would never have made that record and this second one wouldn't exist either. We owe a lot to them.'
SAY Award
It says a lot about the band's talents that their debut ended up winning the SAY Award back in 2017. Full of sonic flourishes, colour and bursting with brilliant musical and vocal interplay, it's a great debut but Sacred Paws were taken aback by being critically lauded.
'
It was a little bit terrifying,' admits Eilidh. 'We were completely shocked at winning and we were very humbled. We just felt we had to get the next album right.
'It made us a little self conscious,' adds Rachel. 'But only to a certain extent as it felt quite abstract to win a prize for our music. It's not something we ever thought about and there were so many amazing records on the list. It wasn't like we felt we'd made the best record of the year - it just kind of happened.
Such a ringing endorsement of their talents must have given them another massive boost of confidence?
'It was comforting,' agrees Eilidh. 'We accidentally made that record and people responded well to it - so hopefully they will to the next one.'
Run Around The Sun
Run Around The Sun'
is the band's forthcoming release and sees the band adding further sonic shades to their music. Preceding singles
The Conversation
and
How Far
sees the sonic interplay between the two musicians growing further into more blissed out and exploratory pastures.
'We just hope people like it,' says Eilidh. 'We approached it in a similar way but it's just been a more ambitious.'
'Yes some of the songs have choruses now,' laughs Rachel. 'Which has surprised us a bit - but now we think about structure, flow and how they'll feel to listen to rather than how they'll feel to play. We're now more self aware and looking to make songs which sound great on record.'
The synergy between the pair is at the crux of their appeal and, unsurprisingly, their songwriting approach is based on collaboration. .
'We need each other to push each other forward with ideas,' states Rachel. 'But I don't think it'd be Sacred Paws if it wasn't the two of us and the energy that comes out when we get together in the same room. The way we communicate is how we write and the real heart of it.'
Paws towards the future
So what's next? With the album's release at the end of May, their diaries include a UK tour, festivals and even a trip stateside. Down the phone from Glasgow venue, Mono, their excitement is palpable. Have they any advice for acts inspired by them who want to pick up instruments and start their own bands?
'Just make the music true to you and you'll find people who'll respond to it,' says Eilidh. 'Ambition can get in the way sometimes so if you make the music you love, then you'll get a response.'
'Looking back to when we started, we were pretty shambolic but we really meant it and did not care if we made mistakes or looked silly,'' states Rachel.
'That's what people responded to and for me, is at the heart of what makes something great. Artists who believe in themselves and sound like they're having a good time…'
Sacred Paws' new album, Run Around The Sun, is released on 31 May on Rock Action records.Sacredpaws.co.uk