Manchester's lover of twisted arcade fantasies and C90 cassettes, Ruf Dug has had a steady rise to prominence.

Over the course of numerous raves, parties and plenty of releases on his ace Ruf Kutz label, he's become well known for an unruly enthusiasm and passion for music traversing the sonic terrain between balearia and synth-heavy gloop.

The Manchester man has racked up a series of releases on labels like Klass Recordings and Süd Electronic but it's his album Island, that has perhaps got him into the largest number of ears. Recorded on a Carribean hideaway, it's a dreamy collection of molten disco and unwired dance that has earmarked him as a talent not to trifle with.

With more parties and music in the pipeline, we caught up with Ruffy to find out more about his current musical misadventures and where he's taking his beats to next…

What are your first musical memories?

I was about ten, got a Walkman and a copy of Now That's What I called Music 4 - it had Giorgio Moroder and Phil Oakey on it, Together in Electric Dreams. It's got that amazing synth intro and I remember thinking that sounded wicked. Then I saw Pet Shop Boys not long after that, on Top of the Pops doing West End Girls.

How did you start making music?

I got this little keyboard to help with my Pet Shop Boy's fantasy. But music was what I did at school rather than sports. I studied it all the way through, doing like 15 hours a week. As I left school, I started getting into jazz, started a band at uni - I played the flute and sang in that, then got into sucked into house music.

I was always fucking around making music on the Amiga. We never had money when I was a kid so this was the accessible route. I loved movie soundtracks too, and collected them growing up. I wasn't into the Hacienda, but I was really into soundtracks. I never really knew about the clubs.

You spent some time living in Australia - when did this happen? And how did it shape your music?

I moved to Australia in 2000, got some turntables and began collecting seriously. I decided I wanted to get into it and make it my living.

The parties out there were great. Sydney in the early 2000s was super raw. People used to smoke weed in restaurants. If you did that now, they'd call the riot police. But it meant that the parties were unreal because the authorities were so lax. There were loads of warehouse parties, because of all the space there – they used to make Matrix and Star Wars films there so there were all these creative types going partying. It felt really open, really free - as a 23 year old, it was a phenomenal playground. It was a great place to cut my teeth as a DJ.

Then you came back to Manchester?

I invented Ruf Dug when I came back to the UK. Trus' Me had just released his album. When I arrived back in Manchester, that was the vibe. Cutloose was the party, it was very Moodyman-esque, smokey disco loops, a bit banging. That was the sound of the city at the time. I thought I'd make a track for Trus' Me - he was playing this party in Manchester - I'll make him a tune to try and get signed - what does he do? He takes disco loops, fucking throws slamming kicks behind them. So I made a tune in this vein, came up with the name Ruf Dug as it sounds like the dodgy sort of guy you'd meet down the pub. I burned it on a CD, took it to the party to give to Trus' Me but he never even turned up.

But it meant I made a few more tracks on the same vibe, did a MySpace, pretended I was German and started pushing it. Steve Kotey from Bear Funk was the first to get in touch and he said he wanted to sign it. That was after a couple of days and I was buzzing. Nothing happened. Then Chris Duckenfield got in touch. This was massive for me, and Chris ended up playing this tune at the Electric Chair, then Luke Unabomber got wind of it, he did a remix – that was it – it came out on the Popular People's Front. That was 2009. Off the back of that I fired up Ruf Kutz.

How did Ruf Kutz start then?

I did RK 1 myself, saved up a grand and paid to press it up, then started writing to the shops asking if they'd stock it. I drove down to Vinyl Junkies on Berwick Street. I took a test pressing and they took 50 copies. That was the best thing I ever did as two weeks later it came up in a Moodyman chart and he'd picked it up from there.

Going in and speaking to record shops was the way to do it. A few weeks later I got an email from David at Hessle Audio. Ramadanman. Each release seemed to acquire another wicked DJ who'd be getting into it. I was quite happy to work a day job and carry on slowly building it up. The key is the foundations are built on record shops. Those are the ones you want on side as you get fuck all for working in them and what you do get you spend on records so it takes a particular type of passionate weirdo to work there. You get them, then they get the DJs. Building the base that way worked better than going on social media and getting 10,000 fucking followers.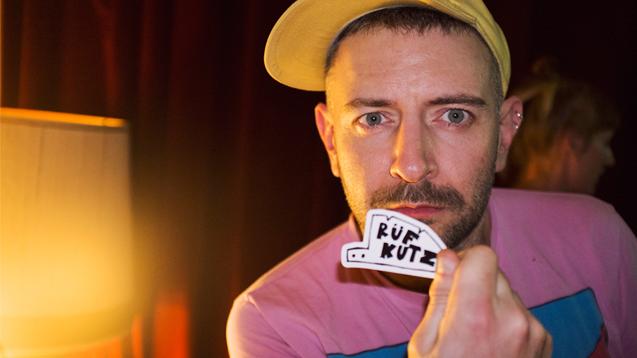 How did you make your first album, Island?
We were over in the Carribean, because my wife was filming a TV show. She would be out shooting footage. That was the time to make it and I set the studio up upstairs. It was great, I was hanging around with the crew, working in line with their hours. I just ploughed away with all this time in this beautiful location. I'd like to do it like that again. I'm a serial non-finisher so to see something through like that was unreal.
It was great and the album was so well received. So it would be lovely to do a second. I just need my wife to get a job in a nice location again. But you watch, she'll land something in Orgreave and I'll have to make something about the miners' strike. It won't be very balearic.
How is Manchester?
There are so many people moving here. I have a studio in Ancoats and the amount of new buildings going up there is unreal. It's all for Londoners. These are people doing weird stuff, who aren't sitting on a trust fund or whatever it takes to keep yourself afloat in London. Gentrification is here but the council are pragmatic to new venues opening. When the Warehouse Project landed it cleared a lot of stuff out the way and now a whole load of great new venues have emerged - Kraak Gallery,Islington Mill, Hidden, all these spaces are open and doing interesting things.
Have you got any advice for new producers?
Don't listen to any advice. Get as much sleep as you can. Otherwise you'll go mad. Keep on making tunes. If you try hard enough, you're not a dickhead and you have something personal to say, then you'll be all right.
rufkutz.net