'There are serious issues with what one might describe as classically based work. I think it still has a major, major image and access problem': says Red Note Ensemble's John Harris.

Formed in 2009, Scotland's contemporary music ensemble have worked tirelessly to break down the barriers to classical music for composers, players and audiences.

The ensemble performs established contemporary pieces alongside commissioning new music and developing the work of emerging composers.

Additionally, Red Note have sought out innovative spaces outside of traditional concert halls and fresh ways of performing in order to appeal to new audiences from rural Scotland to international festivals.

The ensemble also run an extensive performer and composer development programme within schools, universities and conservatories and undertakes research to find ways of attracting new audiences.

Here, we chat to the ensemble's chief executive and artistic co-director John Harris about their journey over the last decade, tackling the lack of diversity in classical music and more…

How does it feel to be celebrating your 10th anniversary?

I run it with Robert (Irvine) who is a cellist and I've known him for years and years and worked with him in previous ensembles. He used to be principle cello of Scottish Opera and he's professor of cello at the Royal Conservatoire of Scotland and has played for all manner of people. He basically approached me 10 years ago going, 'I'm a little bit bored, let's start an ensemble' [laughs].

That we've got this far seems a little surprising, to be honest. It's kind of grown underneath us. I don't think we ever expected it to necessarily turn into a full-time job or have the scale or ambition that it does, but I suppose people just kept asking us to do stuff. And we kept on doing things and it blossomed from there really.

It has been a happy surprise - stressful and hard work – as it's a different thing running an ad hoc ensemble than having a company underneath you. But you've got to grow up some time, I guess [laughs].


How has the ensemble evolved over the past decade?

If you look under the bonnet it's always the same beast. Robert's ambition is to be the worst player in his own ensemble, which is ridiculous because he's insanely good. No one ever says no to Robert, so he pulls together extremely good ensembles.

The other thing we've always had is what I described the other day as a social mission, which sounds a little bit like a social enterprise, but we're not a social enterprise. We do have a very strong sense that what we do is not an exclusive thing. It's a much more wide-ranging thing in terms of the audiences that we play to, in terms of the people that we get to participate, in terms of the engagement and the idea that particularly composition and new music creativity is something that everybody can access.

That element of our work has grown and grown and grown. Alongside the international touring, the big commissions and all those kinds of things, we have this whole programme that's integrated into everything we do. It's the same players, basically the same music going to some of the toughest areas of Scotland. There's this awful thing called the Index of Multiple Deprivation up here and we basically chose the five places with the highest Index of Multiple Deprivation and we go and work in these places.

The response is incredible in terms of the people that you work with – kids, people with dementia or multiple disabilities, people who have no access to the arts at all. And they love it. The players and the ensemble are up for that, they like the tougher, sharper end of things.

Do you think diversity has improved in the period the ensemble has been operating?

I can't speak for anybody else, but I think there are serious issues with what one might describe as classically based work. I think it still has a major, major image and access problem. It's just that nobody's actually talking about it properly and the efforts to do something about it are paper thin.

We've done a lot of in-depth research and we've engaged people from Edinburgh University to go and look at not only who comes to our work but who doesn't come and why. One of the things we found from both qualitative and quantitative research is that there is an enormous appetite from people from all classes for what we do and the barriers to it are social. They're not musical or artistic or any of that kind of stuff, it's literally a social problem.

I think we for far too long have expected people to cross our threshold. And our threshold is the concert hall and the palaces we erect for the arts, but it's about time we started crossing our audiences' thresholds.

In terms of the players we use the difficulty with that is that to get a player to a standard it's years, and years, and years. And the social barriers to them even getting anywhere near it are so significant that every single person that comes through is a total hero or heroine. Anybody who gets there deserves a medal because that's a massive deal. So, I think it's kind of crazy when we turn around and go, 'is diversity any better?' [laughs] You have no idea.

I think we have a serious problem that's beginning to be recognised, but the people that can do something about it aren't doing anything about it. It's very complacent and has been for years. It makes me quite cross.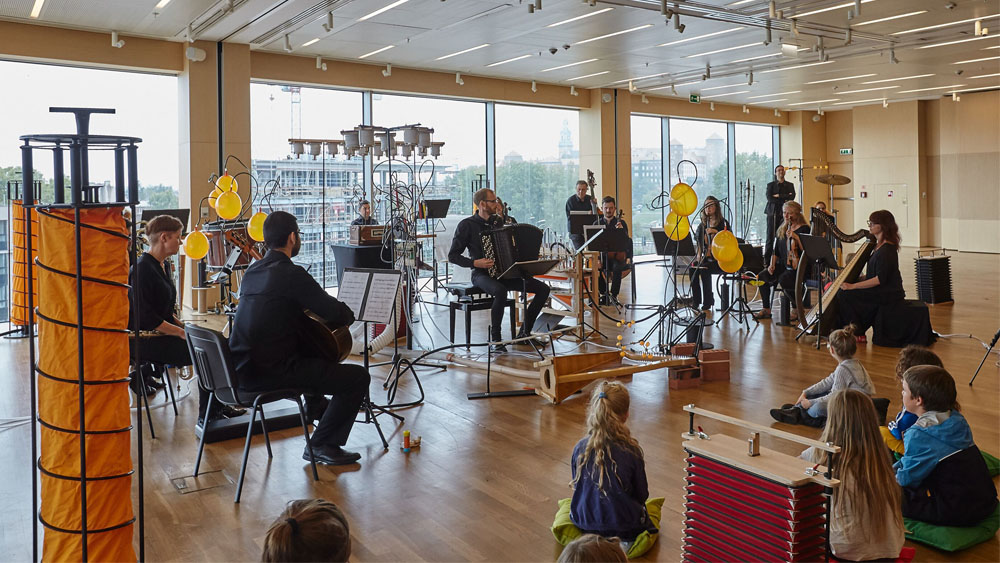 What else do you think could be done to improve diversity?

It's a systemic societal problem, basically, the fact that a huge swathe of the population feels excluded. And to be honest, I think an awful lot of politicians and people that are in a position to do something about it look at what it is and think, 'what an earth is the point in that?' Up against everything else that there is; roads, schools, prisons, police, you name it, all the other things that government and local authorities have to do. And nobody, or very few people, are making the argument for what it can be.

You can't make any argument to politicians and people that can make a difference unless you have the ability to put your hands up and say, 'you know what, we're not doing this right and we could do it so much better.' There are better ways of doing this, there are people who are doing it in better ways than us.

I think it's going to require that and possibly a total breakdown at some point, that's my feeling. I don't know how sustainable it is as it currently stands. I think diversity is part of it but there's also this enormous mindset challenge on both sides.

You were recently awarded the Contribution to New Music Award at the 2019 Scottish Awards. What does that kind of recognition mean to the ensemble?

It's nice. We win things on a relatively regular basis. I don't set too much stall by these things. I mean, it's great to have it, it's a really lovely thing to be able to point to and say somebody else thinks we're good. Those things are also part of the bubble in that it's one bunch of music people awarding another bunch of music people. They're lovely but they are part of the bubble. Recognition from your peers is really important, but it's not recognition from the population at large.

You've also been selected as a PRS Foundation Talent Development Partner for 2019/20. How will that help you to support the development of performers and composers?

That's a fantastic network and we're off to our first conference in a month. Just looking at the organisations on the list – it's a network that doesn't exist in Scotland – it's a very wide, broad and deep bunch of people saying much the same stuff as I'm spouting at the moment in terms of social reach and all the rest of it.

It's incredibly engaged and I'm looking forward to discussions about what organisations are doing and how they're going about it, the kind of work that they're up to, the way they're supporting it. Belonging to that type of a network is incredibly important. We have this elevator approach to it essentially, in that if you catch them young and keep them going eventually it will reap rewards at the end [laughs].

I'm really interested to see how other organisations extend their reach, I'm really interested to see how they make things accessible, how they work with people who are non-standard music creators – you know, that don't look like me, basically. That's why being a Talent Development partner is key for us.


You're reintroducing the Noisy Nights open mic event. What do you hope to achieve with it?
We took a break because we had an interesting piece of criticism from a Creative Scotland officer a year or so ago that gave me absolute pause for thought. She said, 'I love what you do. Of all the stuff that you do - which is all very accessible, and the rest of it – how are you going to ensure accessibility and engagement and diversity with Noisy Nights?' [laughs] That's a really massive challenge.
What we're doing is introducing a level of digital engagement that we've never done before. For the first time we're doing online instrument demos live. Anybody can access them and ask questions of the players and have that stuff demonstrated in real time. So, they get to know the players a little bit before they submit their work. I suspect we will also live stream the performance as well just because obviously you have to do it in one place, it's going to be in Glasgow, and a lot of people aren't going to be able to be in the room.
Everything's short so you don't have to write a 25-minute magnum opus, up to five minutes maximum. It gets people on to our radar, it gets a lot of feedback from players, which is more valuable than anything else.
What's next for Red Note Ensemble?
We have quite a lot of new commissions. Some of our commissions are quite big with lots of players and they're quite expensive for promoters, particularly in rural Scotland. We're borrowing a leaf out of the people who did chamber versions of Mahler, making smaller versions of the bigger stuff we commission. For some international promoters who can't afford the music fees, we can offer them a smaller one too.
Also, we're looking at work specifically for children. We're looking at making a work next September that will then tour quite significantly that will be participatory in an interesting way for kids with an early years theatre company here in Scotland in order to make that work.
There's the whole programme called Five Places at Easterhouse, Methil, Ferguslie Park, Kilmarnock and North Edinburgh. We are going to be working three to five years in each place and working towards a final production or product. Quite a lot, I guess.
Oh, and a tour of Canada and Australia [laughs].
rednoteensemble.com