'Collaborating with artists is the thing that drives us. What we're really interested in is how we can make a difference - how can we help people get onto the next stage,' says Rachel Nelken, Head of Creative Programmes at The Albany.
Described as a hub for artists, communities and creative enterprise, the south London venue has been at the heart of Deptford for 125 years and boasts a strong musical heritage that has seen legendary gigs from the likes of the Wailers and the Clash.
While the rate of venue closures over the past 10 years makes for dire reading - more than 40 percent have shut their doors for good - The Albany is part of a new breed of spaces changing up the traditional venue model.
Alongside its music programming, the venue is involved with various artist development projects - from offering grant application support and inviting musicians to become workshop facilitators, to developing a young person's ensemble. 'We're "growing our own" as it were', Rachel says of this talent incubation.
Here, in an extended interview from our feature on independent venues (appearing in the
latest issue of M
), Rachel tells us more about The Albany's work...
How important do you think venues like yours are in giving a lifeline to new artists?
They are super important - the music industry has completely transformed over the last 20 years, so the access point to new artists has shrunk. The way that the DIY culture has evolved has provided a lot of new opportunities for artists to showcase their work, but it's become really impenetrable for artists to actually reach labels and publishers because there's less money available for emerging talent. Venues become really important in the ecology of emerging talent because they are a concrete, tangible way for artists to get their music out there; to find support and a platform for what they're doing.
What sort of support do you offer artists?
We run the
Ed Renshaw award
which is in partnership with a local family and music manager. It specifically targets young artists who are emerging talent - or who are on the trajectory - and would really benefit from mentoring and a bit of cash to support their next step. We've mentored and supported four young artists this year and they also got to play the main stage along with some really high-profile acts.
We've got partnerships with music development organisations such as Arts Train in Bromley who do lots of work with new young artists. One of our 26 resident companies is
Heart n Soul
who are a musical organisation working specifically with artists with learning disabilities. We provide support and production and a place for their various programs with younger and older artists.
The other thing that we're trying to do with all the artists is sit down with them and ask what else can we do - can we offer a rehearsal space, can we offer some support with making grant applications? In July, we ran a funding panel for the new Arts Council fund,
Developing Your Creative Practice
. We focused it on musicians because we think they are underrepresented in a lot of these funding schemes. From that, two of them have put in applications, so that's not a bad return I think.
We're also raising funding at the moment for a young people's ensemble. I'm talking to at least 40 artists that were in the autumn season about whether they want to get some work leading that collective, which will hopefully feed into their own work too. It's about trying to find other ways to support artists and other ways to make a living. All the successful artists I know can't make a living by just one facet of their career: it has to be a mixture of live, recorded, workshop delivery or teaching, promoting events... You have to have a portfolio career now.
As a grassroots venue, what challenges have you come up against?
The biggest challenge since I started programming music here is industry gatekeepers, if you like. There are lots of brilliant artists who I've spoken to - some of whom we're working with in other ways - but their agents are looking at the Albany in Deptford and saying 'is this the right venue? If we're only going to do three London venues, that's not the right one'. It's really shortsighted because we have a huge community around us and it's an audience that a lot of the artists want to tap into.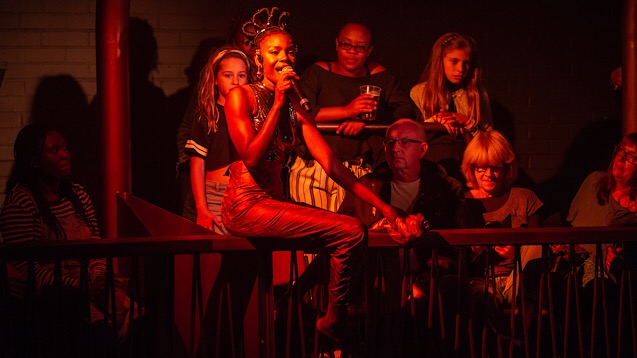 You've received support from PRS Foundation's Open Fund, how did you use it?
We did get PR for this season, which isn't something as an art centre based in the community we would always do. It felt really important for us because we are relaunching the venue this year as a music venue. Our first gig was Shingai Shoniwa in the round, which was amazing. She was on the stage with her band in the middle and the audience around her which was really cool. The extra funding from PRS Foundation has allowed us to be really creative with presentation. We also gave Shingai three days of rehearsal in the theatre. Normally the theatre would be hired out, but it allowed us to prop up the income that we would have raised and meant that she could really craft her show.
Normally musicians rock up to the show and if they're lucky they get an hour or two to soundcheck and then they're out. That's absolutely what we're trying to knock down - that 'in and out' mentality. Wherever we can and wherever its wanted, we'll try and fit people in; not just for rehearsal but where we can, production. A lot of the artists say to us that no one has ever offered them that before.
How closely do you work with the artists/promoters of shows that take place at the venue?
Collaborating with artists is the thing that drives us. What we're really interested in is how we can make a difference, how can we help people get onto the next stage. We're working with
Steam Down
, a new jazz collective who are absolutely at the heart of the south London jazz scene. They played here and sold out 500-capacity which was amazing.
Similarly, but on a smaller scale, is an electronic group called
Leyendekker
who are part of this really cool south-east London electro scene. They're doing a club night called
Rate/Repeat
that we started this autumn in our studio space. They want you to be able to see live music in a club setting, so they invited three bands to perform - it was really amazing.
So two very different things, but both are going to be regular events. Developing that 'home crowd' thing is really important for grassroots venues, or tapping into where a scene already exists. That's what we've done in both those cases.
Do you think the interconnection between grassroots venues and music-makers is still important in the era of digital music?
Yeah 100 percent; I think more so. The digital thing is all well and good, but it's just impossible to make a noise above the noise that there is already. That's where making real connections with people and finding a platform for your work and getting it to a live audience has become absolutely vital - because your digital music won't get any traction unless you can show that you've got a following.
What do you think helps grassroots venues thrive?
I think becoming funding savvy. There are more opportunities out there now to gain funding than there ever were before. There's a whole 'looking outwards' thing about understanding the sector and the contacts that you're working in. Partnerships potentially, venues in other places, gig swaps - all this kind of stuff.
What does the future look like for the Albany?
We are really building on what we started this year, so both Steam Down and Leyendekker are bi-monthly events. We've got the chance to really develop those. The really brilliant thing about having had a successful program is we've learnt a lot and had a lot of interest from new artists in playing here, so we will be doing more of the same and seeing how we can further develop the model. Music collectives will be our new focus, in terms of how we develop emerging talent and feed that in. So we'll start 'growing our own' as it were!
www.thealbany.org.uk