Footloose five-piece Pumarosa have gone from strength to strength in 2016, touring with Glass Animals across the States and releasing some of the year's buzziest new sounds.
Describing themselves as 'industrial spiritual', they've been busy channelling the ghostly echoes of Warpaint and 
All We Are
with something much weirder and darker.
With wind in their sails and a sultry sound palette in mind, they band have found time with production wiz Dan Carey, who's helping realise their debut record.
From his South London audio den, he'll be overseeing some final recording days next month, with an album release date pencilled in for next spring.
On top of that, they've just come off their own UK headline tour and are currently at large in Europe, first in Dublin and then across to the mainland, supporting Glass Animals.
We were lucky to grab some time with inimitable frontwoman Isobel Munoz-Newsome to hear about life in one of Britain's most hotly-tipped new bands…
How's the tour been going? You've had sold-out shows right? What's that been like?
It's been going really well. It's the first time we've headlined lots of these places, so it's been really exciting. We've had a really great response. Bristol was sold out, which was nice. There was a low ceiling and everyone was going a bit mental. London was sold out too, which was a totally different sort of thing. It was pretty big for us. It was incredible.
After Dublin (on 31 October), we leave for Brussels to carry on with the Glass Animals tour. We did America with them, now we're doing Europe.
Where do you feel most at home – on stage or in the studio?
I really, really, really like both. I love performing. I think touring is essentially a bit shit, but then I love the gigs. I was listening to Johnny Greenwood talking about touring and he loves it, it's his favourite thing. But then he's probably got his own coach with a music studio on it! For us, at this stage, it's still pretty rough. But then you're leading up to the few hours before the gig and they're the best thing. I love that. It's always hard and it nearly always turns out really great. You have to go to strange place and go all out. You don't have to be a massive extrovert, you just have to open up and that always leads somewhere good. You could've had the shittest day but after the gig everyone's smiling. Then after a couple of hours everyone starts feeling ill again!

What's it like being in the studio with Dan Carey?
It's been really great, and it was equally as intense in a different way. The live thing is the culmination of all our effort slogging around. In the studio it's almost a similar thing, but it's all those years, all those hours of working away at the songs, coming to the point where everything's crystallised. It's incredibly satisfying as well. I'll be sad when it's over.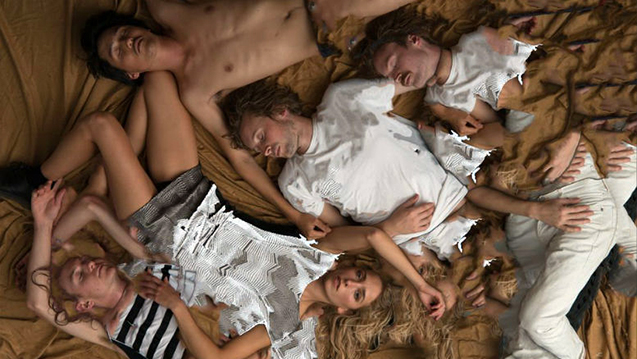 When will that be?
Quite soon I think. We've got another clump of days with him in late November. It's been ongoing for ages. We did Priestess with him in June last year. We had just three days to do it and after that he said he'd love to do more. This summer we've had a lot of time with him and it's been amazing. He meets you with the same intensity that you've invested in the songs. The way he approaches production is really emotional. We all find it very gratifying because he's there with you in the song. He identifies what's going on emotionally and notches it all up.

What's the album sounding like?
We've got too many songs, but that's good – it's what we wanted. We're going to have to choose which ones, and there is one we're still fiddling with in a more fundamental way and others we're mixing.

It sounds like a real piece. At the beginning it felt as if everything was very disparate, but we did two more over the summer and they've made it a piece. It all makes sense now. You can get a sense of Pumarosa as a sound now, whereas before I only got that live.

How have you been capturing in the studio that fluid sound you have?
We usually track drums, bass and guitars and even sometimes synths – so we record the core of a track, often with guide vocals, all the way through. We just play it with as much vigour and passion as we can altogether. We try to get a really vibey take.

There are couple we've layered up where the piano is at the core of it. There's one we play live called The Witch, which is spooky and stately at the same time, and the piano in that has to be just so. But that actually came together really easily, whereas we've had to try a number of different ways in with a few other tracks. Finally you nail it, somehow.

How has your sound developed over the time you've been together?
When it was just me and Nick a while ago it was pretty raw, as you can imagine. There was my loose guitar-playing and his technically very brilliant sensitive drums, with me just belting over the top. So it's all really changed since then, with Henry, Neville and Tomoya. I think I've learned to sing more subtly, so it's gone from being something quite punk to something which is much more detailed, considered.


You've been picking up loads of attention over the last year – what's that been like?
Well, it doesn't really feel like that. If I lived just on the internet then maybe it would. It feels lovely when you play a show and get a good response from the crown and something nice is written about it the next day. Even just people giving you a nice personal comment on Twitter or whatever. I haven't particularly felt it – it's just that we don't have as much time on your own! Positive feedback is brilliant for something you work so hard on.
What's next for you?
Alongside the Glass Animals tour we're also doing a few gigs with Kate Tempest when she goes out on her tour this winter. We're so, so happy about that. We all think that project she's doing with Dan is so brilliant. We're playing at the Roundhouse with her, which is epic, and them Bristol and Norwich.
When will the album be ready?
I'm not really sure how it
works
because we haven't really done this before but I know the actual release date will be around May. We're hoping to do a single in January or February as well.
Lastly, I just want to say thank you to the PRS Foundation because they helped us to get to SXSW this year. It really makes a difference. Moving five people around the world  is incredibly expensive. It was a really brilliant help for us, so cheers.
https://www.facebook.com/pumarosamusic/
Pumarosa received support through the PRS for Music Foundation's International Showcase Fund.