When innovative composer, pianist and electronic experimentalist Poppy Ackroyd says she has a deep love for 'beats, basslines and interesting new sound worlds', it figures.

The Brighton based artist has been redrawing the boundaries between classical and electronic music since she released her stunning debut album Escapement in 2012.

Through her nimble studio work and careful appropriation of found sound, she has consistently overridden the sonic limitations of analogue instruments and embraced cutting edge techniques.

Over the years, she's helped reshape the post-classical genre, working alongside the likes of Hauschka and Nils Frahm before taking up her place on the One Little Indian roster, also home to Bjork and Asgeir.

Her new, self-produced LP Resolve landed last Friday (2 February) in all its resplendent glory. Easily her most ambitious yet, it recreates the feel of a full orchestra, using strings and piano hammers to harness the drama with a fraction of the instruments.

We caught up with the inventive soloist, Hidden Orchestra collaborator and screen composer to learn more about her eclectic approach to sound…

What's the thinking behind your new album?

I wanted to follow on from the concept behind my first two albums. On Escapement, I used sounds from only the piano and violin to make the album, and on Feathers I used a range of keyboard and string instruments. For 'Resolve' I wanted to increase the palette of sounds further, and so I also incorporated sounds from woodwind (clarinet and flute) and percussion instruments (hang).

Where and when was it recorded?

The album was recorded over a two-year period in my home studio in Brighton, however, for the first few recordings I was in a smaller studio and so was using my partner's upright piano as my grand was in storage. You can hear this on The Dream and Luna. The guest instrumentalists - Jo Quail, Manu Delago and Mike Lesirge - were recorded in my partner Joe's studio in the basement of our place in Brighton, and in Alev Lenz's studio in London.


How did the making of it differ to your previous records?
The album very much follows on in a similar style to my previous work, but for this album I decided to not use any field recordings, and only use sounds from the acoustic instruments I was using. For the first time, I also invited guest players to improvise. These recordings were then treated in the same way that I treat my own improvisations in the studio - sifting through and selecting melodies or rhythms and arranging and editing these into the tracks you hear on the final album.
You're a pianist, violinist, producer and composer – what do you see yourself as first and foremost?
Foremost I see myself as a pianist. This is where I am most comfortable and natural. I love playing the violin but the piano has always been my obsession.
How has your approach to music changed over the years?
The biggest change for me with music over the years has been to do with listening. When I started to produce my own music, I learned to listen in a way that I never did as a classically trained performer. I now focus much more on the final sound of everything I do, in addition to the emotional content of the music and the physical side of playing an instrument.
What or who have been your biggest influences along the way?
My biggest influence has probably been my partner Joe Acheson who I have been working with as part of his project Hidden Orchestra since 2004. Touring with the band has been a big part of my musical development, and helped me get the confidence to make my own music.
My father is a visual artist and he has always pushed me to follow my dream. He is very successful at what he does, and I suppose I have always thought that it is perfectly normal to make a living as an artist. The biggest change in my life musically came from performing contemporary modern classical piano music - discovering
works
by Lachenmann, Takemisu, Kurtag. From here I discovered a whole new world of sound.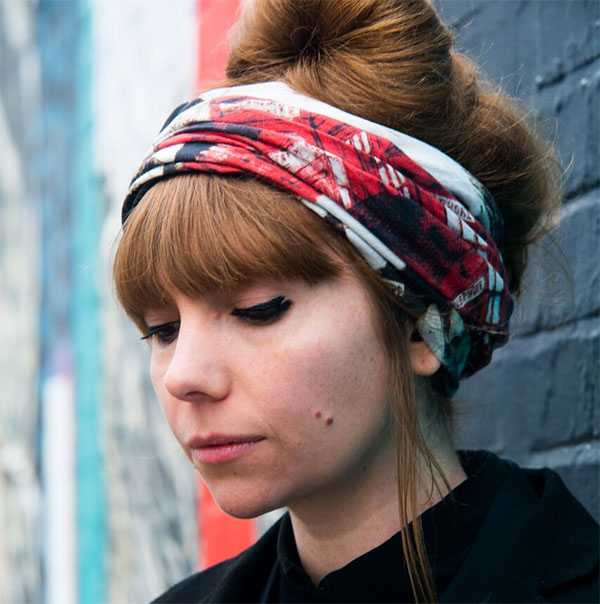 I am getting used to it. I have always associated the term neoclassical with the classical period in music in the early 20th century, so where it is supposed to feel new and modern it sounds slightly old fashioned to me. Saying that it seems to have worked as a term people feel comfortable with, and I am really happy that there is a growing audience for this type of music.
What's your relationship to electronic music and electronic music production?
I have listened to electronic music for a long time now, as well as playing in bands for years. I have a love for beats, basslines and interesting new sound worlds. I was very excited by the different sounds that I was making on my acoustic instruments, but often it was technically impossible or very difficult to perform the ideas I was wanting to create. Using software like Logic and Ableton live has meant that it is possible for me to arrange these sounds in particular ways and manipulate them indefinitely. With music production, I am learning something new all the time and am only just scratching the surface of what is possible.
How important is it for you to produce your own work?
The production is as much part of the process as anything else. Many of the ideas in my music happen after things have been recorded and I spend a huge amount of time working with the recordings once they are done. Often the elements that end up on the track are the mistakes from takes, or parts of improvisations. These are often more interesting to work with.
If I was working with someone else in the studio, the music would end up somewhere very different. Having unlimited time is crucial to me, and I have such a strong idea of how I want things to sound that it makes sense I take care of these things myself.
What does 2018 have in store for you? Any live dates?
I will be on tour in Europe later this month and again in the spring. I am currently artist in residence at the Attenborough Centre for the Creative Arts in Brighton and I am looking forward to working in this space and starting my next album project in the summer.
Poppy Ackroyd's European tour kicks off in London on 17 February at the Union Chapel in London.
http://poppyackroyd.com/