Belfast composer Philip Hammond emerged against a backdrop of violence and political turmoil that once marred his hometown.
His first major piece,
Thanatos
, was commissioned in 1976 at the height of The Troubles, and was inspired by the death and destruction he saw around him.
Philip used electro-acoustic methods, then in their infancy, to accompany the piece's choral and spoken word elements – pioneering new electronic methods in the process. But the work was pulled days before its performance, following 'moral concerns' from Christian interest groups.
Its banning, and subsequent notoriety, attracted widespread regional and national interest, and helped propel his career. BBC Radio 3 offered to
broadcast
it, making
Thanatos
the first electro-acoustic and live piece to be performed in Northern Ireland.
Fast forward to 2018, and Philip is less concerned with the latest contemporary classical movements, but his ideas remain as potent as ever.
Over the years, he has fomented his own unique response to the world around him, spreading his ideas through various teaching posts, as a radio presenter and a music journalist.
A long spell as a director at the Arts Council Northern Ireland gave him further opportunity to help others in the classical community build a lasting regional movement.
Philip is now busy preparing for the premiere of his latest work,
The Blackbird's Poet
, which receives its premiere at the Ludlow English Song Weekend on 7 April.
Here, we learn about his early excursions into music and the thinking behind his major new work…
What do you consider to be your first big break into composing?
Back in 1977 I was 26, I had two music degrees, I was a music teacher. Here in Belfast, the Troubles were at their height. I was invited to write a choral piece for the amateur choir of the Royal Victoria Hospital, and I chose the subject of death as the focus of an electro-acoustic work which was to be the backdrop to live spoken and sung choruses and two reciters.
Electro-acoustic music was, back then, in its infancy as regards presentation to the general public, and the equipment of synthesisers and multi-track tape recording (with spliced taping I hasten to add) was primitive in comparison to the technological facility of current practice. For whatever 'Christian' reasons, the main choir pulled out of rehearsals three weeks before the performance.
The local BBC radio station heard about the situation and, eventually, BBC Radio Three, through the good offices of fellow Belfast composer David Byers, offered to broadcast a studio recording of the piece (called
Thanatos
) if I could get one together again. I did and it was broadcast.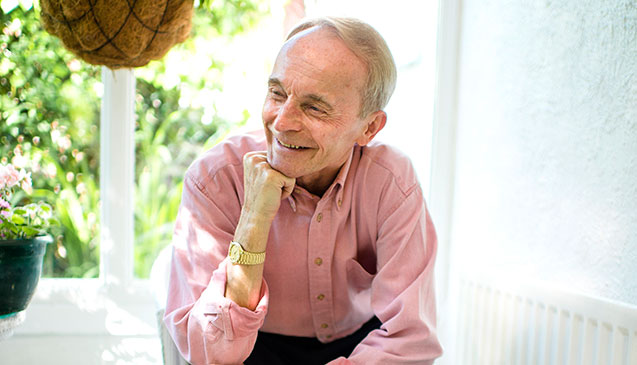 How has your approach to composition changed since then?

It has changed in so far as I no longer attempt to keep up with the latest style or taste or fad of contemporary classical music – that 'cutting edge' obsession. I call myself a 'retro-romantic' and feel that by doing so I am no longer in competition with anyone, or trying desperately to be different or thoroughly modern or whatever. I am content to write the sounds I want to write - as opposed to the sounds I used to feel compelled to write. It's very liberating!

You've had many other roles aside from writing music – what always keeps you going back to it?

I keep going back to my primary interest in life because, for me, music has a spiritual and emotional lure which is meaningful to me at many levels. All the other things I've done – like teaching, broadcasting, playing, writing, amateur DIY obsessiveness, are fun for passing time. Now I realise that time is running out; stuff than means something to me takes priority.

What's the thinking behind your new piece The Blackbird's Poet?

Invariably, I respond to music and poetry though my imagination – literally, by seeing scenes in my mind. These I attempt to translate in to sound. The multi-varied song of the blackbird has been a constant throughout my life in Ireland and has many associations for me. So does Irish history and historical Irish music and art. The tragically short life of Francis Ledwidge, blown to smithereens at Ypres on 31 July 1917, the innocently naïve beauty of his poetry, his soft blend of Irish nationalism and his fascination with the song of the blackbird, all set against the backdrop of the political upheaval of Ireland and Europe a hundred years ago – that's the thinking behind this piece.

How and when did it take shape?

For me, ideas occur out of the blue – or so it appears. It takes a while for the ideas to formulate, coalesce and percolate through to my consciousness. Once there, they tend to take form at the piano so there's a very physical dimension to the whole process as well. I've had this piece in mind for well over a year now and it is in many ways a companion piece to a vocal piece I wrote in 2015 called Lament for an Irish Rebel - obliquely geared towards the Easter Rising of 1916. I completed The Blackbird's Poet on the coast of Oregon at this 2018 new year - where, unfortunately, it was too early in the annual calendar for blackbird song – or at least the American equivalent.


How do you feel about it now it's about to receive its premiere at Ludlow?
With performers of the calibre of pianist Iain Burnside, flautist Adam Walker, and the angel-voiced Irish tenor Robin Tritschler, I think I can safely say I am very excited indeed. Two years ago, with Chris Glynn at the piano, Robin sang the
Lament
I referred to earlier and I was fairly overwhelmed by that. I've dedicated
The Blackbird's Poet
to him. Also the piece is being done in a perfect context at the Ludlow Song Weekend where there will be an array of Irish singers and Irish classical music on offer –I would say this I know, but it is indeed worth attending!
You've been a Director of the Arts Council NI – is local classical music in good health, do you think?
That depends from which angle you make your judgement. I have been retired from the Arts Council for nearly a decade, but I continue to know that there is a plethora of old and new artistic talent here in Northern Ireland and there always has been. But that talent, and particularly new, young talent in music, has to leave in order to find a space for its musical development and for a potential musical career. That in itself in not necessarily a criticism and there are obvious reasons for that sort of decision.
Our population is very small and largely rural – there are few professional platforms for classical music in particular - and there is a limited audience which cannot hope, alone, to provide adequate finance, through box-office income, for professional staging. Our whole population here is a bit over one eighth the size of the population in London alone!
Without public funding from government, through largely the Arts Council of Northern Ireland, and with little to no corporate business here to offer sufficient and regular sponsorship, the outlook is grim and getting worse because of huge cuts to the existing arts budget, already the lowest per capita in the UK, let alone the rest of Ireland. The artistic community's appeals to our local politicians fall on entirely deaf ears. Without a government in place at the moment, frustratingly, the reality of life here is financially unhealthy and politically bankrupt. That is not a healthy situation for the arts in general.
Does it feel very separate from classical movements in England, Wales or Scotland?
Well, we have various links and associations with the rest of the UK –
PRS for Music
is one of the important ones. But on a day to day basis, Northern Ireland
works
in a very different way to England, Wales or Scotland in classical music terms. We have no music academy or conservatory. We have one professional orchestra which, because of its size, cannot present the breadth of
repertoire
available elsewhere. We have an administration for an opera company but no full-time employed singers. We have limited access to professional chamber music concerts. Our amateur choral scene ebbs and flows in terms of standards. As I've said above, we have a very small classical music audience which is ageing and not being fully replaced because a younger generation has not learnt the tradition of going out to arts events on a regular, uninterrupted basis. The forty years of the Troubles ended that line of continuity. So, on the ground, yes, it feels very different from classical movements elsewhere.
Do you have any advice for young composers starting out?
Follow your ear, write what feels natural for you, learn technique above all, be prepared for criticism – and realise that the field is becoming more and more competitive. But if you have the true capacity to compose within yourself, find your way past the obstacles that exist in any pursuit of self-expression -  and listen -  and listen - and listen to what others write and have written.
The Blackbird's Poet, which receives its premiere at the Ludlow English Song Weekend on 7 April.
http://www.philiphammondmusic.co.uk/
An excerpt of this interview featured in the latest edition of M magazine.