Congolose/Angolan artist Petite Noir (real name Yannick Ilunga) epitomises the shape-shifting sound he calls 'a new African aesthetic'.
Currently residing in Cape Town but signed to Domino Records here in the UK, he's intent on remoulding the common perception of Africa as a 'dark continent', largely unknown and culturally distant.
Through a new sound he dubs 'noirwave', Yannick is on a mission to challenge current thinking with a form of music that has its roots in a growing global movement rather than a particular country and continent.
His debut album
La Vie Est Belle / Life Is Beautiful
, which was released last month, offers an ace taster into his vast sonic world, where breakneck afro-pop rhythms collide with silky, soulful vocal melodies.
Working with UK artist/producer Oli Bayston (Boxed In) and Leon Brichard (Ibibio Sound Machine) in a bid to capture the best of both musical flavours, Yannick has pioneered a schizophrenic approach that blends early eighties new-wave with Cape Town's post-millennial take on Chicago house.
We spent some time with him for our
Awesome Africa
feature in the
latest issue of M magazine
to learn more about his new mission to broaden our sonic horizons…
What sort of music did you grow up listening to?
I grew up listening to all sorts of stuff – from African music to metal to hardcore to hip-hop. I just really hated pop – well I thought I did! That's the lie punk music gave you when it was popular. They told you it wasn't pop, but it was. Especially bands like Blink 182.
So music needed to have a bit of a rebellious streak for you?
Yeh. People like Blink 182 had the whole anti-pop music vibe going on, but it was pop at the same time, which was pretty confusing.
You were in a metal band to start off with, right?
Yeh, I used to really love metal – it was the only thing I listened to. I got really deep into it and then I grew out of it. I started listening to electronic stuff.
After the metal band I joined an electronic/disco band and then I thought I wanted to do it alone. Sometimes being in a band isn't for everyone.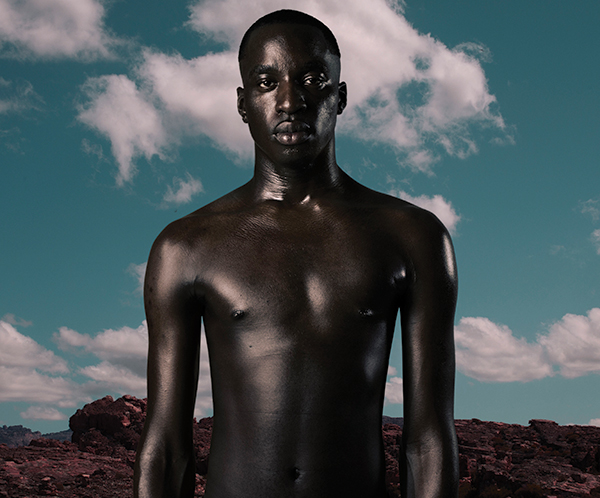 How do your Petite Noir songs start life?
I don't know. There's no process.

Are you a trained musician or have you picked it up along the way?
I'm mostly self-taught. I first started playing guitar in a church band and that taught me a lot about composition and how things work.

Can you explain what 'Noirwave' is all about?
Noirwave first started off by putting African musical influences with new wave sounds. There was a bigger plan for it. It's just progressed with time. I've changed it from new wave to 'a new wave' – it's a whole movement with an African aesthetic. It's moved from just being music to videos and photography too.

Are people into that aesthetic, do you think?
It feels like it's growing. It's coming along. I've heard people talking about Noirwave here. The goal is a new pop culture. It's easy. It's about being free. If people like it, then people are going to end up making it. It's my way of making music and having a free mind. I don't want to block anything or put up boundaries to my creativity. The main thing about it is to have a free mind and unlearning a lot of what you've been taught.

Like what?
With playing guitar, we've all been taught EADGBE is the standard tuning when it's not necessarily. Who came up with that? Someone just decided it was a universal law when in actual fact you can tune the guitar how you want. You need to unlearn. You need to make the decision to unlearn. We all grow up watching cartoons but do you still watch them today? Society and the media guides us from when we're babies. Too many people have the same upbringing. When you get to a certain age we need to start unlearning and not see things the way we're taught they are.

So you think we should reject what we're told?
It's less rejecting, and more dissecting and accepting. And then from there, you can make better decisions. Just because the guitar is tuned to EADGBE, it doesn't mean you have to reject it – you keep it as knowledge which you can add to. It's about progressing.

You mentioned a 'new African aesthetic' – what did you mean by that and is there an agenda behind it?
I'm not sure whether or not we'll continue with that aesthetic. That's the great thing about the Petite Noir project – I don't know what to expect.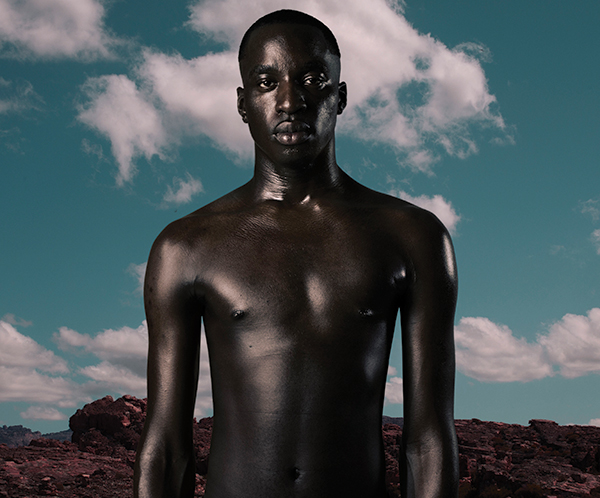 Can you tell me about the making of your debut album Life is Beautiful?
I wrote it in Johannesburg and we recorded it in London with two producers – Leon Brichard [Ibibio Sound Machine] and Oli Bayston [Boxed In]. We decided to get a producer who was really good with the African sound and a producer who was really good with the pop sound. When we started recording in London they fleshed out what I already had.
What did you learn from recording the record?
There was a lot of hard work. I sent about 60 demos and they all got rejected. That for me was crazy! Welcome to the real world!
Why did you sign to the UK label Domino?
I always wanted to be on Domino when I was younger – I really liked Arctic Monkeys. I sent them stuff and they didn't reply. Then I got an email from my present manager who invited me to come to London to play a show. Then I did Boiler Room and I had a whole load of major labels asking for stuff. Domino was the only which made sense. The majors all wanted me to work with producers and I think my music would've been way different if I'd have signed with anyone else.
What's the electronic music scene like in Cape Town, and South Africa more generally?
People are listening to house music, dance music. I think African music is really popping off at the moment, with Whizz Kid and Nozinja. Africa is dancing to its own tune and doing really well. There are two scenes – mainstream and underground. The biggest music here is house and then there's commercial hip-hop and guitar music.
What do people think about Western music? Is the music scene more localised these days?
You'll never be able to replace the local music. Even though all the American and British stuff is forced into everyone's faces when you turn the TV on!
What do you think about a global music culture? Does it really exist?
I think it's great. Music and travelling go together, they're like family. Music is all about collaboration. That's what keeps it going. It's very backwards to think that people should stick to their own regions. Music is a product of the world, everyone's living in it. It's energy. Spreading it makes it become bigger and better.
http://petitenoirmusic.com/