'I know there's a lot of metal guys who are gonna dig Petbrick and there's a lot of people who aren't gonna like it. I'm 100 percent fine with both': says Petbrick's Iggor Cavalera.

Specialising in self-described 'horrible noise' Petbrick is the formidable combined creative force of Sepultura co-founder Iggor and Big Lad's Wayne Adams.

Fuelled by the latter's mammoth metal chops and Wayne's punk, gabber and breakcore background, the duo has sparked an unforgiving, hugely entertaining and uniquely filthy sound.

Unsurprisingly, Iggor's beats come hard and fast and Wayne's synthesisers are wild and unforgiving, culminating in an earth-scorching racket of the highest order.

Their forthcoming debut record I features a host of enviable collaborators for a set of tracks that are as rare as they are compulsive.

We caught up with the duo to chat about the origins of their remarkable sound, upsetting metalheads, and what they have lined up next…


How did the two of you come together to form Petbrick?

Wayne Adams: I play in another band called Big Lad and we were doing a show at the Underworld in Camden. Iggor was there to see one of his friend's bands, I didn't realise he was there, and then the next day I got an email out of the blue from Iggor saying, 'I liked your band.' I run a recording studio, so he came over and we drank a copious amount of coffee and made some music.

It was just one of those things, the opportunity to play music with someone like Iggor, with that history, was very exciting to me. I think we were both enthusiastic to make it happen.

Iggor Cavalera: I really enjoyed the way he was doing a lot of the synths, especially the breakcore stuff that he does. That was something I was really intrigued by. One of the guys I went to see that night, Drumcorps, Aaron Spectre is a friend of ours, a mutual friend of me and Wayne. He invited me to come see him play at the Underworld, but he said you should come see the guys that are going to play before me. The band was called Shitwife, it was before they changed the name to Big Lad. So, I went a little earlier and thought it was really cool. Petbrick became something more serious somehow. I have a lot of passion for it. It's not just another thing that I'm doing. I put a lot of love to it.

What's the thinking behind the 'horrible noise' that Petbrick create?

Wayne: When we first started, we would get together and we knew we'd have like four hours together, so we'd try and write a song. Within that core, nothing too structured comes out. Obviously, both of our influences are quite noisy. Big Lad is quite musical, but the noisier end of musical. I think it was just one of those natural things and we were both talking about old industrial music and how it would be quite nice to explore that, because it's something that neither of us are really doing, but we've done in the past and both really like.

Iggor: The idea of calling it horrible noise is about not having a definite label to what we're doing. I've been labelled so many times with so many projects, from Sepultura, then later with Nailbomb that I did with my brother, it was called industrial, metal, whatever. Then the stuff that I do with my wife like dance music, later electronic. So, when we started doing Petbrick I was really sick of labels and people trying to define what you do even before you do something musically

How did the songwriting process play out for the record?

Wayne: We got together to see how many songs we could write in a week. It's a very studio-based project so we start with a very simple idea on a synthesiser, or something I might have had in my head, or a drum beat Iggor might have had and then just expand it. We had about 10 or 11 tracks that we started sending to different people. I just met Chris (Reeder) from Rocket (Recordings) and Iggor was a big fan of the label. Rocket were the ones that came back and were like, 'we're really into these songs but we think we can help you make a better record.' We were definitely into the idea of having some guidance. I think working with Chris and Johnny form Rocket really helped us write a better record.

We're super stoked to be working with them. We're probably going to be the heavier end of what's on the label, and that's always nice. The Rocket crowds, the people that buy those records, are definitely more open-minded than your typical metal crew.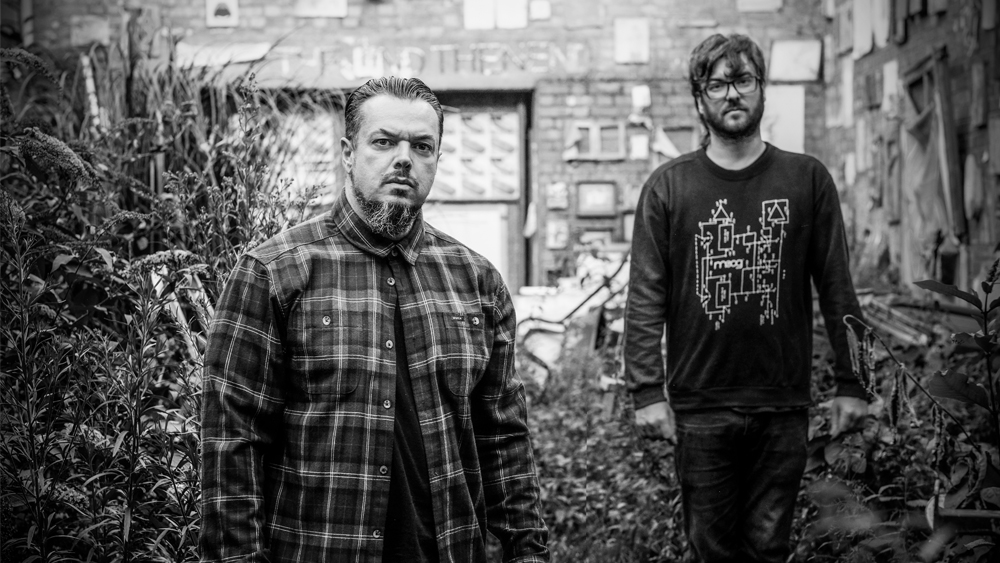 Aside from the heaviness of the record, it feels like a departure from Sepultura's music. Equally, despite having a similar set up to Big Lad the vibe is entirely different. Was it a conscious decision to explore different realms with Petbrick?

Iggor: Yeah, it's refreshing. When I listen to the Petbrick record, the whole thing, it really is a journey into different things. It's not one thing from the beginning to end. And that's what I like about it. A lot of the best stuff that we do comes from trying out things that, sometimes, can be silly.

Wayne: I was probably a little more concerned than Iggor was because I was a bit like, 'oh god, what are people going to say,' because we've got this very similar set up to Big Lad. I was anticipating people say, 'Wayne's just replaced Henry with this dude from Sepultura.' Not the comparison I want. I was definitely aware that it wasn't going to have any of those chiptune melodies. That stuff comes quite naturally to me, the Big Lad sound, especially that last album. It's very much the way I write music. It was nice to have that to push against. I think that helped give me a sense of direction.

What do you most enjoy about working with each other?

Iggor: I think the whole process was really cool. The freedom that we had of writing an album that had no boundaries of style. The collaborations that we had, working with people that we really like from Dwid (Hellion) from Integrity, Dylan (Walker) from Full of Hell and Mutado (Pintado), who is a close friend of mine from Paranoid London and Warmdusher, and Laima (Leyton) my wife when needed like a female vocal on one of the tracks. I really enjoyed it because I think it's an album made out of all the things that are us at the end of the day.

Wayne: He's a lovely guy, that helps [laughs]. This is like a mutual respect. To get to play music with someone that's done so much and brought so much to a genre of music, it's fascinating work for me.

Although, when Horse came out there was definitely a kickback from the metal dudes. Like, 'this doesn't sound like Sepultura. What's this trash?' They can't get their head around it. That is fascinating. Metal, as a genre, is thought of as extreme and far out, you've got to be quite open minded to like it. But actually, when you get down to it, people that do like it are very closed minded. They like what they like, it's got to be a very specific way. It's quite interesting to have that confirmed. Open mindedness doesn't necessarily live on the fringes of music or the extreme side of it. It can exist in more melodic genres.

Does the kickback from the metal community bother you, or do you enjoy it?

Iggor: It's not my intention to do something to provoke, because I do enjoy a lot of metal. But also, I do hate a lot of things in metal; the macho attitudes and things like that, I'm really not into it. I tried to break a lot of that stuff with Sepultura, we did a lot of fighting back all those stereotypes by breaking barriers of sound and image.

Of course, we got a lot of hate for that also. Then again, if you really stop and pay attention to what every person had to say about a project, you'd go crazy. I know there's a lot of metal guys who are gonna dig Petbrick and there's a lot of people who aren't gonna like it. I'm 100 percent fine with both. I don't have a problem with liking or disliking it, it's totally cool.


There's something that's very cinematic about a lot the songs. Is that something you recognise?Wayne:
We were both listening to a lot of Alessandro Cortini and Suzanne Ciani and at the same time these quite basic but very moody electronic compositions. That was definitely at the forefront of, not what we wanted to do, but what we were listening to. That seeps in, I think.
Iggor:
I have a tendency of listen more, at certain times, to soundtracks than albums of certain bands. I think they are designed for a different reason and I think it's really cool. I like the idea of writing a song and not thinking of how a person's gonna react in a crowd. I think when you write a song for a movie, it's a lot more to do with the visual aspect that anything else.
How do you think your tastes, playing and writing have evolved over the years?Wayne:
My relationship with music is quite bizarre. I'm working six or seven days a week at the studio recording bands. I struggle to listen to music because of the process I'm going through every day. After eight hours of industrial noise that someone is making, the last thing I want to do is listen to anymore music. But I am finding myself gravitating towards something a little more abstract that feels a little more off the cuff and a little less planned out, probably as a reaction to working on music that's planned out every day Recording music hasn't ruined it for me, but it's definitely changed my relationship to it. That feeds into the Petbrick thing.
Guitars aren't something that interest us so much because noisy guitars, not that it's been done to death, but there are a lot of people out there who do it very well and the revisiting of industrial and electronic at the moment seems to be at the forefront of a lot of peoples' minds. It feels a bit more fresh, definitely not original, because I'm not sure that's possible anymore [laughs].
Iggor:
I do remember us, especially me and my brother, always being a little more open minded than our crew, our friends. Even when metal and hardcore punk was the thing, I remember me and my brother we would listen to weird new wave records, and they were like, 'no, no. This is shit.' Of course, those same guys now are like, 'Yeah, you were right. That Devo record is banging.' Even the pop stuff that was playing on the radio, if there was something weird about it, me and my brother would be attracted to it.
What do Petbrick have in store for the rest of the year?Wayne:
We've got a tour that's going to be around the UK. The usual spots, London, Bristol, Cardiff, Manchester, Huddersfield – I think that's a bit of a far out one. And then a couple of dates out in Europe, we're doing Prague, Antwerp and Le Guess Who? Festival, so that will be great. So that it for the rest of the year, because Iggor's off with Soulwax playing drums and other stuff with Cavalera.
Iggor:
We're gonna do a split record with these guys called Deafkids from Brazil. They're one of my favourite bands and they're very good friends of ours. We did a show together at Roadburn Festival. We're gonna do that when they come to London to play a gig with Melt Banana. Then Uniform, we have a split with them coming up and then hopefully we'll be working on some new stuff.
There're also some remixes for this record coming up also. Shit and Shine did one for one of the songs on the Petbrick record and we're gonna collect a few more remixes by different people and maybe put it out. There're a few things to keep me and Wayne busy.
I is released on 25 October via Rocket Recordings.
Upcoming tour dates:

28 October The Parish, Huddersfield
30 October Soup Kitchen, Manchester
31 Exchange, Bristol
1 November Clwb Ifor Bach, Cardiff
2 The Shacklewell Arms, London
facebook.com/petbrickband