These days, aural explorers patten are helmed by D & A, an industrious Franco-English pair intent on bringing intelligent forms of life to the electronic all-nighter.

As informed by the dancefloor as they are the experimental side of visual media, they've delivered a multi-layered second album, Psi, for Warp Records, which challenges as much as it entices.

Fractured beats and clandestine melodies abound, as D & A's skittish approach drinks in early Germanic techno, classic British electronica and postmodern jitters.

Working from the outliers of London and the French countryside, the pair have jammed and experimented their way into a uniquely futuristic sound, fomenting the 555 5555 collective to help realise their vision.

With two uncompromising live dates on the horizon at Berghain, Berlin, and Corsica Studios, London (27 and 28 September respectively), they're busy putting the final touches to their new multi-sensory Psi experience.

We recently found the pair in a moment of calm, deep in rural France, to learn more about the past, present and future of patten…

Where are you at the moment?
In France, out in the middle of nowhere, really.

Nice. How's that?
For us, even in London, we're working slightly on the outskirts now, and we find having that sort of balance between being right in the middle of things, and also kind of slightly on the periphery, is really perfect somehow.

Are you split between the two places?
No, we're based in London but we do like to have a slightly nomadic approach to things, not just creatively, but just in life in general. It's all connected in a way.


I understand you're pretty much a duo at the moment…
Yes, that's right. We started experimenting with material and approaches together about a year and a half ago. And we ended up with sketches of what would become the album, playing it around and seeing what was working.

Live performance has always been important to us. We made and played a lot of different material out live, and figured out exactly the areas that we wanted to accentuate, and things that we were interested in exploring further. Then we brought all of that back into the studio to continue developing.

How has the patten formation changed since the early days?
The relationship between recordings and live has shifted lots of times. At points there were definitely recordings first, and then live performing after that. But it seems to have moved towards this other way around. I think there were times way back in the past where we were playing tracks live in full band formations, but I don't think we ever properly recorded them.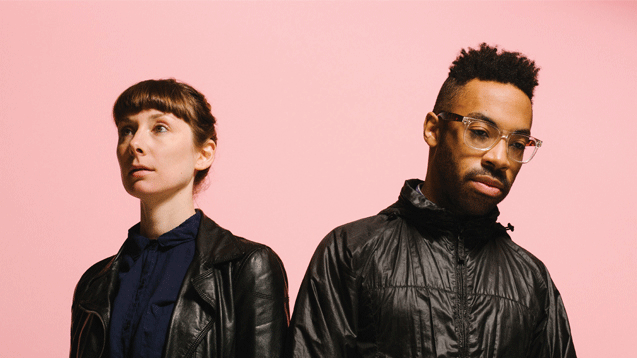 Did you have a clear aesthetic for the new record or did it come out of you two experimenting?
Both actually. There's always a part in producing music where you're feeding off things that interest you out there in the world. And then you're mainly just trying to make things that you feel need to be there, and things that you don't see out there already, which need to be part of the conversation.

I think that the relationship between what we're doing and how it relates to other people out there is really key - and that's part of the logic behind using live performance as an bridge where things can meet up between the studio and IRL, just out there in other people's lives.

Why is that live connection so important to you?
There's such huge power in music, and when you combine it with imagery you can create intense new emotional states. You can really tap into the way people can feel and think about things.

We value that whole environment of live music so much that it draws us to actually put things into it as well as to experience things made by other people when we can.

What was it like to become a part of the TRON RUN/r soundtrack? Did it feel like a very different creative impetus for you?
We would say yes and no. When we're composing, we're definitely aware of the environment that  those sounds and experiences might end up in. So, I suppose whether that end environment is like a videogame, or a club, or a train journey with some earphones on, we're definitely very inspired by where our music might be heard and how people will interact with it in different environments. So we'd say, in fact, strangely, writing for the TRON thing is actually quite similar to how we work usually.

Did you find freedom in it?
It felt maybe more connected to kind of our regular process than it might seem from the outside. We haven't played the game yet actually, but it would be quite interesting to see how that feels. Yes, we should probably do that.

In a videogame you've obviously got the music, but then you have all of these other sounds and images taking place as you go through. I think that's how you experience regular music anyway; you know, if you go to a concert. I think that we always feel inspired by these other elements.


How's the prep going for your new live show?
It's great. We've been working with a designer on the visuals who has been doing things with us for years actually, Jane Eastlight. We don't want to say too much about it though she's very much a part of the project, part of patten.
We've recently set up a creative group called 555-5555 and through that we work with Jane and other people on our own stuff, and also projects for other people. We're also working on bits of live visuals with artist Matilda Finn… we're opening up these relationships with visual artists to keep pushing forward the boundaries of what it is we do.
How important is it for artists working today to embrace the worlds of visual art, videogames, multimedia and so forth?
Really important. I mean, that's the a big part of patten: there are no boundaries between different categories, different media. We think, the worlds of music and videogames or visual arts should be flowing and feeding in between each other. It's happening more and more and it's great to see those old boundaries breaking down. I think there's something to be taken from everywhere, there's some value all over.
When can we experience the new record live?
We've got a London show on the 28th of September at Corsica Studios, and before that we are playing in Berlin on the 27th at Berghain. We're putting together a special line-up for the London one, under the title 555-5555.
Psi is out on Friday 16 September via Warp Records.
patttten.com