'Get savvy and educate yourself on the business side of songwriting,' says multi-platinum-selling songwriter, vocal producer, singer and mentor Pam Sheyne.
'Oh, and be nice to everyone, the business is smaller than you think,' she adds. She's chatting about some of the best advice she's ever been given and the lessons she's learned over her 20 years at the top of the pop-writing game.
Since relocating to LA in the nineties, Pam's songwriting nous has brought success on a global scale, spanning hit records and high-profile syncs in film and TV shows across all continents.
She's had a hand in some monster pop hits, the biggest being
Genie in a Bottle
- the first single from Christina Aguilera's debut album in 1999. The song reached number one in 27 countries and won Pam an Ivor Novello Award the following year.
Here, she shares some invaluable advice for songwriters and puts paid to the biggest misconceptions about the profession…
When did you figure out you could write songs? 
I started writing songs in my early twenties as my ambition then was to be a recording artist. I was a singer first, performing in cover bands, doing pub gigs, TV and session work then touring as a back-up singer. It wasn't until the end of a tour I did with The Pet Shop Boys in 1991 that I realised I had to make some sacrifices to give my songwriting and artist career a shot, so I stopped going on the road and focused purely on that.
I guess I figured out I could really write songs when a guy called Nigel Rush believed in me enough to give me my first publishing deal in 1992. I realised later on that songwriting was a more suited career for me when it started taking off as I'd never thought of writing for other artists.
Who or what has influenced you most along the way?  
I was born and raised in New Zealand and my parents loved all types of music but country music in particular. Dolly Parton and the Beach Boys were two of the first concerts I ever went to see as a teenager and I was captivated by the storytelling lyrics of Dolly's songs and the incredible melodies of the Beach Boys, they struck an emotional chord in me.
Later on, going to Nashville I learned a lot about lyric writing and the pay-off line. Nashville for sure raised the bar for me and I don't mean the kind of bar you drink in.
What do you consider to be your first big break?
I got my first Top 10 in the UK in 1996 with an artist called Kavana. My partner and I were both up ladders painting the kitchen ceiling at the time while the radio countdown was on.  When they announced my song at number eight, covered in paint and ecstatic, we danced around the kitchen. The following year I had a top three with Innocent Records' new signing, the young Billie Piper.
What do you consider to be your biggest achievement so far? 
When you're a songwriter starting out, you dream you'll land that big
international
hit one day, but you never really know if you'll be one of the lucky ones to achieve it.
Genie in a Bottle
was written at my lowest point financially, but I'm so glad I got on that plane on my own in 1998 and made that writing trip because it changed my life.
It was a matter of being in the right place at the right time as Christina had her album ready to go and just needed that first single. The album was filled with songs from big songwriters and producers and we knew we were in good company. I can't tell you what a surreal experience it was watching it blow it up all over the world and hearing it on the radio for the first time.
The real icing on the cake was winning an Ivor Novello Award in year 2000 for
Genie
. We were nominated for Best Song Musically and Lyrically, and International Hit of The Year - we won International Hit of The Year. Winning an Ivor Novello is the highest accolade for a songwriter in the UK and being recognised by your peers in this way is such an honour and achievement.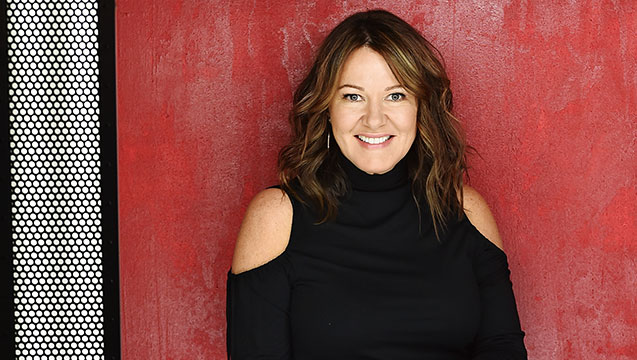 You've worked with some huge artists in your time – do you ever feel pressure to deliver?
Of course, especially if there is a signed artist in the room you always feel the pressure to deliver a great song at the end of the day. The songwriter's job is such a unique one, often working with complete strangers and having to divulge personal information on the first date, so you have to make the artist feel comfortable in the process.
It's important that the song comes from an honest place for the artist, so all you can do is best articulate what they want to say and craft from experience. The key is getting the right combination of experienced writers in the room that have a great chemistry together and who can deliver.
What, for you, makes for a classic song?  
A classic song has a timeless, outstanding quality about it, it travels across decades and still stands out. We are all drawn to various different styles of music for different reasons, but a classic song speaks to the masses, it's the marrying of all the parts, the music, melody and lyric all tied up and delivered by an exceptional performance.
What are the most common misconceptions about songwriting?


Anyone can be a songwriter.


You have to read music or be musically trained to be a songwriter.


Songwriters make loads of money (they used to earn more before streaming arrived!).


It's easier than taking a 9-5 job.


My songs sound like what's on the radio now.


Do you think songwriting is an innate talent or can it be taught? 
Like any art, the more you practice the better you become at it, but I don't think everyone has that god given talent that it takes to be a successful songwriter. You need an element of raw talent to polish. Songwriting is a craft and there are a mix of skills, techniques and experience that can be taught to help others improve their craft.
What single piece of advice has helped you the most throughout your career?
Everybody has an opinion, but it doesn't mean they are right. Trust and believe in yourself.
What tips do you have for songwriters starting out today?  
Be unique, don't follow the herd, lead the herd. Get out of your cave and network, you won't get discovered staying at home. Make your demos outstanding; A&Rs won't listen to a bad demo. Write up with people who are more successful than you. Get savvy and educate yourself on the business side of songwriting. Be nice to everyone, the business is smaller than you think.
You've worked right across the industry, in production, writing, mentoring and more. Where do you feel most at home these days and what's next for you? 
Who knows what's next, I'm just grateful to still be doing what I love and earning a living at it. I feel most at home in my studio, writing and producing with a handful of go-to writers and producers but I like best being placed in a room with a producer and an artist.
I'm currently involved in developing a couple of artists and putting together a TV/film project of my own, getting back to some singing which is satisfying. Most recently I've started a new venture, SongWriterCamps, with my friend and collaborator Richard Harris.
Richard is another Brit who lives in LA and we will be sharing our mentoring experience to 30 aspiring artists and songwriters at our first SongWriterCamp in Palm Springs on 15 to 18 October this year. We have an early bird rate until 30 June and are also offering PRS members a discount code - PRS50$OFF the camp fee! Further info is available at
www.songwritercamps.com