Until recently fiddle player and singer songwriter Nancy Kerr played almost entirely music plucked from the repertoire of trad and contemporary folk.
However, over the last few years she's moved more into writing and performing her own songs, a decision which has paid off dividends as Nancy was recently crowned as the BBC Radio 2 Folk Awards Folk Singer of the Year.
Initially weaned on music by her mother storyteller and fellow folk singer Sandra Kerr, Nancy's skills as a fiddle player and accomplished songwriter have increasingly come to the fore, particularly on solo album
Sweet Visitor
and musical work with the English Folk Dance and Song Society's (EFDSS) Full English and Elizabethan Sessions commissions.
We caught up with Nancy to find out more about her, her music and she believes support and funding for the folk genre is more important than ever…
How did you first get into music?
I grew up in a musical family - my mum a professional singer, songwriter and instrumentalist, my dad a really good Northumbrian piper.
How did you first start writing songs?
Coming from that background I always made music - I began performing in my early-mid teens on the folk music scene. But it wasn't until fairly recently that my repertoire changed from traditional and contemporary folk songs to almost exclusively my own self-written material. I wrote an album for my duo with James Fagan in 2010 called
Twice Reflected Sun
. That and
Sweet Visitor
are really the beginnings of my songwriting career, but now I write almost constantly. It's what I always wanted the focus of my music to be.
When did you first realise you had a 'voice'?
Actually although I've always sung I've often struggled with whether I do in fact have a good voice. I've had criticism and support in equal measures when it comes to singing. These days I think you just have to get on and do it regardless.
What drew you to traditional music?
The themes - universal stuff like love and death, but also the personal quirks of different singers and their ways of telling stories. The at-times exotic and weird tunes.
You won the BBC Radio 2 Folk Singer of the Year award in April. Could you explain about the importance of the prize? What does this do for a musical career in the genre?
I think it's important that a body like the BBC recognises the value of an art form like folk. It is authentic, radical and unique and ought to have the respect and backing that other music has. Many of us are musicians who have worked hard for years and have little or no resources behind us when it comes to promoting or continuing our art - the exposure is tremendously welcome, but also I hope that I'll be able to use that to draw attention to some meaningful pieces of work in the future.
You were involved in last year's Elizabethan Sessions - could you explain the idea behind this?
EFDSS and Folk By The Oak brought eight musicians together, inspired by Elizabethan history as illuminated by Ian Mortimer, to make new music and song. We went away for 10 days to write, arrange, perform and record the new pieces. Many of us had never met or collaborated before. I thought it was a tremendously creative experience - a bit intense, but no one got slaughtered, except in most of the songs.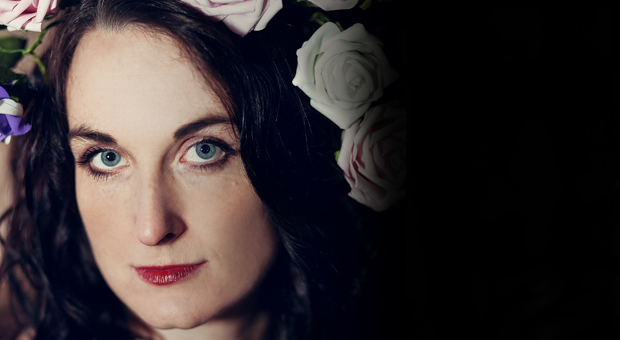 Your album Sweet Visitor was released last year too - what was the thinking behind the record?
I had written a body of songs, with half an idea that it might be a solo project. My husband and musical partner James Fagan supported that idea, and since we have small children it made sense to develop separate projects, although he plays on the album! Also we'd moved to Sheffield and I found a lot of inspiration there as well as people to record and play with.
Sweet Visitor
has a bit of a theme running through it of internationalist unity – the idea that we are all visitors in some way, and we should act accordingly to each other. I would describe many of the songs as political while the language draws on rural and industrial folk poetry. The music is very me - a sometimes awkward mix of folk revival, English chamber-country and folk rock. I'm very proud of it.
Who has been the most important influence on you and your music?
Outside my family I would say Peggy Seeger. Also Dolores Keane, Julie Murphy, Paul Brady as vocalists. Leon Rosselson as a writer.
What are your thoughts on the current health of the folk music scene? Is it in good health at the moment? Are there many new talents coming through?
It's very healthy - it was pretty healthy before it suddenly had the increased media presence we're currently enjoying, and it will still be if that disappears. But support, funding and exposure to new audiences is crucial to keep musicians creating this wonderful and enriching stuff, which is a lifeline for so many. Young musicians in this genre have never been better so we need to support them to keep playing.
Have you any advice for aspiring musicians?
Be brave. But also, and a bit conflictingly, never underestimate the value of experience - there's no substitute for it, and it's a good feeling to know you have the experience needed to deliver something good. That's why it pays to keep going and not expect everything to happen straight away. Treat every gig like it really, really matters.
Who would be your ideal collaborator you've yet to work with?
Adam Holmes, a fabulous Scottish singer-songwriter.
What does the future have in store?
I'm involved in
Sweet Liberties
, which is an exciting songwriting commission connected to Parliament and the Magna Carta, examining our rights and freedoms. I have a new solo single out,
It Was Red/Gingerbread
, as well as a trio single
Dark Honey
and forthcoming album
Murmurs
with Martin Simpson and Andy Cutting. I'm looking forward to working with filmmaker Joao Paulo Simoes on a music video, and I've written a lot of the songs for a new album. Hopefully it will be released some time next year.
nancykerr.co.uk