Outspoken songsmith Nadine Shah has emerged as one of the most vital voices in British music. Here, she chats to Anita Awbi about her rite of passage...
'Am I living in an episode of
Black Mirror
?!' Nadine Shah asks in her singsong Geordie twang. It's a wintry evening and she's in high spirits, even though it's freezing out and the topic of conversation is pretty grim. 'All around, there seems to be a Charlie Brooker-style dark humour to world events,' she continues. 'The political landscape is definitely worsening: it's all getting a bit daft.'
The award-winning artist is talking about life in the wake of her biting third album,
Holiday Destination
, which catapulted her from cult concern to national mouthpiece when it landed in mid-2017. On it, she fused post-punk clatter with highly-politicised commentary, and despite its modest release via James Endeacott's 1965 Records, it's still holding fast.
Relaying personal fears of the growing populist movement in the UK and the refugee crisis in Syria, the album struck a chord with music fans 'who are shifting what they demand from their artists', Nadine says. 'A lot of the things I talked about on the record aren't front page news anymore. Or, the context has changed. Now we've got to look at the problem in Yemen and the Rohingya community. There are other sufferings all over the place, unfortunately, all the time.'
It's against this backdrop that Nadine says her audience is 'getting bigger and angrier,' propelled by a Mercury Prize nomination this autumn, and her triumphant Album of the Year accolade at the AIM Awards.
Mercury rising
The 'Mercury effect' is a well-documented phenomenon: fringe artist makes the shortlist and sees a dramatic rise in interest/streams/ticket sales… Nadine's nod has obviously helped keep
Holiday Destination
alive in that sense, but she's convinced the social context has also ensured its longevity.
'Normally with any other album, I'd be tired of it by now. But because it's such a hugely political album, it still feels very relevant,' she says. 'Yes, it got a new lease of life because of the Mercury Prize and the AIM Award, but it feels like we shouldn't be putting it to bed yet. We're playing it further afield in countries outside the UK, and that feels super-important. We need to tell those stories.'
Audience reach aside, she's not that much into the industry back-patting and statue-chasing. Having grown up idolising the Mercury Prize and all it stood for, she used to covet it. Soon after her second album,
Fast Food
, was released in 2015, the bookies had it down as a favourite, but it didn't even make the shortlist. 'I sunk a bottle of whisky that day, I was so upset about it.'
Now, Nadine gets her creative kicks elsewhere, citing a recent gig in Cairo as one of her biggest career highs so far. 'Playing for young Muslim women was pretty awesome,' she says, herself a Muslim of Pakistani descent. 'They need Muslim role models and we've got a whole new audience who haven't seen this album live. I'm happy to be playing it still. It doesn't feel like, "Ugh, here we go again," or just a money job.' She's laughing now: 'Bloody hell, I'll happily play those songs to anyone who asks!'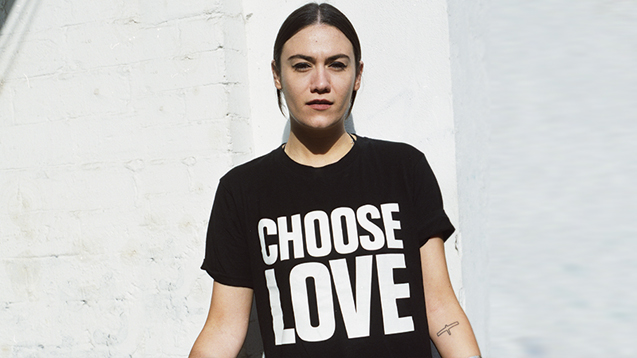 Music minds matter
Another by-product of the Mercury Prize glow has been the chance to 'step outside the usual echo chamber' of BBC Radio 6 Music listeners and indie-rock fans. In the last year, Nadine has courted the broadsheets, entertained music industry panels and delivered talks on her experiences both inside and outside the studio. 'As my name gets a bit bigger, I have a bit more clout. It's been a really great opportunity for me to speak to a larger audience about some of the subjects that I'm passionate about,' she enthuses.
Although she admits to fleeting worries about people misunderstanding her message for tokenistic or opportunistic activism – and evens threatens to 'be quieter next year' – she quickly counters: 'Being a Muslim female musician, there are quite a lot of battles that we have to deal with in this industry.'
She turns her ire on the business she has grown up in, first as a young jazz performer and now as a guitar-wielding singer-songwriter. It's been a bumpy ride with several record label switches, and no doubt wider exposure to latent prejudices and blatant bad practices.
'I think it's genuinely one of the most caustic industries going. I hate it with a passion,' she says, the trademark joviality ebbing from her voice. 'I don't know any other industry where you would encourage somebody to turn up to work drunk.'
She's railing against the 'rider' culture, which entices musicians to drink before, during and after shows, a habit that damaged her own mental health and wellbeing early in her career. 'I'm really angry at how we treat our artists still,' she says. 'The industry is a fucking joke. I wish things would start changing.'
Giving back
Not one to sit back and lament the state of the nation, Nadine loves to roll her sleeves up and get stuck in. Among her many extracurricular activities, she supports the work of
Music Minds Matter
, a Help Musicians UK initiative, also backed by the
PRS for Music
Members Benevolent Fund. It's a subject close to her heart: her first album,
Love Your Dum and Mad
, tackled mental health, and was prompted by the suicides of two old boyfriends.
She has been open about her own struggles with anxiety and depression too, using writing and performing to self-medicate. 'When I have severe anxiety, music is cathartic in that sense,' she says. 'The recording process and the live side are especially so. Writing not always so much, because it's a very solitary process, so sometimes I find that quite stressful.'
Part of the issue with life as a musician is the tension between work and down time. She talks about the plague of social media, which forces artists to reveal more about their lives. 'Artists are struggling with it but they're very pressured to give so much of themselves. I think the biggest problem is, how do you switch off? That's work. This is private time. There's an overlap. That's where one's own mental health is not so great,' she says.
'There are artists I love, who I have a curiosity for. But I don't really need to know what they're having for breakfast. Or, how their bowels are doing today. I feel like it's just too much!'
Written agenda
So, what does 2019 hold for the Tyneside troublemaker? Will she be revealing all on a new live-
streaming
app? 'I'm just going to sit the fuck down!' she laughs. But no one believes that for a second. With her fourth album nearly written, she'll be hitting the studio with her right-hand man, Ben Hillier, from January to March. Will it be political too? More laughter. 'I'm not making any more bloody political albums,' she singsongs. 'You can't sync those songs on car adverts!'
No one believes that either. She admits: 'For research, I've been attending a lot of different meetings and organisations – it's about gender politics.' Like
Holiday Destination
, where she wrote from the perspective of others, she'll be putting herself in the shoes of various protagonists, a trick she picked up from her older brother's political documentary-making and PJ Harvey's album
Let England Shake
.
'I find other people more interesting than I am,' she explains. The technique also provides freedom to discuss female fertility and societal pressures on 30-something women without having to cross the line into personal narration. Back to the catharsis of songwriting.
'I hardly ever carry a notebook around with me now, I tend to write in my phone or make voice notes,' she says, her process a discreet advancement on the 'shite, leather-bound journals' that cluttered her teenage bedroom.
'It's a great method for when I'm overhearing an interesting conversation – it's a lot easier to get away with as it looks like I'm just texting.' From these tiny fragments, her next record is fast-emerging. Are there any feelings of pressure to follow-up or out-do
Holiday Destination
?
'None,' she confirms, 'I'm fine. I keep realising people are a lot kinder than you'd assume. I don't think they're stupid either.
In general, there is a problem in the industry where some people assume audiences are stupid. But they're not, they're very open.'
Teacher training
It's easy to see how Nadine has emerged as such a relevant voice inside the music business and beyond. With female role models still fairly thin on the ground – especially those from immigrant families – she's sticking her head high above the parapet and she's not ducking for anyone.
'My dad is a businessman. He has a curtain shop and I grew up working with him in that company. I always think you have to speculate to accumulate. It just makes sense,' she says. 'The more people who know who I am the better.'
Sounds like good advice for any songwriter starting out. 'It's unfortunate, but it's just a reality that you have to become a business as much as you are an artist,' Nadine figures. Wise words from someone who's clearly learned the hard way... 'I'm such a boring old lady these days, aren't I?' she concludes, descending back into laughter.
https://soundcloud.com/nadineshah/sets/holiday-destination-1
nadineshah.co.uk