Muncie Girls first formed in 2010 when vocalist Lande Hekt and lead guitarist Dean McMullen met at Exeter College. Drummer Luke Ellis joined them in 2012 and they've been on the British rock scene ever since, releasing their debut album From Caplan To Belsize in 2016.
Their second album, Fixed Ideals, followed in 2018 to critical acclaim, but unfortunately some visa issues led to a cancelled US tour and an unplanned, year-long break.
But, despite the hardships, Muncie Girls are finally back and heading out on tour this spring. We spoke to lead guitarist Dean McMullen about the challenges of being in a band in 2020, what they got up to in their break last year and how receiving funding from PRS Foundation helped their career.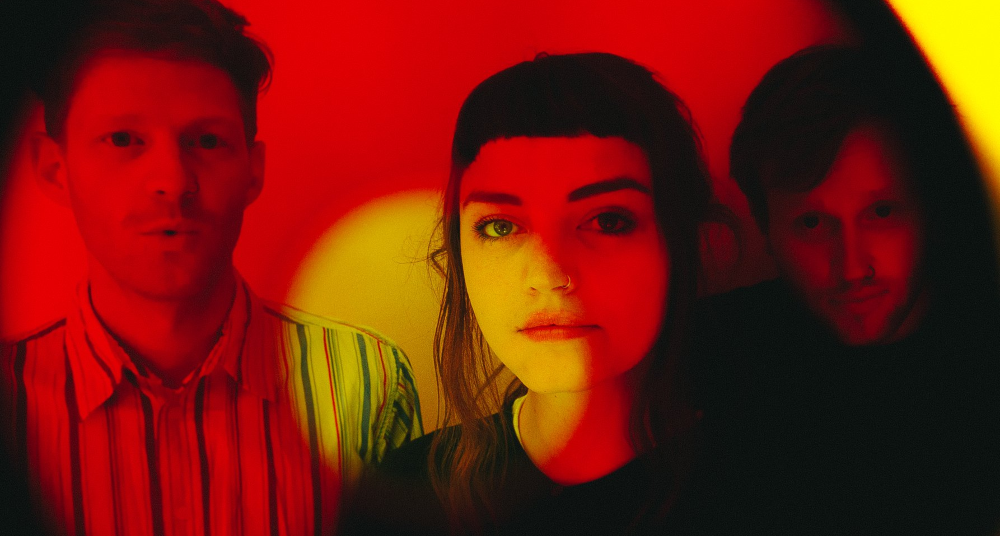 In 2017, you received PRS Foundation's Momentum music funding, can you tell us how this helped you as a band?
It helped massively with the album we were recording and putting out. It allowed us to do it through a label where we could retain all of the rights and royalties for it and it allowed us to record the whole record and spend that time over it. We could basically do a proper job with our record which we wouldn't have been able to afford to do if we hadn't had the funding. I guess we were ideal candidates because they're looking for artists who have already made some progress but are prevented from moving forward because of finances.

Would you recommend the scheme to other artists who might need a helping hand?

I would definitely recommend other artists to apply for it. I think it can be such a massive step forward with band's careers and it can change everything for some bands, if they're in the right position. But it's still impossible for a lot of people to get the funds together to do a project like an album, which can propel you forwards.

What's your process for writing a song?

Lande is the main songwriter, so she tends to write the lyrics for Muncie Girls. She usually sends us an iPhone recording with the foundations of the song and then in rehearsal we put it all together and take it from that into a Muncie Girls song.

It's best to have one person that has a vision for a song rather than overcomplicating the songwriting process between a whole band's worth of people. It works better, I think, if one person takes the lead and then the band's job is to present that song in the best way possible.

How have you evolved since you first became a band in 2010?

I think it gets harder as time moves on. Lande and I have been playing in bands since we were literally in school and Muncie Girls started when we were in college. It became what it is now probably about year after we left college and it's been a very long process.

It's so much easier when you're younger because we were all living with our parents and as you get older you have more pressures of paying the bills, so it becomes harder. Touring used to be a case of hopping in a car or a van and just going, but now we live in different cities and we're all trying to make ends meet, it complicates things. But you can still manage to do it, it just grows with you.
How do you think the music industry has changed since you formed?

'It's hard to say. What people listen to obviously changes all the time, it always has. We're all from Exeter and there's a venue there called the Cavern and there used to be shows that we would always go to. And that's changed as people's tastes have changed. Different generations of people have come in and they're into different stuff.

'I don't know if it's really changed, but the climate of bands and small music venues, all of it is really hard at the moment. There's been some improvement because of the Music Venue Trust, but business rates and rent have been crazy high for venues. The licensing laws make life really difficult and that's passed onto bands – if it's so challenging to run a small music venue, then it's going to be challenging to pay bands and take risks on them.

'There has been some change recently – the Music Venue Trust has managed to get a commitment from the government to reduce business rates to music venues and the 100 Club have had their business rates taken away altogether, which is a massive win for them because they're in such a challenging spot. I think that kind of struggle is passed onto bands and then you've also got that in combination with the fact that people don't pay for music as much as they used to. It's a difficult climate but I think that it hasn't changed much in the time that we've been a band.

'I don't want to be too negative because there are lots of pros to being in a band and people are still going to make music, which is obviously a great thing, but is a hard thing to do. So anything like the Momentum Fund or any funding is massively useful for bands and venues and anything on a grassroots level.'
'If we're going to put out a song we won't just put it out on the internet, we'll try and think about how we're going to put it out and how we're going to make it as accessible for people to listen to as possible.'
How has Lande's solo venture impacted you as a band?

'It hasn't really had much of an impact. I think that – and I don't want to speak for her –the reason she did it is because being in a band there's so much discussion around every single thing. It's a long process to do anything. So I think she wanted to do something where it was just really simple, low pressure on her terms.

'Whenever we do anything it makes sense for us to really try and think about some kind of strategy. If we're going to put out a song we won't just put it out on the internet, we'll try and think about how we're going to put it out and how we're going to make it as accessible for people to listen to as possible. And it's a long process. So I think Lande wanted to do something where she could write some songs and then the next week pop them online. She writes songs all the time so I think she just wanted a simpler process for putting those songs out.'

It seemed like you took a break after the touring cycle for Fixed Ideals. How did you use the time and was it planned?

'It was and it wasn't. We actually ran into some crazy visa issues with the US. We were in Germany at the time that we had to have our meetings with the US Embassy to get the visas. We were told that within five days the visas would be in our passports and sent to us in the post. Mine and Luke's turned up and Lande's didn't. It turned out that there was some kind of complication which led to her being stuck in Germany for a couple of months. She eventually managed to get home but all of that was so expensive we had to cancel the tour. We'd obviously booked a van and merch and the flights and everything. We cancelled the tour about two days before it was due to start and it knocked it out of us, so we needed a bit of a breather which is why we had a bit of time off.

'Since then her visa has been approved and has come through, but it came through after the date that mine and Luke's had expired, which was a year later. Being a small band and not having big management that takes care of all of that, you're very much in it and it's hard to deal with. We used the time off to work in our other jobs and try to build up savings to provide a stable foundation for us to be able to start on the next album and go out on tour again.'

Are you looking forward to being back on the road for the spring tour?

'Yeah definitely. We're really looking forward to that, we've been planning that one for a while and we've tried to hit some of our favourite places. We're doing a hometown show which is nice, we haven't done one of those for a long time, so we're super excited about that. We've announced that Perkie is joining us on the tour which I'm really excited about too. She's been a friend of ours for a long time, so that's cool.

What are your plans after the tour is over?

'We're trying to get some demoing in around the tour with our sound engineer who works in a studio in London. We're basically working towards another album but it's still a long way off at the moment.'

You can catch Muncie Girls at one of the shows listed below.

24 March – The Crofters Rights, Bristol
25 March – Exeter Cavern, Exeter
26 March – Oslo, London
27 March – Waterfront Studio, Norwich
28 March – Annie's Burger Shack, Worcester
29 March – Gullivers, Manchester
30 March – King Tut's Wah Wah Hut, Glasgow
31 March – Brudenell Social Club, Leeds
1 April – Head Of Steam, Newcastle