As C2C festival director for The O2 and a board member of the Country Music Association, Milly Olykan is well placed to gauge the temperature of the UK's burgeoning country music scene.

The event, which is now in its fifth year, is going from strength to strength, acting as a huge showcase and platform for both British and US country acts.

2017 will see the event at its peak, operating in a similar fashion to Leeds and Reading to take in dates in Dublin and Glasgow as well as London from tomorrow (Friday 10 March). Hit UK country duo Ward Thomas will open the event on while other performers include the likes of Brad Paisley, Reba Mcentire and Maren Morris.

Ahead of the event, we caught up with Milly to get her take on the health of the country scene and why British artists appear to be beating the Americans at their own game…

Where did your love for country music begin?

It really began for real a couple years into producing C2C. Although I've always loved a good song, and been a fan of Gram, Dolly and Johnny - I didn't really listen to contemporary country music or know anything about it – now I'm probably an expert to an extent. And I genuinely listen to and love it.

How did you get involved with C2C?

Right place, right time! I was employed at The O2 to develop new events exclusively for The O2, and I had met with the CMA back in 2010 about this idea and was enthusiastic about it then… so I expressed my enthusiasm as soon as I heard about the possibility of us launching a significant country event at The O2.

Country and Americana music appear to be enjoying a surge in popularity at the moment, as evidenced by the growth of C2C - what do you think is driving this interest in the genre?

I think it's three pronged! First up – kudos to all the fans that have been loyally loving country music long before we showed up - there was an audience here that was underserved, no one was bringing them music or new artists to discover. Secondly when we committed to bringing over big stars from Nashville every year - it made sense for Radio to get behind it - we have a great partnership with BBC Radio 2, and then it becomes worthwhile for the labels to invest in promoting a particular act and then the media want to know more, and get behind it - so it builds an infrastructure that starts to work together…. And finally - definitely the TV Show Nashville and the internet helping fans discover artists more easily play a big part too.

What are your thoughts on the current health of the Americana/Country music scenes in the UK?

C2C showcase over a hundred local country and Amerciana acts every year at the festival – we put them in front of the sizeable audiences of curious fans who are very open to discovering new music.

Now into our fifth year - we get inundated with applications to play and it's exciting to see new faces applying. It's healthy in that respect but I think it's a challenging scene for an artists to grow an audience. I do see acts come back to us, or apply to play each year and notice that their social following may not have moved much in the intervening year.

If anything, what do you think needs to change for the Americana/country scene to grow in popularity? Where are the challenges? And where are the opportunities?

This is a hard one. I think it is changing – I can mainly speak for country music. I think the challenges are of getting a strong set of very good songs. And a very polished live act that offers something unique. Then the chance of radio play can help move the dial for these acts to grow their audiences. There are plenty of hard working acts in the UK … but when you compare to emerging Nashville acts – they will have an arsenal of great songs.

UK artists are also doing particularly well in the States as well as over here - why are audiences responding to British acts like the Shires, Ward Thomas and Yola Carter?

Referring to my last point – Ward Thomas and The Shires have great songs. All of these artists have a good live shows. Yola Carter who I've only seen a couple of times is an absolute natural star loaded with personality and a voice that makes you stop in your tracks. I think all of them offer something unique and very authentic which audiences respond to.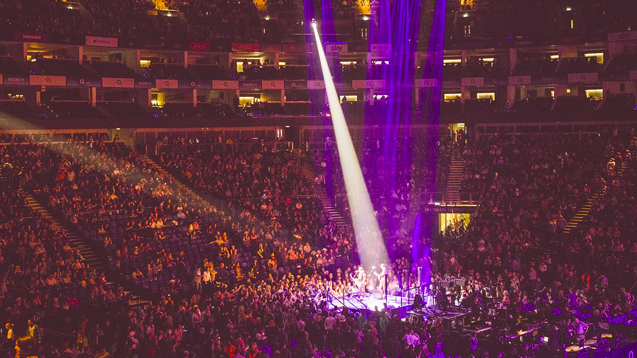 How important is Nashville as a musical place for you? 
I'm very lucky being on the CMA Board of Directors, that when I go there I have a fairly unique experience – mixing with the people who run the business. They all know the value of a good song. They all care about the legacy of country music. It's a very different scene to rock or pop that's for sure.
To the uninitiated, how would you explain the difference between country and Americana?
Both are founded on authenticity and great songs. Both are influenced by traditional country music. One is aimed at a more mass market I suppose. There are artists that both the 'country and the Americana' scene claim – artists like Chris Stapleton and Sturgill Simpson come to mind. But without an open mind if you're looking for labelling music you might miss out on great artists and music.
Who are your favourite emerging country artists?
I am obsessed with Midland who I think are the new Dwight Yoakam. I have a girl crush on Bailey Bryan who I have just discovered and booked.
Have you any advice for new and emerging acts? How can they stand out from the crowd?
Here's actual real advice; people help you if you make them money - and they stop helping you if you don't.
Here's probably what I should say which is also true. You have to love it, you have to want it more than anyone around you - if you have a manager you have to be the person motivating them to strive for you – it's not the other way around.
What does the future for C2C look like?
It's nuts - once people come to C2C and spend a weekend with great music, learning about how songs are written, getting up close to artists, dancing to the early hours and making friends with the nicest fans in the world - they want more. So the future is more!
c2c-countrytocountry.com
C2C takes place in various locations across the UK from tomorrow (10 March).
Visit m-magazine.co.uk/tag/country-and-americana over the coming weeks for more interviews and profile pieces with a whole host of UK country and Americana artists. 
O2 Photo credit - Luke Dyson
Eric Church photo credit - Flex Entertainment