'In the seventies, I left behind the safe shores of melody and conventional harmony and headed out into the sea of timbre,' says the genuine songwriting eccentric Mike Cooper.

The rambling musician has been making music for almost as long as he can remember, taking care to maintain a revolutionary mindset as he traverses the globe for inspiration.

Dubbed 'the icon of post-everything music' by label boss Lawrence English (Room40), he consistently oversteps the outer limits of the guitar, drawing on everything from Polynesian traditions, South African session musicians and American blues giants along the way.

From the delicate purity of his early folk recordings to the time-lapse feedback of his 21st century explorations, he always sets his own agenda - a move that's finally paying off in dividends.

His encyclopaedic back catalogue, which embraces exotica, Hawaiina and classic British songwriting, is currently enjoying a renaissance as a new generation of musical adventurers connect with his wandering spirit and global outlook.

Fratello Mare, a reference to Folco Quilici's classic film of the same name, is his latest tropical opus.

Recorded across 2014, and released earlier this year on Room40, the album expands on his humid template of lap steel guitar, indigenous percussion and field recordings, captured on the islands and atolls of South East Asia and the Caribbean.

We recently spent some time with Mike to learn more about his early musical awakening and latest sonic tapestry...

When did you first get into making music?
I always listened to music even as a small child. I grew up with radio not television. My father was a drummer who stopped playing when I was born (?) but when we came back to England from Australia in the late fifties (we immigrated there in 1953) he started playing again.

When I left school I got serious about wanting to play music and we built a guitar together. It was not a huge success and I decided to buy one instead and started to learn. We only played together once as far as I remember and he only ever came to see me play a concert once.

Did your upbringing in both Australia and the UK play any part in it?
Only in so far as I remember I started to sing seriously when we went to Australia. Apparently I had a reputation for climbing extremely high trees and singing at the top of my voice from the top of the tree. My favourite song at that time was Rose Marie by Slim Whitman who released it in 1954. It was at number one on the UK singles chart that year. Both Paul McCartney and George Harrison quote him as an influence. I have always loved falsetto voice and the record has some Hawaiian lap steel on it:


You've made many albums over the years – how do you think your sound has evolved over time?
The interesting word in that question is 'how'. It has evolved by listening to as much different music as I could find and also playing with as many musicians with as diverse ability, technique and musical interests as possible. That's 'how' it evolved.

The other word in there is 'sound'. My guitar sound has evolved because of my particular instruments I suspect. My main guitar has been, for almost 50 years, a 1932 National Resophonic steel bodied guitar. It has a certain sound – if I'm listening to the radio and something comes on I can tell right away if it's my guitar, instantly.

As for my singing voice, well I don't sing at the top of trees any more - in fact I never sing unless I am doing a concert or recording or something which requires me to. I don't practise singing, especially these days when almost all of my music is spontaneous or improvised. I like to get the contour of the melody into my head and go out there and sing it. Interesting things happen that way.

Is there a record that stands out for you, either because it was the most memorable to create, your favourite, or maybe one that irks you in some way?
I don't listen to my own records very much (they all say that don't they?) unless I have to or when I am so removed from them I can listen as I might be able to someone else's record.

One of my most memorable to create was one that most people have never heard of: Life and Death in Paradise. It was on the Fresh Air label, a label owned by the DJ, radio presenter and musical entrepreneur Tony Hall. I met him in Spain when I was taking a break from music in the mid-seventies. He invited back to the UK to make 'the record of my choice'. I had worked with some exiled South African jazz musicians on previous records for the Dawn label so I asked the drummer Louis Moholo, bass player Harry Miller (both South Africans) and the saxophonist Mike Osborne if they would join me, plus some of my friends from my home town Reading.

We went into a small studio owned by Mike Finesilver and practically made a live album, as I remember. It was the last record of my songs that I made for many years to come after that. It was the sequel to the other three records on the Dawn label, Trout Steel, Places I Know and The Machine Gun Company, and closed a bracket which I didn't open again for a long time. It has some very spontaneous playing on it from that great trio of players and some very bitter lyrics. I love it and I am going to re-release it very soon.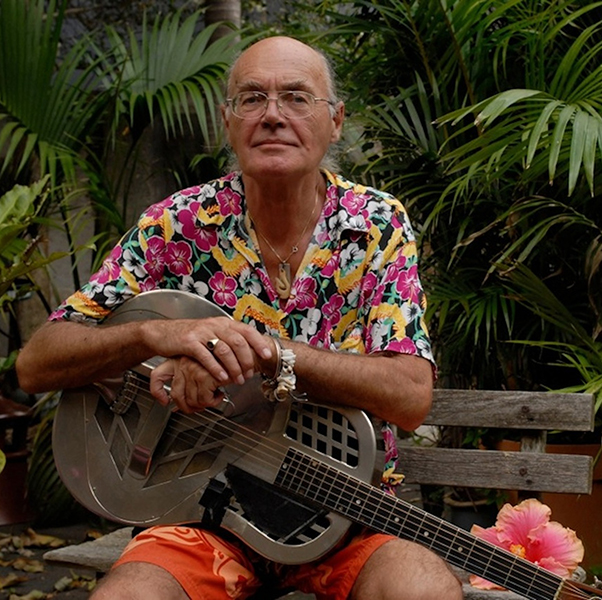 How has your approach to the guitar changed over the years?
I never really considered myself a guitar player actually. I started out as a singer in the first band I was in, The Blues Committee, and never played guitar in it, even though I could.
When the band folded I started to sing solo and play guitar just to accompany myself really. After some time I discovered the music of Blind Boy Fuller, a blues guitarist and singer from North Carolina, whose music spoke to me in such a way that I tried to learn to play it. It was an interesting exercise akin to trying to learn to paint a Picasso or Jackson Pollock by staring at it and trying to imitate it, which is a classical way of learning to deal with art. But I had no teacher and so certain mistakes would occur unnoticed but not totally unwelcome as they changed the reproduction from the original sufficiently to arrive at something else.
I peddled that around the folk and blues club circuit for a while. During that period I had an encounter (not at the crossroads) in a coffee house in my hometown of Reading around Easter time one year. There weren't many people around because everyone had gone on the annual Campaign for Nuclear Disarmament march from London to Aldermaston, which passed through Reading and brought many strange and wonderful people with it. A lone American was sitting in the coffee house when I walked in with my guitar in an army kitbag. It was 1962 as far as I remember. The American asked me what was in the bag and when I showed the guitar he asked, 'do you know what that is for?'
'What do you mean?' I replied. He took it from me, retuned it, took a glass from the table and started to play in the lap steel style. Well, of course, I didn't realise that was what it was for!
Your later material uses an expanded range of technologies and textures to create tones and atmospheres – what led you in that direction?
I started to play free improvised music in the late seventies. I was searching for extended guitar techniques, other ways of approaching the instrument. Leaving behind the safe shores of melody and conventional harmony and heading out into the sea of 'timbre' was the voyage.
At first I just explored the possibilities that lay hidden within the instrument's acoustic world. The National is not like a conventional guitar in that it is made from metal, not wood, and so you are dealing with a completely different object right from the start.
It can be a drum with many voices in its back, sides and front. Open tunings and even non-tunings can transform it into something very non-guitar like. It's something I still enjoy doing very much from time to time.
After acoustic exploration, I moved slowly into using effects pedals as they became available. I lived in a town with a very large Jamaican and Trinidadian population and reggae was a significant part of our mutual social life. Dub music still informs part of my music. People call it psychedelic these days – as it shifts the aural perspective.
Early electronic music interested me, not what they call electronic music now, but things like
Silver Apples of the Moon
by Morton Subotnik - a 1968 recording using a synthesiser, sequencing and tape manipulation. It broke with the more abstract early electronic music when he started to introduce patterns and rhythms into the music.
Where does your fascination with all things Polynesian come from?
I knew about Hawaiian music from hearing it on the radio as a kid. Felix Mendelssohn's Hawaiian Serenaders were a regular BBC radio band. A bunch of amazing musicians, among which were some genuine Hawaiians. Later in life I corresponded with one of its members, Kealoha Life, quite extensively.
I went to Polynesia for the first time in 1994, visiting the family of Tahitian musician friends in Papeete, Fiji, New Zealand and Hawaii, where I met and played with Raymond Kane, Cyril Pahnui, Uncle Sol, Ledward Kaapana and saw lots of other locals.
My original style of playing bottleneck blues originates with the Hawaiian islanders as far as I can work out. Hawaiian music is the first music you can find on recorded media. It pre-dates blues by at least 25 years. Have a listen to this – it's Toots Paka's Hawaiians, released on a cylinder in 1909:
http://cylinders.library.ucsb.edu/search.php?queryType=@attr%201=21&query=hawaii%2A&num=1&start=1&sortBy=&sortOrder=id
The website has some of the oldest recordings in existence, which have been digitised for our enjoyment. See how many Hawaiina records there are. It sold more records, when 78s first came out, than any other form of music worldwide between 1914 and the thirties. It was the first 'world music'. From the music, my interest in all things Polynesian comes.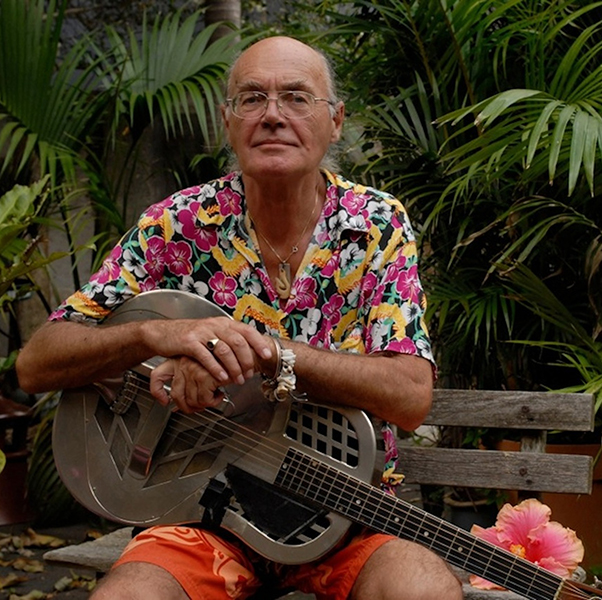 Are you into exotica as a genre, or are your influences more based on your interest in Polynesian music?
I am interested in 'exotica' as a form of sub pop culture. It fascinates me. I do art installations which include stuff that comes directly from that kind of experience and area. I also love kitsch and Chinese and souvenir shops. I am anti snob art - high art, expensive art. I'm a fan of the 'recycle rubbish' art movement. Part of that comes from never going to art school or university. I was never brainwashed with the established ideas and theories of what is and what isn't 'art'. These days you go to art or music college to learn to be a curator or art business manager, not even a pretender.
How do you feel about your early records being reissued and reappraised now?
Great. I am not ashamed of them. Better late than never. Just don't ask me to reproduce them live please.
Can you tell us more about your latest record, Fratello Mare?
Fratello Mare
is the fifth record in my self-categorised Ambient Electronic Exotica series, which started in 1999 with the first release on my own CDR label Hipshot of Kiribati. The other editions in the series are
Globe Notes
and
Rayon Hula
, both of which were originally Hipshot CDR releases, and more recently
White Shadows in the South Seas
, released on Room40 and of course
Fratello Mare
. Both
White Shadows
and
Fratello Mare
are the titles of films. The first is a 1927 silent film starring Monte Blue and Raquel Torres. I have for many years performed live soundtracks for silent films as part of what I do and in particular I seek out films with an 'exotica' story or subject or theme.
Fratello Mare
is a documentary film shot by the Italian film maker Folco Quilici who, in the fifties as a 25-year-old went to Polynesia and shot film of pre-tourist Pacific islands. He went all over the place, including Papua, The Solomons and Tahiti.
What's next for you?
Well right now as I type this I am supposed to be packing to go to Cagliari in Sardinia but I got distracted. I am going there to finish my 'artist in residence' period which has been once a week for four months as part of the Cagliari City of Italian Culture 2015.
I have been working with six students from the music conservatory, who are doing electronic music, recording and videoing in the salt lakes near the city where 40,000 flamingos live and breed. We made a concert piece together last month and this month I will make an installation on the railway station there, inside a glass box, which was supposed to be a shop at some point.
Then I am going to the UK for three weeks for some concerts and then in November going to Spain for more of the same. Next year three new records coming out including a vinyl release of that first exotica release of mine
Kiribati
.
If you could edit one thing from your musical past, what would it be?
The question that you asked me earlier, which I deleted from the interview. Don't print what it was please. Leave it as the mystery it should remain.
Mike Cooper plays at Café Oto, London, tonight (14 October)
www.cooparia.com