Earlier this month, Leeds based record label and social enterprise Come Play With Me presented the latest instalment of their LGBTQ The Music series which sees a series of LGBTQ+ artists focusing on pressing issues within the music industry today. For this year's event, the panel discussed the question: 'Should I market myself as a queer artist – or keep it to myself?'
Chaired by singer-songwriter Maya Kally, the panel included guests Mykki Blanco, Mickey Dale (Embrace) and Sadie Sinner (The Cocoa Butter Club and UK Black Pride founder), with each artist bringing their own unique experiences and insights to the discussion.
The event, which in previous years has taken place at Leeds' Hyde Park Book Club, was held entirely online, in keeping with the current COVID-19 social distancing measures.
We caught up with Maya Kally to discuss LGBTQ The Music 3 and the issues that were raised. Prior to the interview, Maya Kally had been informed that funding had been secured for a new podcast series, which will cover LGBTQ+ topics with various guests who, in Maya's words, will bring 'different elements of everything to do with being a human being, more than just being an LGBTQ+ artist.'
The panel is available to watch in its entirety below.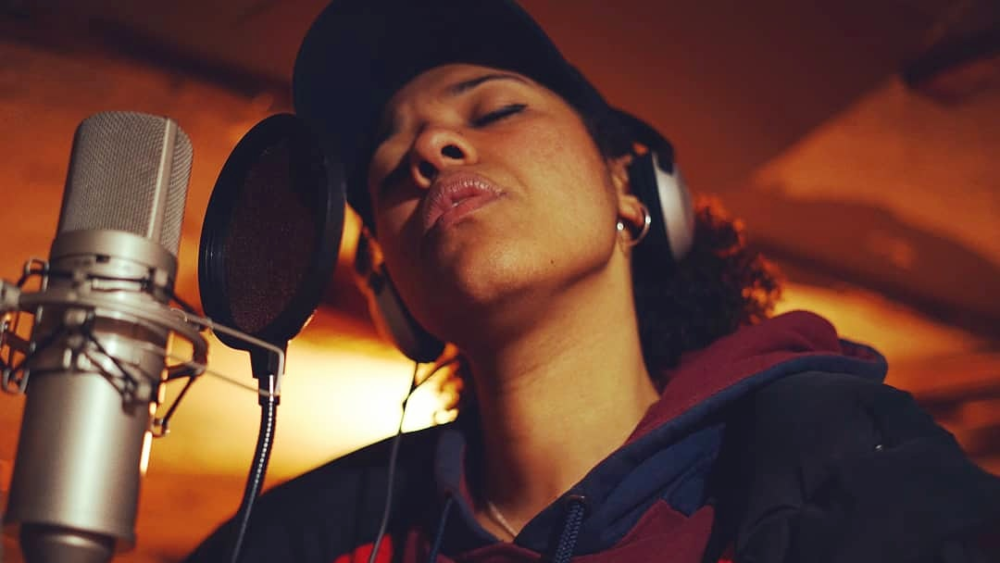 Congratulations on what was a thought-provoking and insightful panel. How did you get involved?
Thank you. I work with Come Play With Me as their event organiser for LGBTQ The Music and their Colour Me In festival. We've just received funding for a podcast that's surrounding both of those topics.
I played at one of their events myself and then spoke with Tony Ereira (founder of Come Play With Me). I really liked what he was doing with LGBTQ The Music – I think this was one of their first events – and we went from there. He invited me to a discussion that they have when they're organising an event. He liked what I was doing with the event and asked me to organise it. Now it's just something that I organise. Tony comes in for advice and a chat when needed.
It's been a really nice process, naturally moving in to organising the event. It's never felt corporate or anything. I know the music industry's all about connections, but it hasn't felt like that at all.
The podcast would see us inviting individual artists to come in and speak on the panel. It would be a very casual chat that could also have elements of lightheartedness but also with some artists who go into more depth, so it should be fun.
When do you hope to start the podcast? Any idea who you might invite first?
I was told just two days ago that the funding was approved. So, we have to finish the project by March 2021. In between now and March we're going to start planning and hopefully get one podcast out a month, starting a series.
There are a few artists who I think would be great to chat to and who would be really interesting, bringing different elements of everything to do with being a human being, more than just being an LGBTQ+ artist. I really want to bring some focus on the culture within the LGBTQ+ community, as well as religion, and people coming from different countries around the world where maybe it's not as normalised to be LGBTQ+.
Picking up on your point about creating discussion around and with LGBTQ+ artists living in countries where normalisation is an issue, it struck me that everyone on the panel agreed that things seem to be moving backwards in certain parts of the world.
Yes, which is a really sad and scary thought, but I do agree with what was said. Mickey Dale was making some brilliant points. I do think we're becoming very segregated in our views. The extreme right and the extreme left. We're all moving off into our own communities, whether that's in person or online. That's creating a divide that's taking us backwards. There's such a large proportion of people who feel so strongly to the right, which is really sad. I think that's why these kind of events are still so important, especially for the people in those communities who may see themselves in a different light or who may be LGBTQ+, whatever it may be, they need some sort of release and relief.
Out of necessity, the event had to be online. Was that helpful in some ways? Does it make it more accessible, particularly for people who do live in countries where being LGBTQ+ is considered particularly dangerous?
I completely agree. It does bring that sense of 'everyone is welcome' and is accessible for all, which is something we really did want. I think that's why we want to focus on the podcast too, and fortunately we've received the funding for it. Even with our previous panels, we've always planned to record them, like they are podcasts. We're always looking to record visually and audibly.
I think it could be a good idea to, once every few months, do a panel online. I do also fear that people may have had enough of online content in that sense. It is safe to be watching these events from your own house. That can be a very private thing, which is good for certain people who have not yet told their family or community that they are LGBTQ+
How did you find the panel?
I've done a few panels for Come Play With Me and for Music Leeds as well as other companies across the UK. For LGBTQ+ events, because I'm organising it, I feel a big weight in the lead up to it. You can have emails from whoever and in the last couple of months it gets very intense. That's the period where you need to switch off and think 'Now I'm chairing it, so let's think about it like that as opposed to an event management position.'
I was quite overwhelmed, I think, when it got to the day of the panel and I kind of think about what can go wrong, especially with a topic like LGBTQ+ where society is catching up. The idea that you can identify with a gender or you can be non-binary or asexual, whatever it may be, society's still catching up to that, to an extent. I always fear that I'm going to offend someone.
Besides that, when I take a step back, when I'm becoming overwhelmed, I think: 'actually, this is just an interesting conversation.' But yeah, it was fun. I always love doing it. It's like any performance, it always gets really nerve-racking when the actual thing is about to happen.
We were very fortunate to have panellists who were really open and natural. It was a really nice, honest environment.
The conversation naturally segued into a discussion around challenges that all artists face in the music industry, particularly the issues around 'gatekeepers' in the music industry. Mykki Blanco made the point that, with the power of the internet, artists are now more able to bypass these traditional routes to having their music heard. The music industry is tough enough, but what really struck me is that for non-heteronormative artists there's an extra layer of challenge that many people really have no experience of.
With the topic of 'should I market myself as an LGBTQ+ artist?', I think for people who are unsigned artists it's always a question of 'is this going to harm my career if the world knows that I am LGBTQ+?'
So I think it was really lovely to hear the responses of all three panellists and the positive aspects of being an LGBTQ+ artist. Not just the fact that you're an LGBTQ+ artist, but also speaking your truth and having your brand as something that you truly do believe in and something you're proud of. People can see that and it comes through to an audience and on social media. I think that was a really powerful point, from people who have done that. For example, Mykki Blanco, who's brand is, I'd say, new to this society, this world and even to the music industry to an extent.
They have made that work and they've made themselves thrive from it. It's the same with Sadie. I think that was a really powerful point. Like I said, I think it's an interesting conversation. I think I've taken more from it subconsciously than I know.
Keep up to date with Come Play With Me on Twitter, Instagram and Facebook.