Musical innovator Matthew Bourne is well known for his unquenchable thirst for discovering new musical playgrounds.
It's a passion that has seen him weave his own way through jazz and classical sonics before now turning to the synthesiser for his latest creative feed.
The seed for this project was planted when he acquired an uncooperative 1982 Memorymoog, having it painstakingly modified and upgraded by Rudi Linhard in Germany.
Growing from improvised live performances, these compositions took shape in the studio as Matt explored the vast sonic possibilities offered by its oscillators. Created without the use of computers or sequencers,
moogmemory
is the first album to be recorded using only the Lintronics Advanced Memorymoog and shows a musician at the height of his musical madness. We caught up with Matt to find out about this latest work, musical past and why he chose music over farming as a career...
What got you into music?
I used to listen to my mum's music - Johnny Mathis, the Commodores, Phil Spector. When I got into reading Enid Blyton books as a kid this music would be a soundtrack. These records would bring alive and create this kind of complete fantasy picture when I read these books.
What inspired you to learn an instrument?
I was watching kids' TV, and there was the programme,
No 73
, hosted by Sandi Toksvig and Neil Buchanan. Every week they'd have a musical feature. I remember they had a guy come in who did scratching on decks, another week they had a sextet of double bassists.
They were all children my age and playing half-size basses, or smaller. I thought, "Wow, I'd love to play that". Something inside clicked. I ended up starting the trombone when I was about nine.
When I went to secondary school I started doing violin classes, then the cello. I took to that very naturally and quickly.
What got you into jazz and classical music?
Within two years of playing piano, I got really into jazz. It went from Debussy and Ravel into ragtime, then Gershwin, Brubeck, then Bill Evans.
I later went to Leeds College of Music, discovered the library, and all the music they had. They used to hate me as I always used to ask for the records that were in the basement and not easily obtainable.
All the tutors had their specialism. That was the first place I came into contact with synthesisers really. Graham Hearn was a lecturer there, and he taught composition. Anything interesting and contemporary got played or looked at.
What are your favourite synthesiser?
Well I got the bug for old synthesisers - they're so attractive, almost like pieces of furniture. I have a Memorymoog, which I bought from a guy who'd owned it all his life. He'd owned it for 25 years and was visibly choked up when I came round to collect it. I had about 18 months of use, then it started to play up, which they all do.
There's no such thing as a faultless Memorymoog; they'll all go wrong at some point. I took it to this guy in Germany called Rudi Linhard. It took a number of visits to get it fixed. And a lot of money.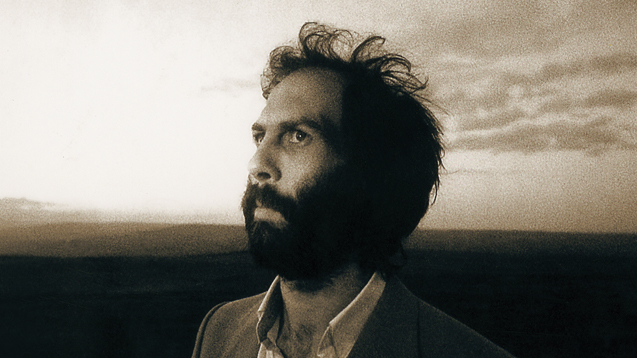 So it's this machine that inspired the album?
Yes it's such a special instrument. I've made an entire record on it and ended up doing all these pieces, just exploring its sound. It kind of plays itself, in a way. You don't have to do a lot for it to produce great sounds. Once you've messed around with it and made it your own, you can sit there for hours just becoming engrossed, which is what I did.
That's why I thought the album should be about the story of this Moog and got other people involved. Then Michael England, who I've known for years, the artist and graphic designer, he's really good friends with Graham Massey, who I've known just from the Manchester scene, as a friend. He had one, and I remember having conversations with him about synths and that Moog.
Michael worked on the album cover and the tour poster, and he's shot a lot of footage. He's going to shoot a lot more over the next few weeks, for the purposes of the tour.
What is it about synths them attracts you to them?
Well initially, I was into a lot of early Herbie Hancock records. By early, I mean the band that he had with Billy Hart, Buster Williams and Eddie Henderson. Mwandishi was the name of that band. They did
Mwandishi
,
Crossings
and
Sextant
under Herbie's name, and then they did two under Eddie Henderson's name, called
Inside Out
and
Realization
.
So yes, it was really those records, along with Graham Hearn's electro-acoustic module, that really made me think. Then the instruments themselves, as objects, that really attracted me, in terms of collecting and being surrounded by all these keyboards. At the time, I was in my early twenties, and just really fell for them. I was in a funk band, and I did amass quite a collection. I had several Fender Rhodes, Space Echo, Selena String and some Polymoog keyboards, Korg MS-10, and a Moog Prodigy.
I used to transport them all in horse feed bags, because I worked on a farm. I didn't have cases for them, so I used to wrap them in blankets, and then put these really heavy duty bags over them. I'd turn up to gigs with all these fertiliser bags. That was my other thing: I almost became a farmer. I was kind of 50/50 whether I was going to go to agricultural college or music college.
What else is keeping you busy?
Well there's this record and I'm also working at the Leeds College of Music.
The college advertised for a postgraduate tutor, which I applied for. I didn't think I'd get the job, as I didn't prepare for the interview. But I kind of interviewed them and shot my mouth off in all directions, because I didn't really care. Then he phoned me up two days' later, in the evening, and said, "I'd like to offer you the job, What do you think?" I didn't really know what to say.
So it's been nice, really, doing postgraduate things for a day a week, and then I do take ensembles, or I do piano teaching of various kinds. It's all good.
matthewbourne.com
Photo credits - Michael England
Listen to clips from the
moogmemory
album below. You can also catch Matthew out on tour.