Over his 30 year plus career, Welsh singer songwriter Martyn Joseph has earned comparisons to the likes of Bruce Springsteen and John Mayer but, like many of the greats, he ultimately sounds like no but himself.
Via 32 albums, over a half a million record sales and thousands of live shows, Martyn has built himself a reputation as a truthteller, an engaging performer bringing plenty of emotional grit in his lyrics and melodies.
His list of accolades and achievements are long - Martyn was awarded Best Male Artist at the 2004 BBC Welsh Music Awards and in 2012 his song
There's Always Maybe
won the best folk song category in the World Independent Music Awards. In addition to numerous UK hits, he's also set up the
Let Yourself Trust
, an initiative set up to fund humanitarian projects in the UK and beyond. We caught up with Martyn to find out about the man, his music and passion for challenging injustice…
How did you first fall in love with music?
I was always drawn to story tellers. Whether it was Springsteen or Glen Campbell singing Jimmy Webb songs, I loved the emotional connection and narrative between music and people's lives. I wanted to do that in some way from my youth. It manifested itself  naively at first but it was still obvious there was something natural going on between me and music.
When did you find your songwriting voice?
Having been through a number of manifestations, I've come to recognise what I do only in the last ten or so years. I believe the job of a good song is to tell or remind the listener they aren't alone. You try to make sense of the day and put that out there so it might be useful for others. Discovering who you are takes time but, as long as you're open to it, then comes your best work.
How have you evolved as a songwriter over your career? Do songs come easier as you grew older?
It becomes a little easier in that you learn what
works
and what doesn't. I have always written from where I stood at any one time, sifting through feeling and creativity. Life happens and your writing, or at least mine, reflects that as best it can.
These days I feel the songs I'm writing are stronger and representative of a more rounded view of things. It's a natural progression that you become a little wiser in the lyrics and a better musician as well.
Can you explain how the writing process works?
Your next best song lies within whatever you feel most passionate about. For me the best come when you have something you really want to say. The idea usually comes first, then I blitz the page with the poetry that brings. When I have some rough lyrics I'll play around with melodies on the guitar to try and create a canvas for it all. Then its graft until its right, whether that's ten minutes or ten months ... whatever the song needs. Also playing it live. We record songs so quickly but as they get performed you learn more about them. I have a rough rule that I won't record anything that hasn't been played live at least twenty times.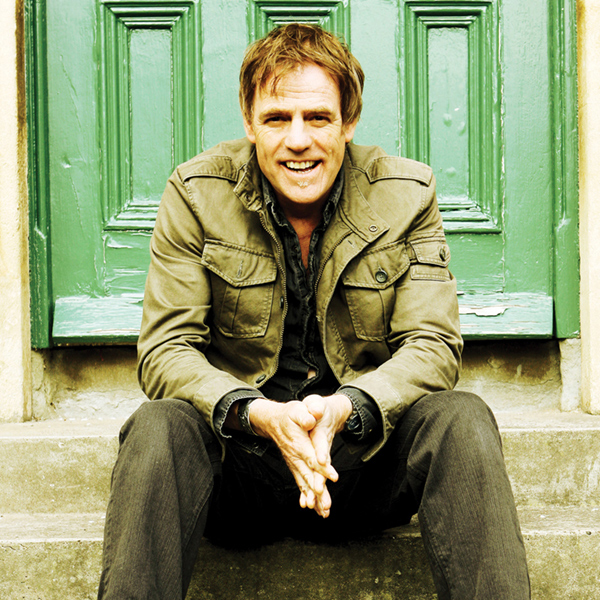 You are well known for your work as an activist - how did you get involved in supporting causes and challenging injustices?
I was always drawn to writers who told stories, the likes of Woody Guthrie and Paul Robeson, plus those they inspired. The guitar gave me the opportunity to travel and see things that otherwise would have remained words on a page. I began to document those events in song and was asked by organisations to represent or write music to highlight their causes. That led to the expansion of my own political and social awareness.
Having worked alongside many organisations, my partner Justine Ferland and I set up the
Let Yourself Trust
. It's a non profit and we have Bob Harris as our patron along with a great board of trustees. We focus on a project for six months and, as I play around 160 shows a year, we fund raise for that period then move on. So far we have worked with a children's theatre in the West Bank Palestine and a children's village in Guatemala. Our two projects for 2015 are a wonderful homeless outreach in Swansea, then an albino education and relief work in Uganda.
I have been amazed by the support we have received from my audience, raising a little over £55,000 for these beautiful causes in our first 14 months. We hope to be able to give grants to help other artists to go to some of these places and programs and see for themselves what's happening on the ground so they can continue the story process with their audiences.
The industry has obviously changed since you started out on your musical journey - what are your current thoughts on the business?
In many ways it has come down to a model that I started using when Sony let me go twenty years ago. The internet was growing and I soon realised I could do a better job myself. Everything changes and moves with technology and it's great that artists, if they wish, can make big inroads themselves using social media without the say so of bigger labels.
What have been highlights from your musical career?
That's hard to say. Pushing a few songs in the charts in the nineties with Epic and some of the amazing venues I have got to play my songs. Certainly the tough places around the world the guitar enabled me to see have informed my view of what's really important in life and the sense of a bigger picture. Moments like playing a show in a community centre in the Favela above Rio whilst being guarded by drug runners with hand guns! You don't forget that stuff. The real highlight and blessing is, after thirty three years of playing, still being able to pay my bills and do some good.
What advice do you have to new and emerging songwriters?
Try to write honestly with integrity and passion. Don't add to the noise as there is already enough of it. Create art that steps into the gap for folk and comes alongside them and says 'hey its ok, you're not alone'.
What's been keeping you busy of late and what's next for you?
Well I'm constantly on the road and the trust has taken up more of that space as well with visits this year to Palestine and Guatemala. I have a lot of dates coming up in Canada and USA as well as the UK and will start recording a new studio album with Ben Wisch in the States in a few weeks. We worked together on my first record for Epic twenty five years ago so we thought it was time to give it another go!
martynjoseph.com
letyourself.net