In the world of classical music and opera there are few young contemporary composers more exciting than Mark Simpson.
This Liverpool-born artist has been one of the UK's hottest young musical talents for some time, winning the BBC Young Musician of the Year as a clarinettist in 2006 and named the accolade of BBC Young Composer of the year - the only individual to have won both competitions. He was recently named Composer in Association with the BBC Philharmonic while his latest work,
Pleasure
, is a contemporary opera based on his formative years clubbing in the North West. He gives us the inside track on his Liverpool roots and this latest, critically acclaimed work…
How has being from Liverpool influenced you and your music?

Growing up in Liverpool was integral to my musical education. There was a very clear infrastructure built by the Local Music Support Service organised by the Liverpool City Council.
I had clarinet lessons in a small group of kids every week in primary school for about two years and was given a free clarinet. Now it's in a group of 30. Beyond that there were musical groups we could play in at local schools in the evening. Most importantly there was the Saturday Morning Music School, over three hours, where all the kids from across the city came and played. There was a real sense of camaraderie, and again, a clear infrastructure encouraging development. I always remember being jealous of the big kids who played in the Youth Orchestra who got to go on tour and perform the best music in the final concert in the Philharmonic Hall at the end of the year. When I was young I aspired to be them and pushed myself to practice and be as good as I could be.
How important was the Liverpool Philharmonic Orchestra to your development?  
Alongside the activities organised by the Liverpool City Council, the Royal Liverpool Philharmonic Orchestra (RLPO) was a beacon of world class musical excellence. It opened my eyes and ears to worlds that would have otherwise been unknown to me. After I'd developed through the ranks of the Local Music Support Service I applied to be in what was then the Merseyside Youth Orchestra (MYO) (now the Royal Liverpool Philharmonic Youth Orchestra). Aged 13 I was performing
works
such as Ravel's
La Valse
, Beethoven's
Seventh Symphony
, Walton, Copland, Shostakovich and more. I remember performing the last movement of Beethoven's 7th as if it was yesterday on the stage at the Philharmonic. It was one of the best moments of my life, with the music literally uplifting me from where I was and transcending anything I knew or understood. In that moment music was communicating its power through its language and I was there to facilitate and be a part of it. I stayed in the MYO for another three years before I moved onto the National Youth Orchestra.
Around this time I was also attending as many RLPO concerts as I possibly could. They had a great scheme for students where you could get any ticket in the house for £2! I used to go with my friend and we used to sneak into the box behind the basses. The players in that orchestra were like celebrities to us. We used to listen with such intent, transfixed. Some incredible performances are still engrained on my memory: Strauss's
Alpine Symphony
with Gerard Schwarz, Beethoven 9 with Andrew Manze, Beethoven 5 with Dudamel before he was a superstar. All this fed into my burgeoning obsession with classical music and all that it entails.
But without doubt, the most significant part of Liverpool's musical landscape on my development as the musician I am today was the RLPO's contemporary music group, Ensemble 10/10, set up by my former clarinet teacher Nicholas Cox and cellist Hilary Browning. I can't describe to you the excitement I used to feel going to these gigs. To hear music written by composers who sat just a few seats away from me, to meet and talk with them, to discover music that I had no idea existed, presented in varied, exciting concerts, was a revelation. I became obsessed with the idea of the 'new' in classical music after hearing the
Rite of Spring
aged 12. And from 14 I was going to 10/10 gigs. When I was 15 they commissioned my first piece,
It was as if the world stood still
, a reaction to the events of September 11 2001. And from then on we built our relationship and they commissioned a further three pieces over the next five or so years.
The mixture of this world-class orchestra and the brilliantly organised Liverpool Music Support Service amounted to the best musical education a boy could ever have hoped for.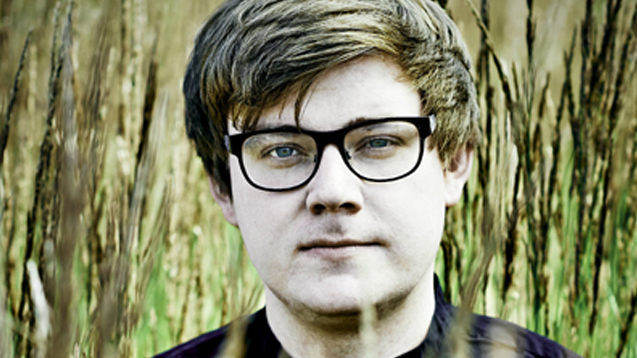 Liverpool in 2016 appears to be going through something of a purple patch in terms of music - events, new artists, festivals across all genres - Is the city's music scene in good health from your perspective? 
I'm not surprised at all. Liverpool is the most exciting city outside of London. I think the whole place is going through something of a second renaissance thanks to more interest in industry, the docks being reborn and so many tourists. I would love to come back when I'm older and set up a musical festival there. I just have to do a few things myself first!
Do you think there are any characteristics particular to Liverpool composers, songwriters and musicians? 
With a scouser you don't get any bullshit. They say it exactly like it is. And this comes across in the work they produce. When I'm writing, I try to do it under no pretence and just be as true to myself as I can. And I think that can be said about artists from the Beatles right through to those working today. Scousers know themselves. And if you know yourself and what it is you want, you're already on the right path...
The chamber opera Pleasure is your most recent work  - could you explain a little bit about the inspiration behind the piece? 
The opera came from my experiences clubbing in Liverpool in my late teens and early twenties before I went to university. I saw the clubs I was going to as ripe with creative potential. There were so many vivid characters, so many layers to what was happening. Not just partying but moments of darkness and quite complex emotions being played out or supressed on the dance floor or otherwise.
The story takes place in the toilets of a gay night club called Pleasure and sees Val, the toilet attendant trapped in her position, but we don't know why. Over the course of the evening we find out, with help from Anna Fewmore, the in-house drag queen, Matthew - a young bohemian soul searching for love or something more in a world he doesn't belong in, and another dark, mysterious figure, Nathan....
Have you any advice for new composers?
Try not to spread yourself too thinly. As you grow and develop try and create projects for yourself that tap into things that interest you both intellectually and emotionally. Try and marry the two. Don't do things just for the sake of doing them, unless you see them purely as technical exercises. But try to always present your best work, no matter what level you're at, and invest all your energy into everything you do. No matter what style, no matter what genre, good work speaks!
What does the rest of 2016 have in store?
I'm just finishing my new work, a trio for clarinet, viola, and piano that I will perform at the Edinburgh Festival and Salzburg Festival in August with Pierre-Laurent Aimard and Antoine Tamestit. I have a performance of an orchestral piece
Israfel
at the BBC Proms. I will spend the rest of the year writing a cello concerto for Leonard Elschenbroich as the first commission as part of my residency with the BBC Philharmonic Orchestra.
marksimpsonmusic.com
Mark's first full length album of musical works,
Night Music,
is available now.