Dr Who composer and all round analogue appreciator Mark Ayres has been dabbling with electronics since the early eighties.

He is the archivist for the BBC Radiophonic Workshop, is a key member of the electronic ensemble and has been a driving force behind their recent revival on the festival circuit.

As a composer, arranger and performer, Mark has also been active in the media music business for thirty years, with credits spanning the gamut of primetime TV and feature films including The Innocent Sleep and Scar Tissue.

Here, we find out about his early love of analogue equipment and the making of the new Radiophonic Workshop album…

How far back does your love of analogue hardware go?
Right back to the beginning. All I had as a child was a piano and flute – those were what I learned music on. But I always had a big interest in synthesisers, largely born from watching Dr Who. I just liked the sound that programme made and I just wanted to go into electronic music. But I couldn't afford it. I had a friend who had a very cheap micro Korg preset synthesiser, which I borrowed on permanent loan for a year. I then went to Keele University to do a music and electronics degree. The university had an eight-track recording studio full of great equipment – three synths, a Farfisa organ, and an Apple 2 with basic sequencing software. I joined a couple of bands and starting producing some bands – and that's when I got really into the electronics.

What happened next?
When I came out of university I set up as a freelance it was the early eighties and it was all about the boxes – that's all there were. We didn't have computers really, and sequencers didn't become widely accessible until the end of the decade. So it was all about what you could get out of a box, and I still love that.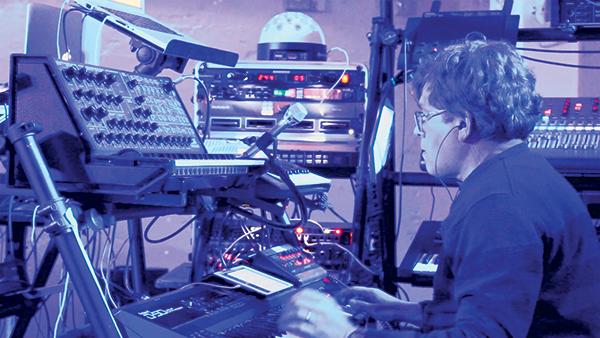 Yes, it's enormous fun to experiment with circuits. I'm not averse to taking the back off something, having a play around and seeing what I can make it do. I've always done that. And now, working with the Radiophonic Workshop, the whole ethos of what we do is predicated on the history of technology. We do use two Mackintosh computers on stage, and we have soft synths and sequencers – but we also have a stage-full of original boxes.

What maintains your interest in older analogue technologies?
There's nothing quite like the sound of an analogue oscillator. They will tell you that soft synths can replicate it, which they can, but it doesn't have the true unpredictability of the real analogue technology. And that's why I like the original stuff – it can go wrong. That, perversely, makes the shows more exciting.

How do you think that hardware analogue technology has shaped music over the years?
Gosh, every new instrument is seized upon, and there have been some analogue hardware through the years which has really caught the imagination of producers and songwriters to become the staple diet of the music of that time.

If you think about the Yamaha DX7, the Roland D50, the Korg M1 or the Mini-Moog – all of these instruments came out and became very much part of the musical landscape. I think they do that in a way that computer-based instruments don't.

It's great to have the Kog MS10 or MS20 in front of you so you can tweak the controls. It's like holding a violin or a flute – it's something you can actually get to grips with. A computer is great for sequencing, writing and composing, or arranging – and there are some amazing soft synths – but I have to say given the choice of the MS20 soft synth or the actual MS20, I know which I'll always go for. It's much more fun to play with. I can use four or five fingers to manipulate sounds all at once. It's very live and it's very performance-orientated. I can't do that with the soft synth.

What do you think about the rise in popularity for old analogue equipment again?
Well, for me, I just like having an instrument that I can play and perform on. For a while you couldn't get rid of an analogue synth for love nor money but nowadays people really want them. Their value is going through the roof. Korg have reissued the ARP Odyssey and the MS20, and all those little Volca boxes. I can see people getting hold of those and discovering what analogue electronics can do in a much more hands-on way than they ever will with computer software. I think it's brilliant.

Do you see yourself more as an electronics buff or a composer?
When you work in commercial music, you've got to get the job done, so there's maybe not as much room for experimentation as you would like. But the experimental electronics stuff is what I do in my downtime. When I'm not working on a commission, I'm discovering a new instrument or learning something else about music. That's what you have to do if you want to keep ahead of the curve.

Writing the songs, writing the music, doing the shows – that's only part of it. All the experimentation times feeds into that.

What have been your composing highlights over the last year or two?
I wrote a score for a horror film, Scar Tissue, which was a very different thing for me to do.

How did you get into the right mindset?
I realised that under the horror and suspense, there was actually a very human story. I used a lot of electronics and got halfway through before I realised I also needed a string section. You have to find your way into the psychology of a piece.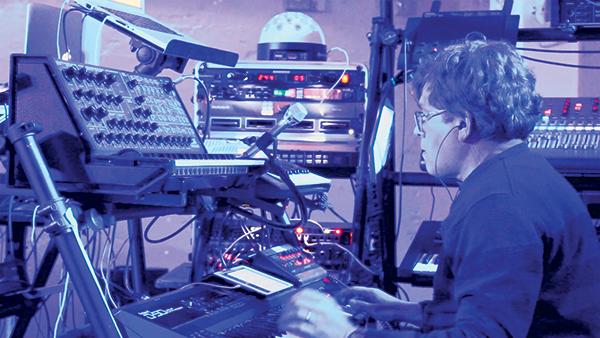 Where does the Radiophonic Workshop fit in?
Well, most of what I've been doing over the last couple of years has been with them. We're working on an album, we've been doing lots of shows, and that takes a hell of a lot more work than people realise! The half hour before we go on stage is very professional because it's very old kit and it all needs to work. It needs a lot of TLC and rebuilding occasionally. It can be quite nerve wracking – but I wouldn't be doing anything else!
These days the Radiophonic Workshop is revered by younger audiences, who may not remember the early work and original mission. I just wondered which electronic pioneers you look up to?
The early workshop pioneers: Brian Hodgson, Delia Derbyshire, John Baker. They really pushed the envelope and defined what we now do in terms of electronic music. I totally revere them. Tristram Cary, who was a very good friend of mine, was also an early unsung pioneer of British electronic music. He was a co-founder of EMS Synthesisers and was responsible for designing the VCS3.
We interviewed Mark Ayres for our Hands on Hardware feature in the latest issue of M magazine.
https://twitter.com/markayresrws