The National Youth Jazz Orchestra (NYJO) is Britain's longest-running ensemble for young people under 25 playing big-band jazz.
This British institution was founded by Bill Ashton OBE in the sixties and recently marked its fiftieth anniversary with the release of a new album.
NYJO FIFTY
 was recorded at Air Studios in London and reflects the wide range in
repertoire
, style and musical colours for which NYJO has become so well-loved. Since 2010 NYJO has commissioned new music from leading UK jazz composers. Some of this was featured on their 2012 release 
The Change
 with this latest LP including
Wintermute
by Kit Downes,
No Man Is An Island
by Laura Jurd and
Sub Hub Hubbub
by Jason Yarde. We caught up with the NYJO's artistic and music director Mark Armstrong to find out more about the orchestra and it's fiftieth celebrations…
How did you first become embroiled in music?
I prefer "captivated by" rather than "embroiled in"! But I remember at school listening to something played in assembly. I don't remember the sound but I can remember having a synesthetic experience, where I saw lots of bright and shiny brass colours. It was very exciting! I suspect it was big band music. I also remember standing in the middle of the stereo field of my dad's hi-fi and listening to classical music which was a fantastic experience. I also remember picking tunes out on my dad's piano and trying to transpose them into different keys. I suppose all of these things made me incredibly curious about musical sound - and I'm pleased to say this has remained the case throughout my career.
What drew you to work with the NYJO?
I started in NYJO 2 which was run as a training band by the fantastic Paul Eshelby, then Bill Ashton asked me to do a gig with NYJO. Initially I felt incredibly nervous - I was an 18 year-old surrounded by seemingly impossibly cool and technically adept players. I realised I needed to work on my playing but it was clear at the time that the standard of players and the complexity of the music was way more advanced than I had ever experienced. I wanted to be at that standard. I only began working regularly with the band on coming to London to study as a postgrad at the Guildhall School of Music.
Why do you think the NYJO has thrived for 50 years?
For the first 45 years simply because of the total commitment of Bill Ashton to keep it going, combined with the enthusiasm of all the players who have been through the band.
For gifted young jazz players it is common for you to be a "big fish" in your local band. NYJO was one of the few places where everyone you played with was of the same standard. Latterly the band has benefitted from a fantastic team of volunteers and employees who have transformed the financial security of the organisation and raised NYJO's reputation in the eyes of the wider jazz and jazz education community. I hope I have done my part in raising the standard of the music, creating a more inclusive atmosphere in the band and broadening the repertoire that we play.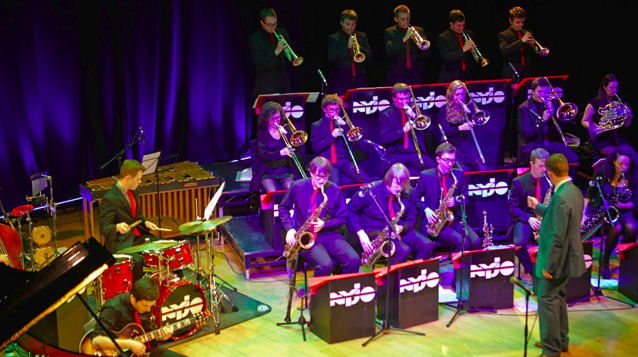 Which of the many NYJO commissions is your favourite? 

Although I enjoy all the music that we have commissioned my two personal favourites so far are Tim Garland's Dawn Before Dark Before Dawn and Nikki Iles' Hush which we recorded on The Change in 2012. On our new album NYJO Fifty it's Mama Badgers by Julian Siegel.

What have been the highlights for the orchestra in your view?

The opportunity to perform at the 2012 BBC proms and our studio album recordings are notable highlights, as have been our collaboration and tour in Germany with our German counterparts BuJazzO and appearances at the London Jazz Festival.

Who are the most exciting new talents in jazz?

There are so many - the technical standard of young musicians is incredible nowadays. The one who stands out at the moment is Jacob Collier although I obviously think all the guys in NYJO are amazing too!

What have been the impact of government cuts on the jazz scene?

We have been incredibly lucky to secure funding increases from Arts Council England as a National Portfolio Organisation recently but across the country it seems a shame that jazz promoters are struggling to subsidise their programmes. The network of local jazz clubs and festivals provide the backbone of the jazz scene outside London and it would be great to see more support for these people in the future. I'm hopeful that the re-born Jazz Services will be a major force in drawing attention and funding back into jazz promotions.

What are the biggest challenges new jazz composers and arrangers need to overcome? And have you any thoughts on how they can do this?

Initially the challenge is a technical one - developing the "chops" to write convincingly and idiomatically for a large jazz ensemble. Some people are naturally gifted in this regard but for most it's a lot of information to process. However, beyond this it's managing to point this technical accomplishment towards writing something creative and original, getting past the level of pastiche that is an important part of developing authority as a composer in any style. To achieve this you need to constantly rework your material and learn how to tread the tightrope between originality and understandability. I think also that once you have internalised the technical information you need to trust your instincts and allow yourself to be inspired by the widest variety of influences you can give yourself.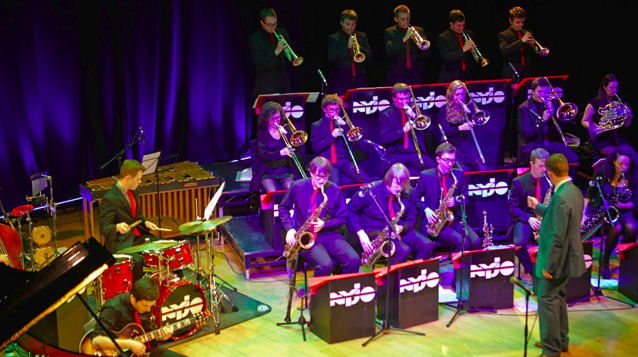 What does the future have in store for the NYJO?
We want to tour widely abroad and make more
international
connections as well as continue to develop young talent and commission new material for large jazz ensemble. We want to work with more leading jazz artists and fly the flag for jazz in the UK and further afield. Ultimately we want to play a part in raising the profile of jazz and putting it on the same footing as all the other great art of this country and encourage people to approach the music in an open-minded and receptive way, just as they do with theatre, classical music, dance, visual arts, etc.
Have you got any advice for new and aspiring jazz artists?
Work really hard to develop technical assurance but pay attention to your original voice as an artist at the same time. When you feel ready don't wait for approval before going out and presenting your work to the world but be prepared to deal with being ignored or getting negative responses initially.
Visit
nyjo.org.uk
to find out more.