Acid house veteran Mark Archer has seen, rocked and danced at more raves than you've had hot dinners. Fact.

Over more than two decades of bleeps and beeps, Mark continues to be a pivotal nocturnal figure, as a much-in-demand DJ and as a producer behind be-masked duo Altern-8 and Nexus 21.

The likes of Move My Body and Infiltrate 202 still sound as futuristic and as club-quaking as they did when they first emerged. Mark has continued to make his mark, with solo productions reinventing the classic 808 and 909 sounds. We caught up with him to explore current musical projects and how he's managed to continue to keep ravers watching their bass bins…

How did you first get into electronic music?

Until the age of 10 I liked anything on the radio, but after moving to a new village, you had to be into heavy metal or get beaten up.

I was into 2 tone ska for a while, then new romantic chart music. A lad at the same school as me bought in some electro tapes and that was it, proper hooked. That was when I first started learning how to mix using a tape deck and trying to sync records on a belt drive deck, speeding them up with my finger - crude but it worked.

What inspired you to start making your own music/DJing?

Hearing DJ mixes on a local radio station. The Street Sounds Electro Series furthered my interest in DJing. I progressed onto pause button mixes, then to a set of Technic belt drives.

Dean Meredith, who I knew from a breakdance crew in Stafford had decks, and we met by chance in early 1988. After I'd been laid off from my job as a painter and decorator we started jamming a few demo tracks out. He would play drum tracks on the decks and I would play samples or basslines over the top using a Casio SK1. That demo tape was the one we took to Blue Chip studios in Stafford and were 'signed' on the spot.

Can you explain a little about your production history? You've had numerous guises over the years…

We started off as Rhythm Mode D, that was myself, Dean and a lad called Gareth. We worked together on quite a few different projects, recording an album as Rhythm Mode D, an acid album called Acid Trance that was made to look like various artists but we recorded all the tracks. We then went onto record as Bizarre Inc in 1989 but Dean wanted to go solo so got me the sack from my job at Blue Chip and kicked me out of Bizarre Inc.

I managed to get back into the studio around June 1989 and started the Nexus 21 project and the C+M Connection side project. After Blue Chip closed down and we signed to Network, we released a few Nexus 21 tracks as well as (what was planned to be) the side project, Altern-8. I recorded solo hardcore material under the name DJ Nex, housier tracks under the name Xen Mantra. After hooking up with Danny Taurus we recorded together as Slo Moshun.

I've slowed down on the pseudonyms since then and have only really used those names or Trackman that was released on Ideal Trax.

What was the appeal of the music coming out of Detroit which influenced your earlier work?

It was just so futuristic and so full of emotion, but with all these mad noises that were kind of like the house music coming out of Chicago but with this whole other level of space age technology (or at least that's how it sounded). The way the 808s and 909s were used but with these beautiful pad sounds and clonky basslines, it really struck a chord with me and I knew this is what I wanted to do.

Altern-8 were part of the initial explosion of acid house - what were the most exciting moments from that time?

From 1988 to 1992 the music moved so fast and changed year on year, going from the Chicago house and Detroit techno, to the whole New York thing that added the freestyle element. Then there was the British take on it all, which was obviously going to be slightly different. Then the Europeans got stuck in and it was just such a melting pot of styles and influences, very exciting and very creative times. Altern-8 didn't really come about until 1990, two years after the acid house thing but I was so caught up with the techno and acid sound of that time I just kept trying to get those influences somehow into the Altern-8 tracks

What was the inspiration behind the suits?

It was purely to hide ourselves from people knowing that we were also Nexus 21. We were doing PAs up and down the country and started to do them as Altern-8. We needed a new look for the stage show, just so that people didn't feel they were being ripped off. My brother was in the RAF and had two of the suits knocking about and that was that.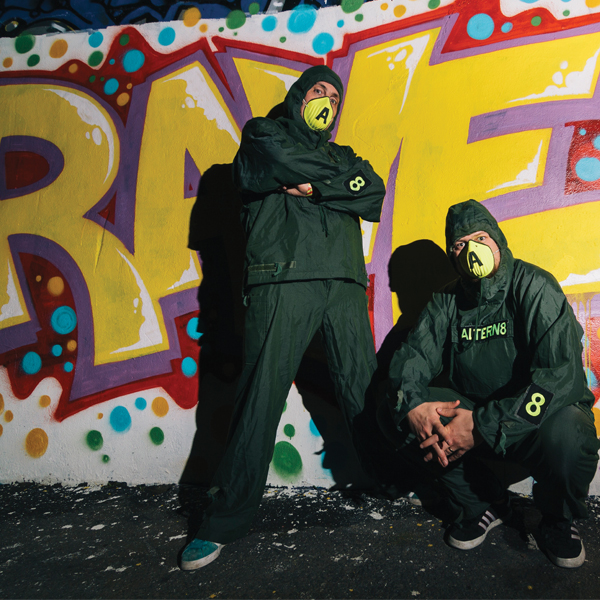 Altern-8 have continued to enjoy great success over recent years - why do you think it's succeeded for so long?
I think we (Altern-8) were really lucky back in the rave days to have made some tracks that people really liked or identified with and the whole scene has been a massive influence on genres that have since been conceived. It's always had the more enthusiastic music lover digging through the history of dance music to find out where things have come from. Coupled with the euphoric nature of a lot of the tracks, that has endeared them to dancefloors all over the world ensuring their own longevity.
There seems to be an ongoing love for rave culture and electronic acts with younger music lovers - why do you think this classic sound continues to resonate?
Many of the kids who were at the raves are now parents and have brought their kids up on a staple diet of old skool acid house. It means that when the new generation of clubbers hears an influence in new music or that there's night that is dedicated to the sound of the late eighties and early nineties, they're going to be into it purely from familiarity.
How have you evolved as a producer and DJ?
As both I'm still learning, every time I work alongside a different DJ they may do something differently to me that I can try out and the same goes with producers. The tracks I made in around 1997 were the tracks I really wanted to make back in 1989 but I didn't have the production know how or the right pieces of gear to do so. I went from being stuck in Stafford with no way of really swapping tips on how to do things in the studio to learning from online tutorials, which show you how to do pretty much everything production wise.
What musical projects have been keeping you busy of late?
I've been working alongside Josh from Posthuman/Balkan Vinyl on an Altern-8 live set and starting work on new material together, as well as working with Edzy (Unique 3), Winston (Forgemasters), Gez (LFO) and Mark Gamble (Krush/Rhythmatic) on a new project called the Originators, working on remixes of new and old material together to be released on a new label Originator Sound.
What does the future have in store?
With solo material and remixes, The Originators, Altern-8 live shows and the DJing there's plenty to be working on. I also have the first Trackman release (Ideal Trax 1995) which was a double 12" being remastered and re-released on Infrastructure New York which I'm very excited about.
Have you got any advice/word of wisdom for new and aspiring electronic producers?
Make what you want to make, your own sound/take on things, don't just try to make the next big deep house track, that's already been done. Keep at it and believe in what you do.
facebook.com/markaaronarcher